Christopher Ralph is a hockey writer with a focus on prospects and the entry draft, as well as the Leafs' correspondent here at THW.
"Full Potential" Prospect Profile: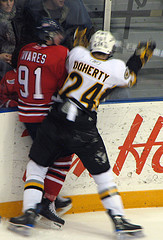 Please "Click Here" for "Notes Up Front" and the "Legend" for various topics covered below, as well as a running live updated NHL 2009 Draft rankings.
53. Taylor Doherty – Defenseman
Date of birth: March 02, 1991
Place of birth: Cambridge, Ont., Canada
Ht: 6-7 Wt: 218
Shoots: R
One-Timer: The towering 6'7' defenseman is an imposing figure on the blueline. Doherty failed to improve on last seasons offensive totals, registering 20 points in 68 games with Kingston. He was -14 and totaled 140 penalty minutes. Taylor was impressive at the combine as noted below. He has good skating ability for a big man and is gradually learning how best to use his massive frame to be a force in the back end. He displays a strong work ethic, but will continue to need to work on his mobility and lateral movement. He will not likely be much of an offensive contributor at the next level, but if continues to develop will be a tough shutdown d-man that opponents will hate to play against.
NHL Player(s) Comparison: Chara Jr.-Lite
Bio/Interview Links:
http://www.mynhldraft.com/2009/NHL-Draft-Profiles/Taylor-Doherty
Scouting Combine Performance:
Gare Joyce noted with respect to "the VO 2-intake, peak heart-rate and recovery, and Wingate tests… Worth noting:  Kingston's towering defenceman Taylor Doherty posted better numbers than Hedman; Doherty also posted some huge leg power numbers."
THN's Ryan Kennedy stated: "A physical beast at nearly 6-foot-7, 218 pounds, Doherty naturally did well in wingspan measurement, but also excelled in leg power – so once he fully develops, Doherty will be very difficult to get past if you're an opposing forward. He's gaining a lot of experience in Kingston, too."
International Tournament(s): Doherty failed to register a point in the WJC-U18s, but was a plus 4.
ETA = 3 to 4 years
Risk-Reward Analysis: Risk = 4/5    Reward = 4/5
NHL Potential: Defensive defenseman
Fantasy Hockey Potential: Offensive = 3.5/10   Defensive = 8.5/10
Other Rankings:
ISS: 52
CSB: 58-NA
TSN:  honourable mention
THN: 94
This document is the intellectual property of Christopher Ralph and cannot be used or duplicated in anyway without expressed written consent. Any use of this document without the expressed written consent of Christopher Ralph will result in public exposure and legal prosecution.