The National Hockey League is quickly becoming a young man's game. That is good news for all of these young men, who are ready to cash in after proving their worth in the world's best hockey league.
After signing Ben Hutton earlier this week to a two-year bridge deal, general manager Jim Benning announced that he wanted to sign Bo Horvat to a long-term deal. While there are obvious benefits to signing a young player to a bridge deal, there is also an inherent risk. If a young player exceeds expectations during his bridge deal, he could cost his team a couple million more per season. For cap-strapped teams, that can be problematic.
Every player on this list has seen their stock rise over the past two seasons. Even though they aren't all off to hot starts, it would take a catastrophic drop in play in order for any of these players not to receive a raise. All of the players, except for one, are under the age of 22.
Although some of these players switch between centre and wing, they were listed for having at least spent some time playing in the middle over the last two seasons. All of their contracts expire at the end of the 2016-17 season. Here is a look at six young centres who will earn a raise next season, listed from youngest to oldest.
Sam Bennett
Current Cap Hit: $925,000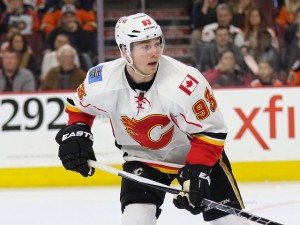 The Calgary Flames likely had the easiest pick of the 2014 NHL draft. They just had to wait and see which of the "four potential first overall picks" would fall into their lap. That ended up being Bennett, and the Flames should have no complaint about that.
"18-year-old Sam Bennett" jumped right from the OHL and into the Flames lineup towards the end of the 2014-15 season. He was noticeable for the Flames during their playoff run and followed that up with 36 points in his first full NHL season last year.
The now 20-year-old Bennett is clearly a top-six option for the club. The Flames are fairly tight to the cap, so a bridge deal makes sense here. Getting rid of Dennis Wideman's albatross of a contract at $5.25 million per season will help clear space for Bennett.
While he will likely cash in less than the other five players on this list, he should still seek a raise somewhere in the $3.5 to $4 million range, depending on how the rest of his season plays out.
Leon Draisaitl
Current Cap Hit: $925,000
The player selected one spot before Bennett will likely seek a bigger raise than his draft counterpart. Draisaitl wowed everyone last season while playing with Taylor Hall after he looked uneasy during his rookie NHL debut. Even though he cooled off in the second half of the season, he still finished second overall in scoring for the Oilers with 51 points in 72 games.
He's been hot and cold for the Oilers this season, but so has the majority of the team. He's tied for third in team scoring with Jordan Eberle, despite the fact that he doesn't play with Connor McDavid. Although he may be listed on the "third line", his production shows that he is clearly the second-best centre on the team. He is likely to develop into one of the best second-line forwards in the game since he will be playing behind McDavid for years to come.
It will be interesting to see if Edmonton hands Draisaitl a bridge deal, or if they decide to hand him a long-term contract. Regardless, he still should be able to command somewhere in the neighbourhood of $5 million per season. If they sign him to a bridge deal, don't be surprised if Draisaitl commands $7 million per season in 2019-20.
Bo Horvat
Current Cap Hit: $894,167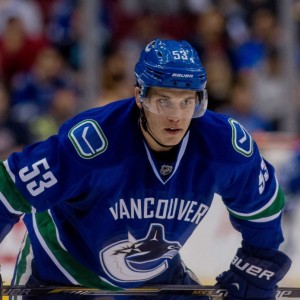 While many had doubts about his offensive abilities, Horvat continuously shown signs of maturing into a number one centreman. He leads the offensively-challenged Canucks in points and now has registered 43 points in his last 60 games dating back to last season. He's accomplished this despite the fact that head coach Willie Desjardins has often put him against the opponents' top line.
Horvat oozes leadership abilities and has "future captain" written all over him. It's not a surprise that Benning said he wants to lock up Horvat to a long-term extension. He isn't just one of the Canucks' best young players, he's one of their best players in general.
While Benning would be wise to sign Horvat now, it might be in his best interest to wait it out. If he continues to lead the Canucks in points, he could probably command over $5 million per season. For now, he probably sits somewhere in the $4.25-$5 million per year range. If Benning could lock him up long-term for under $5 million, it would be considered a win for the organization.
Alexander Wennberg
Current Cap Hit: $925,000
Alexander Wennberg has quietly put up big numbers in Columbus this season. In his third season with the club, he has taken his game to the next level. Through 18 games, Wennberg has put up 17 points. Most of his points throughout his three years in the league are assists, with the young Swede putting up 15 goals and 62 assists so far in his career.
Wennberg is currently playing on the Blue Jackets' top line with Cam Atkinson and Nick Foligno. He is quietly turning into one the NHL's premier set-up men. This should lead to a decent raise for the 22-year-old. If he keeps up this production, he could command around $5.5 million per season. Still, there's a long season ahead before he earns that kind of money.
Alex Galchenyuk
Current Cap Hit: $2.8 million
If there was a redo for the 2012 NHL draft, there's a good chance that Alex Galchenyuk would have been first overall.
The Montreal Canadiens shouldn't be complaining about how things worked out. Galchenyuk has really taken a step forward this season, and he is finally blossoming into the first line centre that the Canadiens envisioned when they drafted him.
It's hard to believe that he is already in his fifth season with the Canadiens. He has shown steady improvement in every season and hit the 30-goal plateau for the first time last season. This year, Galchenyuk has 21 points in 21 games, good for seventh overall in the NHL.
In the summer of 2015, the Canadiens opted to sign Galchenyuk to a two-year bridge deal with an annual cap hit of $2.8 million. The deal was a steal at the time, but now you wonder if the Canadiens could have saved some money by locking him up long-term. Now that he finally looks like a first line player, he should command north of $6 million per season. Think of Mark Scheifele's eight-year, $6.125 million per season deal as a comparable.
Evgeny Kuznetsov
Current Cap Hit: $3 million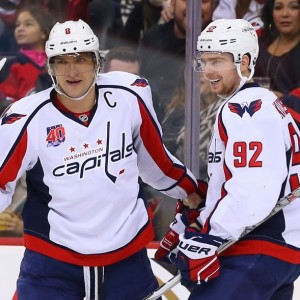 Easily the eldest player on this list at 24-years-old, Kuznetsov is set to earn his third contract with the Washington Capitals after signing two consecutive two-year deals with the club.
After signing a two-year, $6 million deal last summer, Kuznetsov made his contract look like an absolute steal after putting up 77 points last season. However, he disappeared in the playoffs and is off to a slow start with the Capitals this year.
That makes for an interesting decision regarding his next contract. Kuznetsov is one of the best second-line centres in the league. However, are the Capitals ready to commit big money to someone who hasn't necessarily shown consistency?
The rest of the season will play a huge factor in what the Capitals want to offer him. At this point, Kuznetsov's contract may the most unpredictable. One thing is for sure, he will command a hefty raise from the $3 million he is making this season.
KPU Journalism Graduate. Trevor has been writing for The Hockey Writers since October 2014. He has contributed articles related to the Ottawa Senators, Vancouver Canucks, and other issues/stories regarding the game of hockey. Trevor currently lives in White Rock, B.C.