Walk into the WFCU Centre in Windsor on a Thursday night and you're almost guaranteed to hear "Go Spits Go!" echo through the stands. Chanting a team name is something that's ingrained in us as kids; be loud and be proud. Support your team.
How do teams get their names, though? Earlier, we went in-depth with the OHL's Midwest Division, OHL's Central Division and OHL's East Division. In this final part of the series, we take a look at the OHL's West Division to see how these five teams created their nicknames. Let's take a look:
Windsor Spitfires
The original Spitfire nickname dates back to the OHA in 1945. The Spitfire was a British single-seat fighter aircraft used by the Royal Air Force around WWII. A Spitfire Mk IX is on display in Jackson Park in the heart of Windsor. The team name is a tribute to those who made, flew and died in the plane that was used in WWII. The logo can be seen in the photo on the left.
Saginaw Spirit
The team moved from North Bay to start the 2001-02 season as they were bought by local businessman Dick Garber. He renamed the franchise the Spirit.
Sault Ste Marie Greyhounds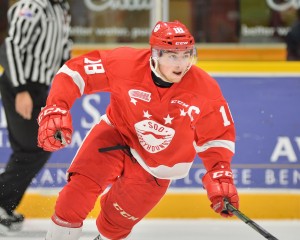 In 1919, the City of Sault Ste Marie formed a hockey team to play in the Upper Peninsula League, which is now defunct. Team coach George McNamara suggested the nickname be the Greyhounds because, in his words, "a greyhound is much faster than a wolf", which referred to their established Highway 17 rival, the Sudbury Wolves. The name has stuck ever since and the logo (pictured, right) has become a classic in the OHL.
Sarnia Sting
The former Newmarket Royals franchise was bought by the Ciccarelli brothers in 1994. They moved the team to Sarnia and named them the Sting.
Flint Firebirds
The mid-Michigan team moved from Plymouth to Flint to start the 2015-16 season. Several nicknames were presented, including Generals, Pride, Firebirds and Tropics, after the movie Semi-Pro. The name Firebirds became the official nickname as it represents the perseverance of the City of Flint and its residents while they look towards a promising future. Check out this video from their inaugural game:
Team nicknames are a major part of sports and became an integral part of their city's culture and history. OHL fans have long cheered on their respective teams, both at home and on the road. Now we know where the team nicknames come from across all four divisions.