Being at an arena and hearing thousands of fans chant a team's name is exhilarating and gets the blood flowing. A loud, energetic crowd can be the backbone of a team.
Earlier, in the opening part of the OHL Name Game series, we looked at the OHL's East Division and where the five teams got their nicknames.
Here in part two, we take a look at the OHL's Central Division to find out how these five teams got their nicknames. Some are traditional while others are a nod to the locals.
Here's how the OHL Central nicknames were formed:
Barrie Colts
The original hockey team in the area started as the Jr B Colts in the Mid-Ontario Jr B league. The team moved to Central Jr B hockey in 1978 and won the Sutherland Cup in 1992-93. From 1993-95, they played up a level Jr A Tier II. Barrie was granted an OHL franchise in 1994 and started in OHL in 1995-96. They kept the original Colts nickname. Check out this video of the Barrie Colts getting involved in community events:
Sudbury Wolves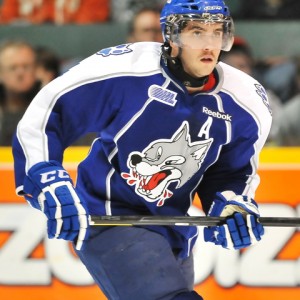 The city has had a team with Wolves involved in the name since WWI. It started with the Sudbury Cub Wolves Junior team in the 1920s in the Nickelbelt Hockey League. In 1962, the Sudbury Wolves joined the NOJHA. In 1972, the owner of the NOJHL's Wolves, Ken Burgess, bought the Niagara Falls Flyers and merged their teams to create a team for the OHA. The Wolves name stuck (see logo, pictured right).
Mississauga Steelheads
The team was originally the Toronto St. Michael's Majors, playing out of St. Michael's College in Toronto. In 2007-08, the Mississauga Ice Dogs franchise moved to Niagara/St Catharine's, so Toronto moved to Mississauga and became the Mississauga St Michael's Majors. The name soon became Mississauga Majors. Before the 2012-13 season, the team held a "name the team" contest and fans voted for "Steelheads" over the week-long contest. The steelhead fish is native to the Mississauga region and the Credit River, which flows through town.
Niagara Ice Dogs
Before moving to St Catharine's in 2007-08, the Ice Dogs franchise played in Mississauga starting in 1998. One of the original owners of the franchise was Don Cherry. The name Ice Dogs is a reference to Cherry's old dog, Blue, and the ice in hockey. After the move, the Niagara-region team kept the Ice Dogs nickname.
North Bay Battalion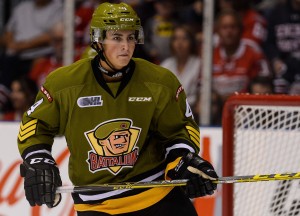 The team moved from Brampton for the start of the 2013-14 season and kept the original name. Brampton was granted a franchise for the start of the 1998-99 season and the Battalion name comes from suggestions around the city and signified the teamwork, hard work and loyalty you would find in an Army Battalion.
Stay tuned for part three of this series where team nicknames from the OHL's Midwest Division are featured