Throughout sports, fans chant their favourite team names in hopes of energizing the players and rinks they cherish. It's as much a part of sports culture as the sport itself.
How does a team get their nickname, though?
This four-part series looks at the OHL and its team nicknames. The league itself has been around, in various forms, since 1933, and has seen dozens of team nicknames. The first part of this series takes a look at teams in the OHL's East Division and how its teams got their current nicknames.
The Name Game
Here is how the five Eastern Division teams got their nicknames:
Ottawa 67s
The OHA granted the City of Ottawa a franchise early in 1967. Being the capital of Canada, the team was given the 67s nickname at the start of the 1967-68 season in honour of the country's centennial year.
Hamilton Bulldogs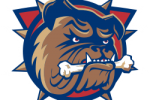 The City of Hamilton was granted a franchise to start the 2015-16 season after relocating from Belleville, where they were nicknamed the Bulls. Hamilton had an AHL franchise called the Bulldogs from 1996-2015 when it relocated to St. John's, NFLD. While the franchise moved, Hamilton kept the Bulldogs nickname for the OHL franchise. Originally, the nickname "Havoc" was considered when the AHL team first arrived, but the nickname "Bulldogs" (logo pictured left) was considered the best fit for the City of Hamilton.
Oshawa Generals
The team had several nicknames in its early stages, including Shamrocks, Majors and Red Devils, to name a few. One of the longest-standing OHL franchises, Oshawa became sponsored by General Motors of Canada in 1937 and the "Generals" nickname has stuck ever since. Take a look at this video that shows the connection between the Generals team and the City of Oshawa:
Kingston Frontenacs
The nickname "Frontenacs" has been a part of the City of Kingston for years. It comes from Louis de Buade de Frontenac, the governor of New France. He established Fort Frontenac where Kingston currently sits. The nickname itself was given to the franchise in 1989 when new owners Wren Blair and Bob Attersley renamed the old Kingston Raiders franchise after an Eastern Professional Hockey League team of which they were a part.
Peterborough Petes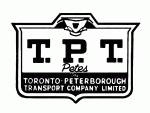 The franchise moved from Kitchener for the start of the 1956-57 season. They were sponsored by the Toronto-Peterborough Transit (TPT – logo right) and were dubbed the TPT Petes. They have since been called the Peterborough Petes.
Over the next three installments of this series, the OHL's West, Midwest and Central Divisions will all be looked at as we find the background on team nicknames. Stay tuned!