Recently after a 1-1 tie against the Denver Pioneers, University of North Dakota junior All-American goalie Cam Johnson told the media that he sees everything the fans say about him on social media.
In a Grand Forks Herald feature, Johnson told UND hockey beat writer Brad Schlossman, "that he likes to troll social media and see what the fans are saying about him."
Earlier in the month of November, when UND went through a 0-4-2 stretch, some fans questioned Johnson's effort. Some went so far as to blame him for the Fighting Hawks' troubles. Looking at the numbers, goaltending wasn't the problem. Goal support and special teams play were.
Johnson just kept liking the fans' tweets. He even responded to a few of them. That being said, the UND hockey team had his back.
.@DerrickFidelman How about now? pic.twitter.com/JUamGk8uQM

— North Dakota MHockey (@UNDmhockey) October 29, 2016
During the Fighting Hawks' rough patch, like those of his teammates, Johnson's numbers were down from last season. Honestly, that was to be expected based on who the Hawks lost due to early departures and graduation. Nine players from last season's championship lineup (Drake Caggiula, Bryn Chyzyk, Coltyn Sanderson, Nick Schmaltz, Troy Stecher, Paul LaDue, Luke Johnson, and Keaton Thompson) are gone. Johnson entered this past weekend's series against the Huskies with a 5-4-2 record, 2.45 GAA, and a .895 save percentage.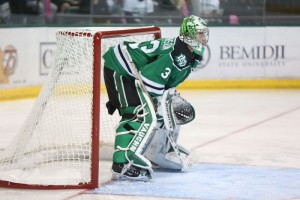 Over the past two weekends, Johnson has returned to form and been very solid between the pipes. Johnson's statistics for the past four games have been impressive, if not mind-blowing; he's 2-1-1 with a 0.99 GAA and .964 save percentage, with two shutouts.
During the two-game series sweep against the Huskies, Johnson was nothing short of amazing, as he stopped all 62 shots that he faced, including 36 on Saturday. Last weekend's back-to-back shutout was only the third time in the program's history that has happened. Johnson has been involved in two of those three sweeps.
He's Back
A week ago, after backstopping the Fighting Hawks to a 1-1 tie against the Denver Pioneers, Johnson said that he was taking a break from social media. The fans of opposing teams were trolling him on Twitter.
"I see everything, I deleted Twitter," Johnson said. "I was getting tagged by a lot of people, it was really irritating. I just figured I would get rid of it."
After shutting out the St. Cloud State in back-to-back games, Johnson made his return to Twitter and tweeted: "I'm baaaaaaack."
https://twitter.com/itsyaboiiceej/status/800191428014080000?refsrc=email&s=11
And that he is. With last weekend's outstanding performance, Johnson is now 7-4-2 with a 2.07 GAA and .915 save percentage. Johnson is giving the fans reason to tweet and this time, the tweets are more positive.
Cam Loves Playing Teams from Michigan
Johnson, the Troy, Michigan native, loves playing against teams from the state of Michigan. Entering this weekend's series against Michigan State, Johnson has a 7-0-0 record in nine career appearances against schools from the state of Michigan, with a 1.85 GAA and .936 save percentage. Eight of those nine starts came during the 2015-16 season. Johnson went 7-0 with a 1.53 GAA and .947 save percentage.
Eric is a 1996, 1999 graduate of the University of North Dakota. Eric covers the University of North Dakota Hockey and Division I college hockey. Eric is the Contributing Editor for Inside Hockey.