Drew Stafford returned to the Winnipeg Jets' lineup last night for the first time since Oct. 25, the first of hopefully many Jets players to return to the lineup over the coming weeks. The roster is down six players to injury, tied with the Anaheim Ducks for the second-most players lost behind Detroit with seven. And while no coach or GM will use injuries as an excuse for performance, it's obvious that some of the struggles have come from the lack of proven players on the ice.
Currently, the Jets are missing:
Bryan Little (since Oct. 13)
Shawn Matthias (since Nov. 1)
Mathieu Perreault (since Nov. 3)
Joel Armia (since Nov. 3)
Tyler Myers (since Nov. 12)
Kyle Connor (since Nov. 13)
Of course, not all players are the same, and some players are missed more than others. But before we get to the most missed player, let's start with the least missed.
Least Missed: Kyle Connor
Right off the bat, this is not saying that Connor is a bad player. In fact, he has the potential to be amazing. But that's all it is right now. After 16 games, Connor has just four points, which is the lowest point-per-game mark of any injured Winnipeg player. He obviously wasn't being given first-line minutes, but a SAT% of 45.78% doesn't look great regardless of line.
Connor has the potential to be an amazing player in the NHL soon. I don't think it's this year. When he comes back from injury, the best thing the Jets could do is send him back to the AHL and let him tear it up with Jack Roslovic.
Most Missed: Bryan Little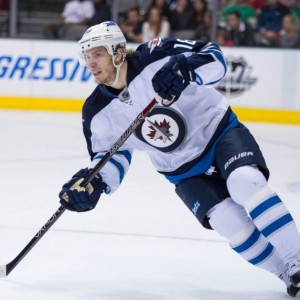 I'm not really going out a limb with this one. The Winnipeg Jets really miss Bryan Little. Not because he is the number-one center. Mark Scheifele is the best center on the Winnipeg Jets and starting to push himself into consideration for the best center in the National Hockey League. But Bryan Little brings two important attributes with him that Scheifele cannot bring on his own: experience and depth.
Bryan Little is a 614-game veteran who can consistently score 50 points a season. When the Jets moved to Winnipeg, they had no depth and were forced to rely on Bryan Little. He never did it with pizzazz, but he always delivered, killing penalties, playing on the power play, taking key faceoffs, and playing against the opponent's best night in and night out.
Without Little, the Jets are using Alexander Burmistrov on the penalty kill. Imagine replacing him on that penalty kill with Bryan Little? Or giving Paul Maurice another power play look by adding Little on the half-wall? And imagine having a critical faceoff late in the game and letting Bryan Little take it?
This year, Little will immediately start on the second line. He won't play against the opponent's best players constantly. The pressure won't be on him to produce. We even picked him to be one of this year's breakout players. He will be very important to the Winnipeg Jets when he returns. And it may be as soon as Sunday, as Little was just upgraded to day-to-day.