Every NHL season, a handful of players have a breakout campaign, where they go from being just another prospect to being a regular contributor in the NHL. For select players, it happens immediately. More often, it takes two or three years to understand the game first. For some, it's even longer.
Before the Winnipeg Jets' season begins on October 13 against the Carolina Hurricanes, let's analyze players in the Jets organization that have the potential for a breakout 2016-17 campaign.
Jacob Trouba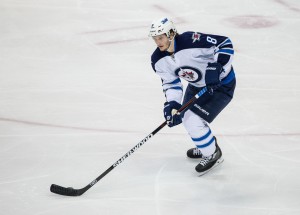 While he is a Restricted Free Agent, he is still an important part of the Winnipeg Jets organization. Drafted ninth overall in 2012, you can bet that Kevin Cheveldayoff is doing everything he can to keep his services, as Trouba has the potential to become a special defenceman.
When he started, Trouba was compared to Chris Pronger and Rob Blake by former coaches. After a great rookie season, he struggled in his next two seasons, barely hitting 20 points in both. The eye test shows he has struggled and is making costly mistakes. The eye test (and advanced stats test) also shows something else; his most common linemate is Mark Stuart.
While Mark Stuart sat under 50% Corsi, Jacob Trouba still pulled out an impressive 51%. Trouba is also only 22-years old, and will have years to grow into a solid, top pairing defenseman. But we can expect a big jump this year in both analytics and the eye test for Trouba, especially if some new blood is injected into the defense, like that of Josh Morrissey.
Bryan Little
Regarded as one of the most underrated players in the game, Bryan Little has been the Winnipeg Jets number one center ever since the team relocated. He has put up solid points while being asked to play against the best competition the league has to offer. Little plays in every situation and is a calm veteran presence on a young team. And he would have stayed the same had it not been for a broken back.
https://t.co/EQq6eDWIW2 >> Winnipeg Jets forward Bryan Little to miss rest of the season due to back injury https://t.co/GzABMlTHZJ

— Winnipeg Jets (@winnipegbuzztap) February 26, 2016
Once Little broke his back last season, Mark Scheifele stepped in and played well enough to take that spot from him. He won't give it up, and that will knock Bryan Little down to the second line. But it may also bump his stats up as well.
Little's quality of competition was on par with that of Jonathan Toews, and ahead of guys like Tyler Seguin and Anze Kopitar. He played the best players from other teams every time he stepped on the ice. Imagine what he will be able to do while playing lesser competition, and having either Patrik Laine, Nikolaj Ehlers, or even Kyle Connor on his wing.
Kyle Connor
Speaking of Kyle Connor…
Bigger name rookies like Auston Matthews and Patrik Laine will be taking a lot of the spotlight, but don't think that Kyle Connor does not belong in that group
Connor absolutely tore apart the NCAA last year with 71 points in only 38 games. Jack Eichel, last year's second overall pick, had 71 points in 40 games on route to being the Hobey Baker winner.
Often, the biggest knock on a rookie is their defensive play. As a result, it can often limit their playing time, thus their ability to break out. Kyle Connor should not have that problem, as he already "a highly skilled, proactive forward that has the capacity to dominate in all three zones".
Connor decided to turn pro after his first year of college, and will be fighting to get an NHL spot. But he will get it, and he will not let go. Assuming no injuries, Connor has the ability and the linemates to reach the 50 point mark in his first season, and maybe even surpass it.
Did we miss anyone? Leave your comments below or head to our Facebook page.