When the 2016-17 NHL season started, there was palpable excitement for the return of a healthy Brandon Davidson to the Edmonton Oilers blue line. Davidson had missed about 30 games the previous season and was coming off an injury, but in the 51 games he'd played in 2015-16, put up impressive numbers as an Oiler, making a case to be considered a future top-four defenseman in Edmonton's organization.
Unfortunate events have seen Davidson once again miss significant time. However, the Oilers are playing well without him and one has to wonder, where does Davidson fit upon his eventual return?
The 2015-16 Season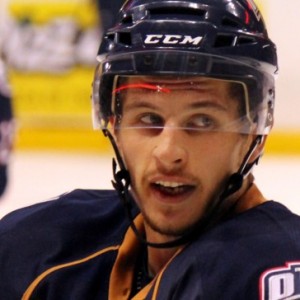 That season, Davidson scored 11 points in 51 games, but what seemed to get him recognized were strong underlying numbers on a defense that had some pretty poor underlying numbers as a group. He was in some exclusive territory for Edmonton defensemen as a positive Corsi player, driving possession and positively tilting the play while on the ice. As a result, his ice time increased dramatically as the season wore on and he averaged nearly 23 minutes per game before his injury forced him out of the lineup.
When he went down, the Oilers were not the same. Clearly, there was more to blame for Edmonton's win/loss record than just the absence of Davidson, but his play up to his injury meant the Oilers were missing a significant piece of a defense that sorely needed him.
Cue the Summer
In an effort to bolster their blue line, the Oilers obtained the services of stay-at-home defenseman Adam Larsson. It gave Edmonton a blue line that looked like it had the teeth to hang with some of the better and more balanced blue lines in the NHL.
| | |
| --- | --- |
| Klefbom | Larsson |
| Davidson | Sekera |
| Nurse | Fayne/Reinhart |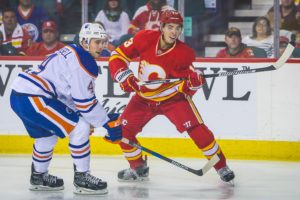 With Oscar Klefbom and Larsson as the one-two, Andrej Sekera and Davidson as the three-four and potentially Darnell Nurse and Mark Fayne as the five-six it wasn't a perfect cast, but it was significantly improved over a core that was among the worst in the NHL the previous season.
The Oilers also signed rookie Matthew Benning and at the end of the summer, the Oilers added Kris Russell and signed Eric Gryba off of his professional tryout (PTO).
The signing of Gryba and Benning would have very little significance in what to do with Davidson, but Russell was another story. The Oilers gave Russell a sizeable one-year contract and the expectation wasn't that he'd play bottom-pair minutes. Russell would immediately be inserted into the lineup in a prominent role and this meant Davidson would move down the depth chart, effectively bumping players like Nurse and Griffin Reinhart out of the starting lineup.
| | |
| --- | --- |
| Klefbom | Larsson |
| Sekera | Russell |
| Davidson | Fayne/Gryba |
This was a blue line that was starting to take shape and offer a variety of skill sets with different areas of expertise. It didn't place Davidson in a prominent role, but he was there to offer much-valued depth.
Cue the Season
Davidson played in just one game before taking a head shot from Los Angeles Kings forward Tanner Pearson. It was enough to take him out of action with no set timetable for a return. It was a nasty hit and another in a long line of misfortuate events that would slow Davidson's progress as an NHL player.
In Davidson's absence, the Oilers rotated some options until finally Matt Benning stepped in and found a home on the right-side in the bottom-pair. Now 21 games into the season, Davidson still hasn't returned (he suffered another injury setback) and the blue line is again taking a different shape.
| | |
| --- | --- |
| Klefbom | Larsson |
| Sekera | Russell |
| Nurse | Benning/Gryba |
Davidson's Future
While it would have been hard to believe at the start of the season, currently, the Oilers aren't really missing Davidson. Edmonton is sitting seventh in the NHL standings, second in the Western Conference and first in the Pacific Division. At 12-8-1, Edmonton is far from perfect, but this three-game run they're on has them firmly in playoff contention early in the season.
If the Oilers continue to play well, what does that mean for Davidson? First, Edmonton needs to let Davidson's injuries heal. Once that happens, outside factors are going to create scenarios in which Davidson will be a significant part of any future conversations. Some of those conversations may include him as part of the team, while some may not.
Initially, the question will be where you play him. The Oilers blue line isn't perfect, but the reality is, there isn't a player in the top-six that deserves to come out. That's great for the Oilers but not-so-great for Davidson.
How It Looks Right Now
Klefbom and Larsson have been a significant piece of the Oilers' improved defense. The pairing is a legitimate duo, playing high-end minutes and doing an effective job against the opposition's top players. Meanwhile, Russell and Sekera have found a groove and the duo is one of the stronger second-pair tandems in the NHL. Finally, Benning and Nurse have been pleasant surprises. Their games aren't perfect, but both have played some heavy minutes, allowing Edmonton's top pairs the ability to breathe and manage their ice time when other top-end defensemen around the NHL are logging 28-29 minutes per game.
That the Oilers have Gryba, Reinhart and potentially Fayne as defensemen who can take ice time if any of these players falter, speaks to the blue line depth Edmonton has put together.
When Davidson returns from muscle prob in shoulder, can't see how they automatically send Benning down, just because they can

— Jim Matheson (@NHLbyMatty) November 24, 2016
The Expansion Draft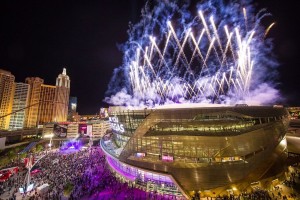 One of the difficult decisions was going to be what to do with Davidson come the 2017 NHL Expansion Draft. The trade that brought Larsson to town meant that if the Oilers wanted to hang onto a productive Davidson, Edmonton may have to go a certain direction when protecting roster players against the potential to be plucked away by the new Las Vegas franchise.
The eight players versus seven forwards and three defensemen options being presented to each NHL team during the draft gave the Oilers choices. Protecting eight players would save Davidson, but at the same time, it would expose a couple of impact forwards.
There was a chance Edmonton would roll the dice, hoping Las Vegas would see more promise in another available defenseman on another NHL team, but it was a risk. The risk has now been minimized with Davidson's injury. The longer he stays unavailable, the less likely Las Vegas takes a chance on him.
His Contract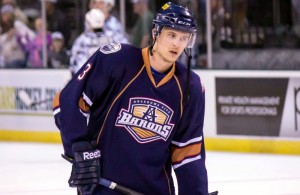 One reason Las Vegas may have shown a bit of interest — beyond that of obtaining his skills — was that Davidson offers a very friendly NHL cap hit for whichever team he plays on. At $1.425 million for a player who could play in the top-four on an expansion team, it would be considered a value selection. That same cap hit is another reason Edmonton might want to keep him around.
Davidson is an asset Edmonton holds for at least one more season after this one. In contrast, a player like Kris Russell is not. To guarantee that Russell stays part of the Oilers' future plans — should Edmonton choose to go this route — the Oilers would need to extend Russell's contract and then protect him. The alternative is to have a verbal agreement (not an official one) with Russell at the end of the season that once the draft was completed, Edmonton would offer Russell an extension. This, however, offers no guarantee as Russell could bolt to any other team or the Vegas organization in a more friendly negotiating window. Russell came to Edmonton at the end of the summer for the best money possible. What's to say he wouldn't move on if the money were available elsewhere?
A Matter of Perspective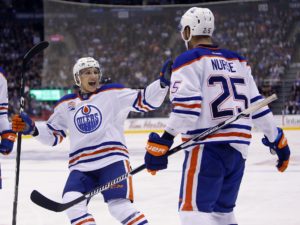 The real question is, what is Davidson worth to the Oilers? With a core of Klefbom, Larsson, Sekera, Nurse and Benning, is Edmonton strong enough to lose both Davidson and potentially Russell and still be a strong team? What are the actual odds a franchise like Las Vegas would take an often injured player like Davidson? Or, should Edmonton lose Davidson, how easily can he be replaced?
If Edmonton chooses to protect Davidson, his protection leaves forwards exposed. Is this the right choice for the Oilers? Would Edmonton be willing to lose a Patrick Maroon or a Tyler Pitlick over a Davidson who hasn't even played this season?
Davidson creates a dilemma for the Oilers. Not one that has to be handled this very second, but one that will come sooner than later. It will be interesting to see what Edmonton chooses to do.