In our third and final article covering the San Jose Sharks season, one-quarter of the way through, we'll quickly review the items covered in the two prior pieces, here and here, then move to things San Jose can do to change the trajectory of their season.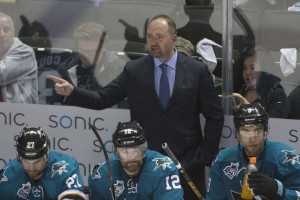 For a team with Stanley Cup aspirations, it was important to use the start of the season effectively. The Sharks have had a mixed start. We cited the modest record (now 11-8-1) despite the high continuity among players and coaches. We noted both expected and unusual challenges for the oldest team in the NHL.
We looked to history as a guide and found, while it would be nice if it repeated, circumstances do not favor it. We looked at the team's scoring slump and highlighted the Sharks excellent defense.
We took a brief look at the younger players in the organization, especially those on the cusp of getting to the NHL. A brief look at the NHL level is all the organization has afforded to these younger players.
Today we will look at four changes which should be considered. Two are modest, but should have a substantial impact. Two are bigger, and will be more challenging to implement.
Flashing Forward
Brent Burns is locked in as a defenseman. But the team should recognize there are certain situations when Burns can make a bigger difference by taking on a forward's responsibility.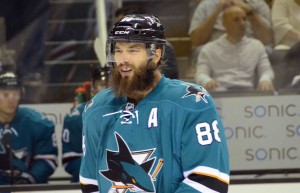 Teams prepare for the things Burns does as a defenseman, but his repertoire is far bigger than simply firing away from the point. Having him show up in unexpected places to take advantage of matchups unanticipated by opponents will put a lot of stress on other teams. This sort of stress can result in Sharks power plays and goals.
Like a baseball pitcher using an occasional change-up, use of Burns in a forward role would be situational. For example, it might be helpful for the team to surreptitiously skate Burns for one or two shifts as a forward over the course of a game. A little of Burns can go a long way.
One important situation comes to mind. Burns' power down low can be a mismatch for 'speed teams.' Speed teams have been the most challenging for San Jose. The Pittsburgh Penguins, the league's most noted speed team, neutralized Burns effectively during the Stanley Cup Final.
Burns was most effective against Pittsburgh (including on all his even strength points) when doing things forwards do (like going behind the net in the offensive zone). The Penguins figured out how to stop Burns at the point. When he took the puck down low, they couldn't handle him.
Deploy Burns as a forward, on occasion, when his size and strength mismatch can exploit weaknesses in other team's systems. If nothing else, this change-up will keep opponents even more on edge, which is never a bad thing. Below is a recent Burns goal scored against the Florida Panthers. He looks every bit like a power forward. And it made a difference. San Jose trailed 2-0 at the time, but came back to win.
Reuniting
The second modest change is to put Melker Karlsson on the same line as Logan Couture. Couture has just two even strength goals. Last time the two spent quality time together, they were 2/3 of the lone effective line playing against the Penguins in the Stanley Cup Final. A disproportionate amount of the Sharks scoring against the Penguins came with Karlsson and Couture on the ice together. The Sharks need to leverage their better players, especially Couture. Thus far, he has not shown enough chemistry with his rotating wingers.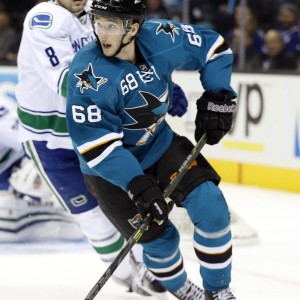 When Karlsson was forced out of the Sharks 15th game, he was leading the team in plus/minus (plus-3) despite spending most of the season tied to the fourth line. Karlsson is among San Jose's most effective forecheckers, a subject which will get touched on later in this article. This is a simple move with a big payoff. When Karlsson returns from his injury (expected to be soon), DeBoer should waste no time in putting these two players together.
Splitting Up
While one couple needs to reunite, Couture and Karlsson, another needs to split up. For the first major change, San Jose needs to split up the Joes, Thornton and Pavelski. By loading up the top line with the team's best players, it demands big minutes. I've previously covered the challenge of big minutes. It is just one of the reasons to split them up.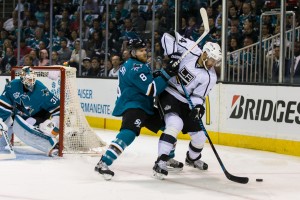 By placing so much skill to the top line, it makes it easier for teams to stop San Jose. If teams can stop one line, they can stop the team.
In the Stanley Cup Final, the Penguins provided a blueprint for neutralizing the Sharks' top line. It involved quick checking on Joe Thornton, often not with just one player, but with two. Thornton routinely throws off a single, smaller checker (most are smaller than the man nicknamed Jumbo). Thornton is tremendous at protecting the puck while concurrently creating his own time and space. But by having one checker get to Thornton quickly and then sending in another moments later, Thornton was unable to protect the puck effectively. Thornton was spending his time battling for the puck instead of unleashing the sort of defense-busting passes which will eventually send him to the Hall of Fame. Even when Thornton and his teammates won these puck battles, the offense needed to reset, and any scoring opportunities had to be created from scratch. It took fast and talented defenders to pull this off, but Pittsburgh did it.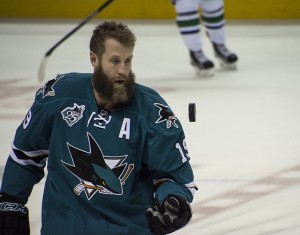 Critically, neutralizing Thornton had the effect of neutralizing Pavelski. Throwing in everything plus the kitchen sink to stop Thornton worked. For Pittsburgh, it was a two for one deal.
While this blueprint is easier said than done, it is out there. San Jose can expect to see this approach from the teams it plays frequently during the regular season and in postseason play.
Pavelski and Thornton don't need each other to be effective. They make others better. Splitting them up is not a zero sum game. It is additive.
For San Jose, depth is going to matter a bunch this season. Having Thornton, Pavelski and Couture each centering a line will give San Jose the sort of balance few teams can match. Opponents can follow the Penguins' blueprint to neutralize Thornton (it still won't be easy). It will leave lesser defenders trying to slow two other lines, one with Pavelski and the other with Couture.
On top of this, separating the pair should lead to more manageable minutes (and occasional games off given the schedule density). The results would be a case of less equals more.
Forechecking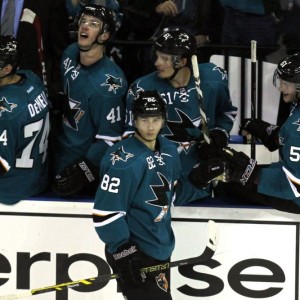 The second major change involves the youth. As mentioned in Part 1 of this series, the Sharks largely failed to give NHL ice time to younger players. I'll detail it here. These are the players with little or no NHL experience who could have received an NHL look early on, all are forwards except where noted: Marcus Sorenson, Nikolay Goldobin, Kevin Labanc, Ryan Carpenter, Barclay Goodrow, Danny O'Regan, Rourke Chartier, Aaron Dell (goalie) and Dylan DeMelo (defense). Thus far this season, only forwards Labanc (seven games), and O'Regan (one game) have played for the Sharks. Sharks pugilist Micheal Haley has played more for the Sharks than all these young forwards combined (ten games). Backup goalie Dell has not played much either (three games).
Carpenter spent time on the Sharks roster, but did not get into a game. DeMelo has been on the roster the entire season, sitting 19 games before playing his first game in the Sharks' 20th game of the year. It is worth noting, the limited appearances by these youngsters, for the most part, have been driven by injuries and illnesses, not by a desire to provide them NHL playing time.
The top American Hockey League prospect, Timo Meier, was ill early in the season and is not ready for his NHL debut. Meier's promotion is expected, perhaps soon, as his energy levels return and his game sharpens.
The Sharks need to aggressively incorporate younger players and place huge emphasis on a speedy, relentless forecheck. Younger legs are the best way to make this happen.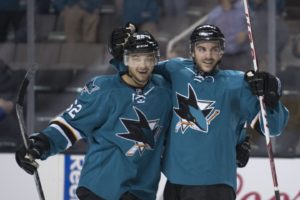 This season, different from most seasons, the Sharks have lacked an effective forecheck. A strong forecheck creates turnovers. These turnovers have proven a scoring gold mine for San Jose in recent years.
Give younger players the chance to get into the Sharks lineup and use the younger, fresher legs to increase the forecheck intensity during even-strength play. Currently, the Sharks rarely use multiple forecheckers, but this can change. This style is very demanding, favoring younger players. Attempting this with older forwards is likely to burn them out.
In recent seasons in the Pacific Division, the heavy forecheck has been favored by the Sharks and their primary rivals, Anaheim and Los Angeles. However, a speedy forecheck can also work.
In order to carry out this plan, the Sharks might need to make a trade to open roster space (and perhaps cap room). The upside is considerable. San Jose can take a page from Pittsburgh's playbook and use young, fast players to create the sort of chaos which savvy veterans like Pavelski, Couture and Thornton can turn into a quick strike offense.
A risk of defensive lapses comes with an aggressive forecheck, but this is where having a top quality blue line can mitigate much of the risk. The Sharks have a top quality blue line.
All Together
Re-emphasizing the forecheck with inexperienced players, will, no doubt, have growing pains. But this sort of approach can be learned relatively quickly and should be paying dividends within a few months. Coupled with the other proposed changes, the Sharks should continue to stay solidly in the playoff hunt, in part due to the weakness of the Pacific Division. The cumulative impact of these changes should improve San Jose's chances for a long playoff run and perhaps even the elusive Stanley Cup.
Zeke's Notes
The penalty kill is one of the high points of the Sharks early this season and was discussed in the prior articles. It seems only fair to point out it has gotten even better. In San Jose's past two games, they scored the game-winning goal short-handed. Chris Tierney scored one and assisted Joel Ward on the other. With Ward on the ice for the penalty kill, the Sharks have notched two goals while opponents have only scored once.