The Los Angeles Kings have had an interesting start to the 2016-17 season. Injury problems, streaky play, and some more injury problems have, at times, left a sour taste in the mouths of many that follow Los Angeles.
But it's Thanksgiving, at least it is in the United States, go about your business Canada, and it's a time to reflect on the many things people, and their hockey teams, can be thankful for. That young stud carrying your team. Be thankful. The off-season move that's paying off. Be thankful. Those arena upgrades made to your home rink. Be thankful.
There's plenty to be thankful all around you.
But for the sake of this post, let's shift our focus to Los Angeles and sift through the ups and downs of their first 21 games and find some things to be thankful for.
1. An 11-9-1 Record
Let's face it, the Kings have been pretty lucky.
Sure, losing Marian Gaborik before the season began, losing Jonathan Quick just 20 minutes into the season, losing Jeff Zatkoff not once but twice, losing Anze Kopitar for a handful of games and losing Andy Andreoff, Brayden McNabb and Teddy Purcell to injuries as well, it might seem like a string of back luck. But I say it's much of the opposite.
The Kings might be the luckiest team in the league at the Thanksgiving break. As the hockey world takes a break from NHL action, Los Angeles sits in third place in the Pacific Division. Third.
If someone were to say Quick and Gaborik would both miss significant time to start the season, coupled with Kopitar, Zatkoff, Purcell and McNabb missing chunks of time because of their own injuries and the Kings somehow managed to be in a playoff spot at Thanksgiving. I would have called them a liar.
Instead of buckling at the knees and falling down the standings the Kings have managed to stay afloat in the Pacific Division.
This should be scary for the rest of the division and the NHL because Gaborik is working towards a return which could come by the end of the week, Kopitar is back, and each day Quick is getting closer and closer to his return to the crease. Once a full squad is assembled in Los Angeles there might be more than staying afloat happening.
Be thankful the Kings are 11-9-1. Seriously, it's crazy.
2. Peter Budaj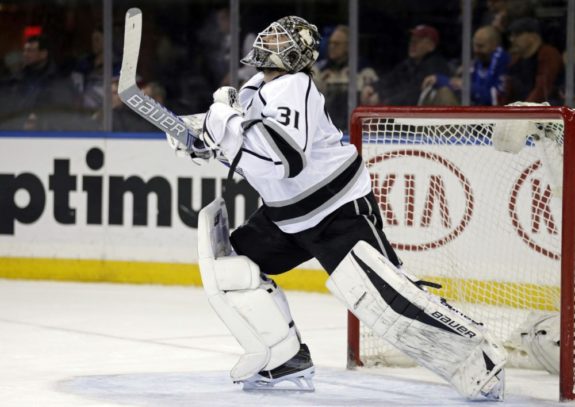 Jumping off of how much worse things could be, be thankful for the guy who stopped the bleeding when the Kings were run over by the injury train.
Within the blink of an eye, Quick was lost to an early-season groin injury and his backup, Zatkoff, wasn't far behind with a groin injury of his own.
Losing not only your starter but his backup as well is a reason to panic on any team. But Budaj stepped in for Los Angeles and has been the saving grace.
The Kings' game against the New York Islanders on Wednesday night, a 4-2 win for Budaj, was consecutive start number 18 and win number eight home at which improved his home record to 8-1-0. In 18 starts Budaj has grabbed a record of 11-6-1 and has posted a 2.10 goals against average and .916 save percentage in 19 appearances.
Be thankful for Budaj, be very thankful for Budaj.
3. Dustin Brown
Things seem different with Dustin Brown this season and it's not just the 'C' missing off his sweater.
Brown has three goals and nine points in 21 games this season which is a breath of fresh air when you look at his production over the last few seasons. But the big take away from Brown's season so far is the identity he brings to his line.
Brown has skated alongside Nic Dowd and Devin Setoguchi for the majority of the season. Dowd is a 26-year-old rookie with a high offensive ceiling. Setoguchi is a 29-year-old veteran who didn't suit up for a game in the NHL during the 2015-16 season and has seized a second chance in LA. Bringing the two together is Brown, who led the Kings to two Stanley Cup championships and has recaptured his physical game and some of his offensive production this season.
Brown is skating without the weight of being the team's captain for the first time since he was named the captain of the team in 2008, maybe that alleviated pressure has provided a spark. Or he has caught his second wind at 32 years old.
We can't be certain of the cause, but we can be certain Brown is playing better hockey. He is bringing a physical force and serving as the glue on the Kings' jump-start third line.
Be thankful for Brown. Who would have thought we would be saying that last summer?
4. The Vegas Golden Knights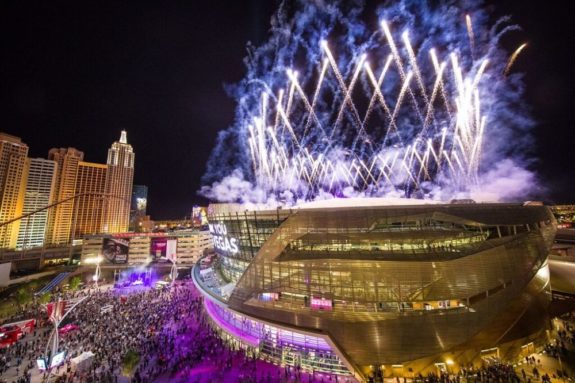 Who doesn't love Las Vegas? The bright lights, the nightlife, the weather, the food, and the never-ending entertainment. There is a little bit of everything in an ever-expanding city. The latest addition to that expanding city is the Vegas Golden Knights.
Professional hockey and Las Vegas is a foreign concept to most, but not for Kings fans.
Since 1997 the Kings have played 19 preseason games, including an outdoor game, in Las Vegas as a part of their annual Frozen Fury. However, with the NHL expanding to the desert at the start of the 2017-18 season the annual tune-up game in Sin City had to be scratched.
But fear not Kings fans, rather than losing your yearly excuse for a trip to Las Vegas, the Golden Knights now give you a handful of games against your team and 41 home games to be taken in at your leisure each and every season.
All in all, losing one preseason game but gaining 41 regular season games in the great city of Las Vegas is something to be very thankful for.