Team nicknames often reflect something about the city, traditions or the fans. They're a source of pride and passion. It always makes fans curious as to how cities come up with them, though.
In the first two parts of this series, we looked at the OHL East and OHL Central. In part three, we go through the OHL's Midwest Division to find out how those five teams got their nicknames.
Take a look:
London Knights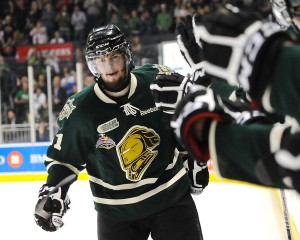 The City of London was given an OHA franchise to start the 1965-66 season and they were nicknamed the Nationals. As they were under control by the Toronto Maple Leafs, the logo looked identical to Toronto, but with the London name instead. In 1968, the NHL team's sponsorship ended and the team was sold to Howard Darwin. The idea was to give the team a new start so a name-the-team contest was held. The name "Knights" won it while the team colours were changed to green, white and gold (see photo above)
Kitchener Rangers
The team started in Guelph in 1947-48, but it wasn't until after the 1962-63 season that the Rangers name came about. The New York Rangers got in contact with Kitchener entrepreneur Eugene George to move the Guelph franchise to Kitchener. After NHL sponsorship ended for junior teams, the NY Rangers offered the team to George but he decided to give it to the junior team's season tickets holders and set up a board to oversee operations. The organization and its nickname stand to this day.  Last season, the Rangers honoured George by naming a local street after him.
Erie Otters
Formerly the Niagara Falls Thunder franchise, Erie was granted a franchise to start the 1996-97 season. They nicknamed the team the Otters after the mammal that is common in Lake Erie, where Erie is situated on.
Owen Sound Attack
The Owen Sound franchise was the Guelph Platers before moving to Owen Sound in 1989-90. At the time, the team kept the Platers name. However, in 2000, the owners of the team, the Holodys, were looking for a buyer, either local or out-of-town. A group of business owners in Owen Sound got together and won a bidding war for the franchise, saving them from a possible move. As it was a fresh start for the team, the town decided to call them the Attack. Check out this video from when the Platers arrived in Owen Sound:
Guelph Storm
The team, known as the Dukes of Hamilton, moved from Hamilton in 1989 and began play in Guelph for the 1990-91 season. It was here that they took the Storm name.
In the final part of this four-part series, we take a look at the OHL's Western Division to see how those teams got their names. Stay tuned!