Two assists in three games isn't too shabby, but it admittedly may not be anything to write home about. Unfortunately for the Montreal Canadiens, one goal in 21 games isn't either, unless it's to work through some deep-seated issues as to just how hard it's gotten for you to score in the NHL.
Hudon or Plekanec?
Let's look at it another way: Who would you rather have in the lineup, Charles Hudon or Tomas Plekanec?
A 22-year-old eager to prove himself, who, in spite of a general lack of ice time handed to him, continues to find his way onto the score sheet (albeit without having scored a goal)?
Or a 34-year-old defensive specialist who's usually good for around 20 goals a year, but is on pace for less than four this season and his lowest shot total in literally a decade?
Check out the video below (45-second mark) to help make your decision even easier.
What if you could have your cake and eat it too? Take advantage of Hudon's youthful exuberance and Plekanec's defensive acumen all at once? If you're general manager Marc Bergevin, you'd probably have to undergo some sort of hypnosis therapy to look past how you'd be paying Plekanec his $6 million salary (and cap hit) to take on a bottom-six role.
If it helps, you just signed Andrew Shaw to a six-year, $23.4 million deal to do much the same thing. Plekanec's deal only runs through this season… and next. Good thoughts, good thoughts.
Second-Line Center Wanted Needed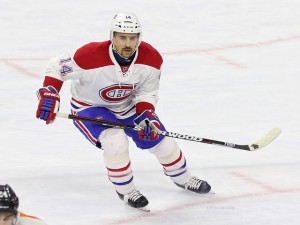 The fact of the matter is the Canadiens are in dire need of a legitimate second-line center, and Plekanec, even during his prime, when he was good for around 60 points a season, always had a third-line-center-on-a-legitimate-contender feel to him.
Well, the Canadiens have the most points in the league right now. You can argue back and forth as to whether that makes them legitimate contenders, but most could not make a good case that they aren't. At the very least, they're threats to run away with the Atlantic Division.
Sure, the Canadiens could trade for an established second-line forward and give up a prospect, potentially Hudon himself, in the process.
There are two problems with that. For one, it would be stupid. Especially when they don't know what they have in Hudon yet. When you're only giving him 12 minutes of ice time per game (and he's still producing), it might—just might—make sense to give him some more to see if he can keep it up.
Secondly, the Habs only have a projected $806,884 in cap space (according to CapFriendly). Who would they be able land for that amount of space unless someone else is going back the other way? Or, more accurately, who would they be able to land if the other team is being forced to take on David Desharnais in the deal?
The Final Countdown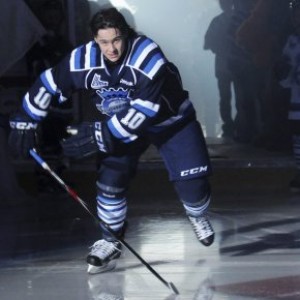 Perhaps more importantly, why would they even bother to fight that losing war, trying to convince anyone else to make a deal, when Hudon is already on the team's roster with a $625,000 cap hit. And what's more? If it doesn't work out, he's waiver-exempt, but that's just for this year.
Time is running out, with the expansion draft coming up. So, while there's room on this team for both Hudon and Plekanec right now, there might not be next season.
Montreal needs to audition Hudon in a larger role as soon as possible. While he is a winger, he also plays down the middle, making Plekanec's current role the logical place to slot him in, even if only temporarily.
Yes, this proposed so-called audition process might backfire in that it would expose Hudon to a larger spotlight. As a result, he might catch the attention of other NHL teams when he otherwise would have flown under the radar.
However, if he's good enough to catch the attention of other NHL teams, isn't he good enough to protect in the upcoming draft? And if he's good enough to protect, aren't you doing your team a disservice burying him in the line-up? Plus he's got a French last name, which shouldn't matter, but, well…
No Excuses
In many ways, there's no good excuse the team has taken this long to realize Hudon deserves a shot (if they indeed have right now). Granted, a shot doesn't necessarily translate to success, but the Habs have nothing to lose. Someone pretty talented at hockey once said you miss 100 percent of the shots you don't take.
Hudon is no Wayne Gretzky, that's for sure. But he's proven he's too good for the American Hockey League by consistently leading his team in goals or scoring in general or both. That can only mean he's good enough to get a lasting look in the NHL.
The big question: Is Hudon good enough to center Montreal's second line? At this point, the only thing anyone can say for certain is Plekanec isn't. Neither is Desharnais. What more do you need to know?