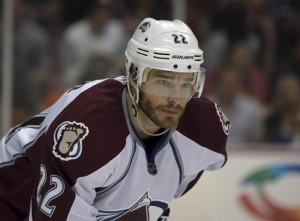 The Montreal Canadiens were not necessarily playing with fire, but they had been flirting with it… and, at 9-0-1 entering action Friday night, they have been looking mighty good too.
If you're the superstitious type, their once-precarious roster situation was a recipe for disaster anyway. Prior to calling up Daniel Carr and Joel Hanley, with Zach Redmond out with a broken foot, they had essentially been working with the minimum amount of healthy forwards, defenseman and goalies on their big-league roster.
Sure, everyone knows Carey Price counts for a few extra bodies, especially after last Wednesday's loss against the Vancouver Canucks that wasn't. However, once Mikhail Sergachev had been sent back to Junior on Halloween, that left the Habs in a dangerous position for a few days.
Hell, they put themselves in a questionable position even a few days prior to that on October 28, when they first sent Carr down. Now that he's back, it actually brings the team's asset-management decisions further into question, as there were probably players who should have been called up ahead of him, for the simple reason that Carr only seemed to draw in the lineup during practice because Andrew Shaw was absent due to family reasons.
#Habs:
Radulov-Galchenyuk-Gallagher
Pacioretty-Desharnais-Carr (Shaw absent)
Lehkonen-Plekanec-Byron
Danault-Mitchell-Flynn

— J-F Chaumont (@JFChaumontJDM) November 3, 2016
There's just no room for Carr, who's a winger, to get regular playing time. That's not necessarily because he shouldn't be getting any, but because head coach Michel Therrien seems intent on riding the players who have put together the team's current eight-game winning streak. Who knows how long that's going to last?
Much like Alexander Semin last year, Carr was taken out of the lineup after the team's first (shootout) loss to the Ottawa Senators two games in. He never made it back in, partially explaining why the Habs opted to demote him in the first place, when he impressed last season and had technically been on pace for over 20 goals.
So, assuming Therrien continues in this predictable manner, rewarding mediocrity in front of Price simply because the backstop keeps the "W"s coming (backup Al Montoya starts on Friday against the Columbus Blue Jackets), what then? Here are three candidates the Habs should have called up instead.
Mark Barberio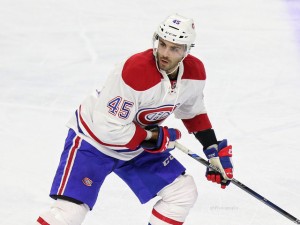 Essentially cut from the same cloth as Redmond, Mark Barberio is a depth puck-moving defenseman with a one-way contract. If his seven points in 10 games with the St. John's IceCaps weren't enough to warrant a call-up, the 10 he scored in 30 games with the Habs last season should have been.
Since he's a 26-year-old defenseman, the thought process here is the Habs wouldn't be gambling with his development just carrying him as an extra defenseman. He was a cast-off from the Tampa Bay Lightning, after all.
Hanley isn't a bad choice per se. He is a fellow left-handed shot, who did contribute six assists in 10 games of action with the Habs last season. It's just that Barberio, who has more NHL experience (133 games), can theoretically slot in effectively on any pairing should an injury arise. The same can't necessarily be said for Hanley.
Chris Terry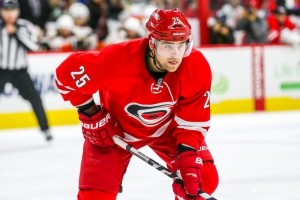 Admittedly, in addition to Carr, even Sven Andrighetto would be more valuable to the Habs in the lineup than Chris Terry here. Andrighetto, who made the team out of training camp but didn't see any action before getting demoted to the AHL, successfully cleared waivers and now has nine points in eight IceCaps games.
Even if Andrighetto would be exempt from waivers a second time for either 30 days or 10 NHL games, Terry, who leads his team with 11 points, would still be the better option overall. This, again, would play into the notion that whoever is hypothetically called up wouldn't see much if any action.
Granted, Andrighetto would theoretically play in the event of an injury. It would be unlikely that he would get the top-six ice time that he needs to be his most effective, though. Terry would be more useful in a complementary role, as he regularly served on the Carolina Hurricanes' bottom two lines last season. A call-up would also be a nice reward for Terry, who has a two-way contract.
Charles Hudon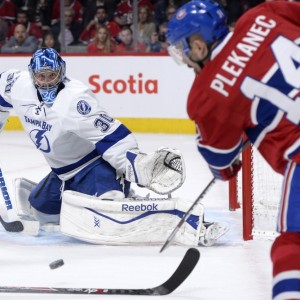 Tomas Plekanec hasn't exactly had a great start to the season (just three assists), even if his 101.43 PDO (all situations, according to Corsica) might indicate just the opposite.
However, Montreal as a team leads the league with 107.7 in that statistic, which sums up a given team's save and shooting percentages to estimate puck luck. Teams above 100.0 have a tendency to regress back to that number over time.
Considering Plekanec has no goals (that's a shooting percentage of zero), he owes all of his above-average "luck" to the players scoring with him on the ice and Montoya and Price. So, essentially, Plekanec has been looking bad even if the numbers say he should be getting more bounces than usual right now (Brendan Gallagher leads the team with a 113.76 rating as a comparison).
As such, it might be time to start auditioning second-line-center replacements beyond David Desharnais (who also isn't getting it done, playing with Max Pacioretty), at least on a temporary basis. Farmhand Charles Hudon might be the answer.
Now, Plekanec is just 34, so he's far from old. However, it wouldn't be unheard of for a player in his mid-30s to see a dramatic decrease in his ability to produce offensively. Hudon is a 22-year-old forward with somewhat of a pedigree. He's starred for the Habs' AHL team over the last few seasons, even earning AHL All-Star Game MVP honors in 2015.
He's versatile as well, having played both on the wing and at center. He is also exempt from waivers. The only drawback is his lack of size (5'10", 195 pounds), but Plekanec is listed as being just one inch taller (same weight). The Habs really have little to lose dropping Plekanec down a line to see how Hudon fares with regular NHL ice time.
Worst-case scenario? You send Hudon back to the AHL, because he doesn't fit in well with whatever head coach Michel Therrien is trying to accomplish with his endless line blending (Habs puree, anyone?). Best-case scenario? The team is able to ice an even deeper lineup, with Plekanec in more of a permanent shutdown role.
For a team that's had pretty much everything go right this season, the Habs really have little to lose. They haven't lost yet (knock on wood).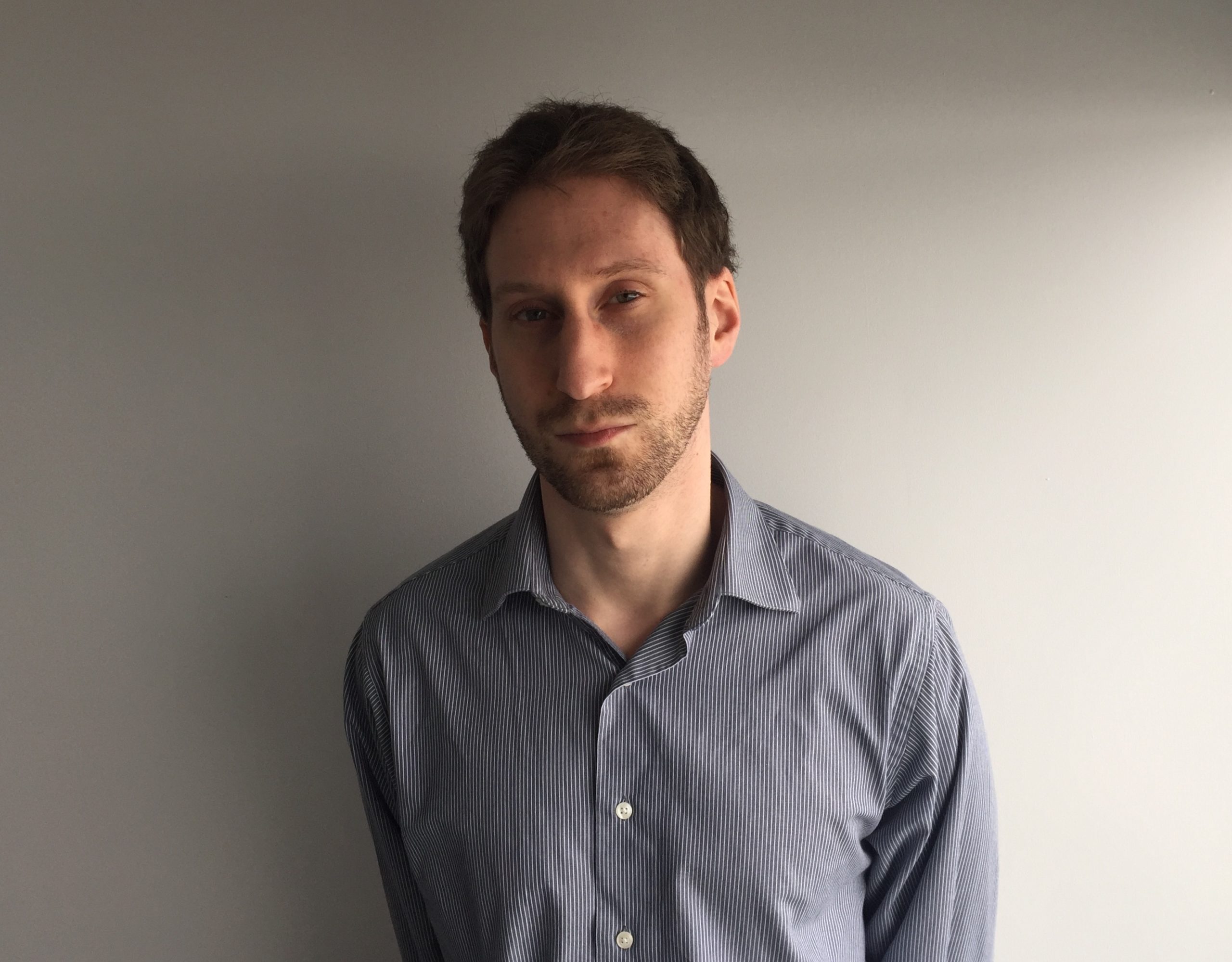 After 10 years of writing hockey, Ryan decided it was as good a time as any to actually join The Hockey Writers for the 2014-15 season. Having appeared as a guest on such programs as CBC Radio One's Daybreak, Ryan has also written for the Montreal Gazette and Bleacher Report and worked for the NHL itself and his hometown Montreal Canadiens. He currently writes about all things Habs for THW, with it being a career highlight for him to have covered the 2021 Stanley Cup Final as a credentialed member of the press.