The Blues and defenseman Kevin Shattenkirk are not talking about a contract extension. Shattenkirk's deal is expiring at the end of the season and it doesn't look like either party is moving toward having the defenseman back in St. Louis next season, according to Pierre LeBrun on Thursday's edition of TSN's Insider Trading.
Shattenkirk has been a part of plenty of trade rumors already, but the Blues also showed last season with David Backes that they're willing to let a player walk for nothing if they believe that the player can help them make a run at the Stanley Cup this year. The doesn't mean a trade isn't possible, but if it does happen it's unlikely to be a package for futures. The Blues will want help right now.
On Condon in Ottawa
On that same Insider Trading segment, Darren Dreger reports the Ottawa Senators didn't just feel they needed to make a trade for Mike Condon because of the injury to Andrew Hammond, but as an act of support for Craig Anderson, whose wife has been diagnosed with cancer.
It's a classy move by the organization to acquire a goaltender to assure Anderson that he's clear to spend time with his family. General manager Pierre Dorion reportedly spoke with Anderson before making the move. It should also be seen as a positive sign for Sens fans. The team believes they're a playoff team and they are making moves to give themselves their best shot at success in a difficult situation.
Winter Classic Leak
It appears as though there has already been a jersey leak for the Winter Classic. Twitter user @stlchapman caught a screenshot of what may be the Blues jerseys, accidentally posted to shop.nhl.com. The link where theses jerseys could briefly be seen has gone dead since it was brought to the attention of Icethletics on Twitter.
@icethetics from the NHL Shop… sharp. pic.twitter.com/9oiIzvwVmy

— Exaltation Language (@stlchapman) November 3, 2016
The jerseys are usually revealed a little closer to the game, in a joint press conference between the two teams. This year's Winter Classic will be held on Jan. 2 in St. Louis, instead of the traditional Jan. 1 date.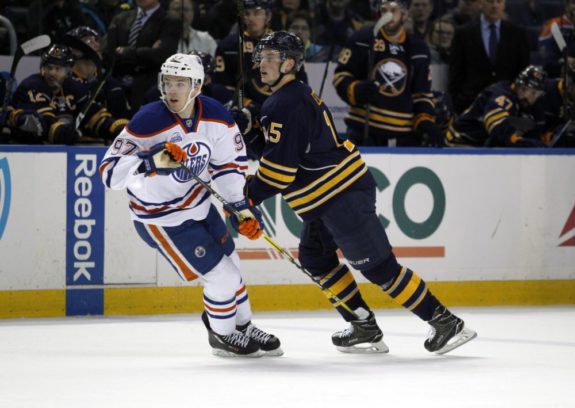 Eichel Update
On that same Insider Trading segment that talked about Shattenkirk and Condon, Dreger reported that Buffalo's budding star Jack Eichel is still another three to four weeks from returning to game action from his high ankle sprain. Eichel is still scootering around the arena and keeping weight off his ankle.
It's an unfortunate situation for Eichel, who is kind of being swept under the rug in all of this season's early storylines about the incredible crop of talented young players in the NHL. His talent gets ignored when he's off the ice and players like Connor McDavid, Patrik Laine, William Nylander and Auston Matthews, among others, are tearing up the NHL.
MacDonald's Not Clowning
Philadelphia Flyers defenseman Andrew MacDonald is set to miss a week of play with a lower-body injury, the team announced Thursday. He will be replaced in the lineup by veteran Nick Schultz, who is returning from a knee injury.
https://twitter.com/dstrehletfp/status/794283375309754368
The 30-year-old defenseman still has four years remaining on a contract that carries a cap hit of $5 million.
Odds and Ends
– It was just yesterday that rookie Matthew Tkachuk discovered the Flames would keep him in the NHL past the oft-cited nine-game mark that triggers the start of his entry-level deal. He rewarded the team's confidence with a pair of goals Thursday, including the eventual game-winner.
– Vancouver started the season looking surprisingly strong. That strength is a thing of the past already. The Canucks have been shutout in four of their last five games.
– Marian Hossa scored twice Thursday. Those markers were his 503rd and 504th career goals, making him the highest scoring Slovakian player of all time. He passes the great Peter Bondra.
– Arizona's Christian Dvorak has finally nabbed his first NHL goal. He was sent down to the AHL earlier in the week and is already back in Scottsdale. It appears to have done him some good because this was a nice one.
Dustin Nelson is the News Editor for The Hockey Writers. He's a contributor to Hockey Prospectus, Hockey Wilderness, and writes a column for Rotowire. He's also written for Gone Puck Wild, Wild Xtra, InDigest, Electric Literature, The Rumpus, Tiny Mix Tapes, Prefix Magazine & other publications. Have a tip? Email him at dlukenelson[at]gmail[dot]com.