Letang Returns to Penguins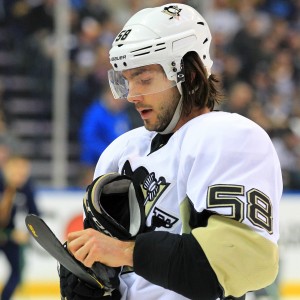 The Pittsburgh Penguins will welcome defenseman Kris Letang back to the lineup when the team plays the Anaheim Ducks on Wednesday, according to Penguins head coach Mike Sullivan.
Letang, 29, has missed the past five games with an upper-body injury he suffered during a game against the Montreal Canadiens on Oct. 18. The blueliner has skated in four games in 2016-17, registering two assists and averaging 26:09 in ice time per contest.
He will be slotted into the team's first defensive pairing with Brian Dumoulin and was skating with the team's top power play unit during Wednesday's morning skate, according to the Pittsburgh Post-Gazette's Jason Mackey. Letang is a puck-moving catalyst for the Penguins out of their defensive zone and a staple on the their power play.
Penguins defense:
Dumoulin-Letang
Maatta-Daley
Cole-Schultz

— Jason Mackey (@JMackeyPG) November 2, 2016
The Penguins enter Wednesday's contest against the Ducks with a 6-2-1 record and are first in the Metropolitan Division despite starting the season without Sidney Crosby (concussion) and Matt Murray (broken hand). Crosby has since returned to play three games and has registered four goals and an assist. Murray will return to the lineup tonight as the Penguins' starting goaltender.
Pens Trade Condon to Senators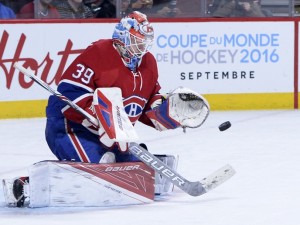 The Penguins sent goaltender Mike Condon to the Ottawa Senators on Wednesday in exchange for a fifth round pick in the 2017 NHL Entry Draft. The trade makes sense for both clubs, given their current situations.
The move comes a day after Penguins head coach Mike Sullivan confirmed goaltender Matt Murray will be returning to the Penguins' lineup against the Ducks. Murray, 22, will make his season debut for the team after he suffered a broken hand as a member of Team North America at the 2016 World Cup of Hockey tournament this summer.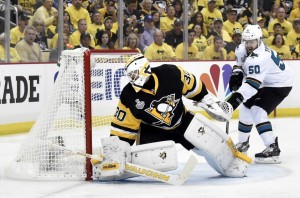 The Penguins signed Murray to a three-year contract extension on Oct. 20 — immediately raising questions about the future of long-time starter Marc-Andre Fleury in Pittsburgh. In Murray's absence this season, Fleury has played in nine games and registered a 6-2-1 record with a 3.09 goals against average and a .909 save percentage. Condon saw action in one period this season and stopped all seven shots he has faced.
Condon, 26, arrives in Ottawa with one year of NHL experience after he handled the starting role for the Montreal Canadiens in 2015-16 when Carey Price went down with a season-ending injury early in the season. Condon went 21-25-6 with a 2.71 goals against average and a .903 save percentage.
The Senators' Craig Anderson is the team's starting goaltender, but will be expected to miss some time this season as his wife begins a courageous battle against cancer. The team's back up netminder, Andrew Hammond, is currently on injured reserve with a groin injury, so Condon may get the call to be between the pipes for the Senators sooner than later.
No Hearing Expected for Isles' de Haan
New York Islanders defenseman Calvin de Haan is not expected to receive a hearing for the hit he placed on Tampa Bay Lightning forward Jonathan Drouin on Tuesday, according to TSN's Bob McKenzie.
The hit came early in the first period of the Lightning's 6-1 win over the Islanders on a play just inside of the Islanders' defensive zone. As Drouin reached for a puck just over the Islanders' blue line, de Haan skated towards the puck and laid a hard hit on Drouin. Although it looks like de Haan's elbow made contact with Drouin's head, it's arguably more a matter of circumstances and could be seen as "unavoidable" given the lower position of Drouin's body as he reached forward. Regardless of the play's illegality, Lightning forward Ryan Callahan fought de Haan seconds later to stand up for his teammate.
Drouin was able to get up and return to the bench but did not return. Drouin was reportedly in "good spirits" and held out for precautionary reasons, with further testing expected to occur on Wednesday, according to the Tampa Bay Times' Joe Smith.
Drouin, 22, skated in 18 seconds of the game on Tuesday and has registered two goals and three assists in nine other games this season. He has played an increased role with the Lightning as one of the team's top-six forwards and a staple on an improved power play unit to start the season.
Odds and Ends
—The Anaheim Ducks have recalled forwards Michael Sgarbossa and Ondrej Kase from the American Hockey League's San Diego Gulls. The Ducks placed 31-year-old forward Mason Raymond on unconditional waivers after just four games with the club. Dustin Tokarski was resassigned to the Gulls — a move made on the same day Ducks head coach Randy Carlyle announced that Jonathan Bernier is available to the club for Wednesday's game against the Penguins.
NEWS: #NHLDucks recall Michael Sgarbossa, Ondrej Kase from @SDGullsAHL: https://t.co/BxEpTyo2h4 pic.twitter.com/9nzYeiNpTz

— Anaheim Ducks (@AnaheimDucks) November 2, 2016
— The New York Rangers placed defenseman Calle Andersson on unconditional waivers on Wednesday. The 22-year-old has played in four games with the AHL's Hartford Wolf Pack and tallied three assists, four penalty minutes and a minus-six rating.
Mason Raymond (ANA) and Calle Andersson (NYR) on unconditional waivers, presumably for mutually agreed termination of contract.

— Bob McKenzie (@TSNBobMcKenzie) November 2, 2016
Steven is a lawyer and writer with a passion for the game of hockey. He's the Lead Writer covering the Tampa Bay Lightning with THW. He's also been press credentialed through the Lightning since 2016. His work has been published at The Fourth Period, LightningInsider.com, Bolt Prospects, The Sports Daily Network, U.S. College Hockey Online and College Hockey News. He's had radio appearances on TSN 690 in Montreal, Lightning Power Play Live and multiple podcasts to give insight and analysis on the team. He can be reached on Twitter @StevenDiOssi and by email at sdiossi@gmail.com.