Braden Holtby was, hands down, the best fantasy hockey goaltender last season.
He tied Martin Brodeur's wins record and won the Vezina Trophy.
So it's surprising to hear that Holtby is being shopped early on this season in at least one fantasy league.
Stefan Morrone, a Mailbag regular, was recently offered Holtby and faced a difficult decision. This potential trade was so intriguing that it was worth sharing.
Stefan asked on Facebook: Nicklas Backstrom and Holtby for John Tavares and Jake Allen, should I take it? Would you say it's "buying low" on Washington?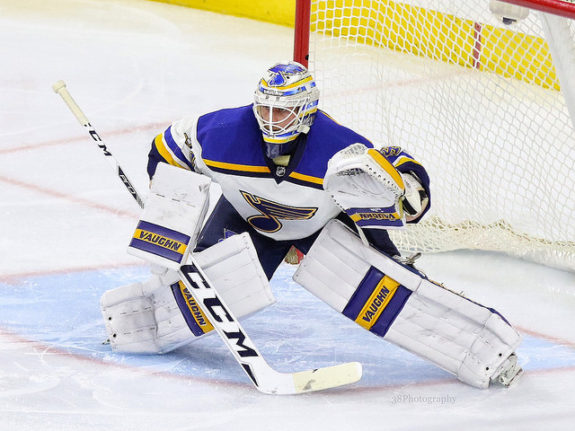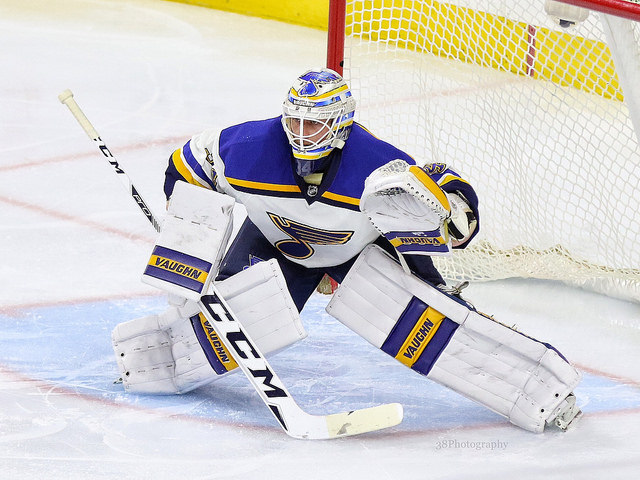 BACKGROUND: Goaltending wasn't an area of weakness or concern for Stefan. He had Allen, Devan Dubnyk and Cam Talbot, and was coming off a five-shutout week that fantasy dreams are made of. Since then, Holtby turned in a 43-save performance in a win over Winnipeg, while Allen allowed four goals on 20 shots in getting pulled during last night's 5-0 loss to the Rangers. Dubnyk and Talbot were both losers on Tuesday too, but had better outings than Allen.
ANSWER: There are plenty of questions in play here. Were Stefan's goaltenders overachieving? Is Holtby that much better than Allen? Is Backstrom that much of a downgrade from Tavares?
To start, yes, now is a good time to buy low on any and all Capitals. I do see Washington as a top-five team in the league again this season, perhaps repeating as the Presidents' Trophy winner.
Holtby probably won't win 48 games again, but 40 is well within the realm of possibility. Allen will probably top out at 35 wins, and with goalie wins being an important category in most fantasy leagues, Holtby is a guy you'd want on your team.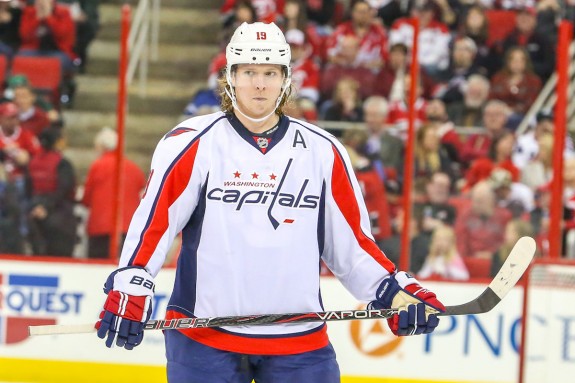 Backstrom is back centering Alex Ovechkin, a dynamic duo over the last decade with both almost always ranking among the NHL's top 10 point-getters.
Backstrom is the set-up man and Ovechkin the triggerman, so Backstrom isn't worth as much in leagues that value goals more than assists. Stefan's league places equal value, with goals and assists being separate categories, but goals are still harder to come by, which makes Tavares more valuable for his balanced stat-line. Tavares should be right up there in the scoring race too.
Really, what we have here is a fair offer. At first, I felt Stefan's goaltending was good enough without Holtby and that he'd be better off keeping Tavares. Now I'm having second thoughts. Now I'm thinking the opportunity to land Holtby — arguably the best player at his position, or second-best behind Carey Price — is too tempting to pass up.
Holtby would solidify Stefan's goaltending in the event of a drop-off for Dubnyk and/or Talbot. Neither of those two would have been considered top-10 fantasy goaltenders prior to the season, and their respective teams — Minnesota and Edmonton — weren't expected to be winning this much either. So, yes, there could be some overachieving occurring, and even Allen is in his first season as a full-time starter and it's uncertain how he'll hold up in that role over 82 games.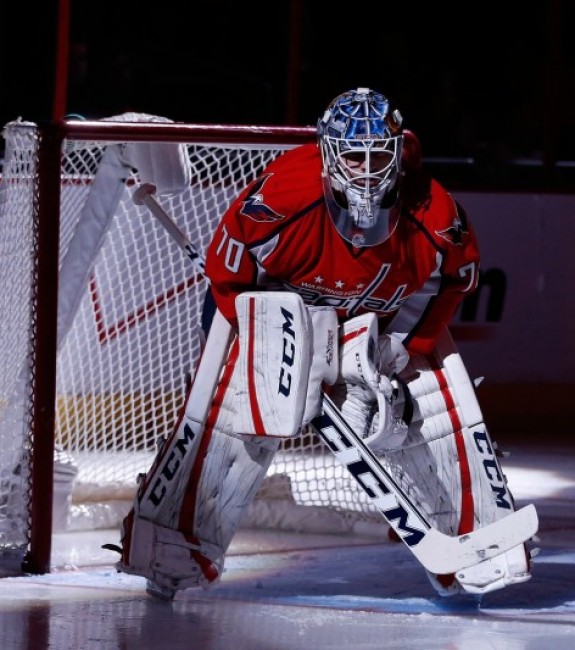 There are no such questions about Holtby. He's a proven commodity, a fantasy stud, and I'd be willing to hitch my wagon to him. It is typically easier, both in fantasy and in real life, to acquire an upgrade at forward than in goal. So what little Stefan might be losing by swapping Tavares for Backstrom, he can probably make up in another move as the season progresses if need be.
The more I think about it, the more I'd like to take my chances with these Capitals. So if that deal is still on the table, I'd suggest that Stefan take it.
A goalie like Holtby probably won't come available again, so go get him if you still can.
---
My Fantasy World
Keeper One
After a drama-filled opening week here, things settled down a bit in Period 2 and we got back to focusing on the games at hand.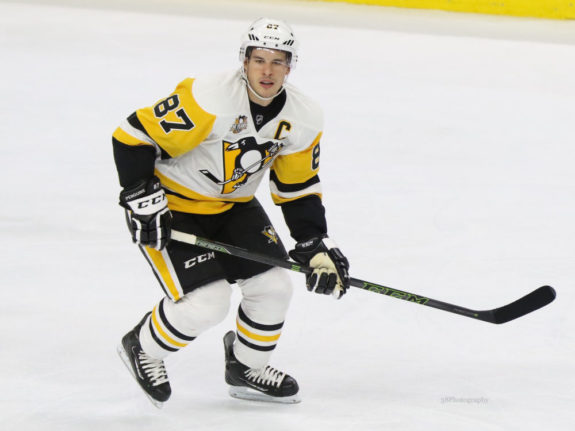 My team got Sidney Crosby and Price back in the lineup, and they did their part in helping me earn a hard-fought 5-5-0 tie. My goaltending was dominant, with five wins and a .947 save percentage last week, but I still split those categories as my opponent rode Allen to a .981, albeit with only one win from his two starts.
A little unlucky to not sweep those categories, I was more fortunate when it came to defence goals and assists. My opponent, with a roster featuring P.K. Subban, Tyson Barrie and Jared Spurgeon, among others, failed to score a single defence goal and managed only one assist from Barrie. I squeaked out the defence sweep, getting a goal from Erik Karlsson and one assist each from Adam Larsson and Chris Wideman. Larsson's helper was a clearing attempt for an empty-netter, so I got lucky there, but I'll take it.
It was a good battle across the board and deservedly ended in a draw. I'll be in tough this week against a perennial contender who is currently fourth in our 20-team standings, while I'm tied for 12th. I might be catching him at a good time, considering I'm mostly healthy with the exception of Simon Despres, while he's hurting without the likes of Zach Parise, Patrick Sharp and Thomas Vanek. That's quite a bit of firepower on the sidelines, so hopefully I can capitalize and at least keep it close.
So far, the parity has been as good as it's ever been in this league, and it's great to see two of our draft-lottery, bottom-four teams from last season currently tied for first place — just ahead of our defending champion in third.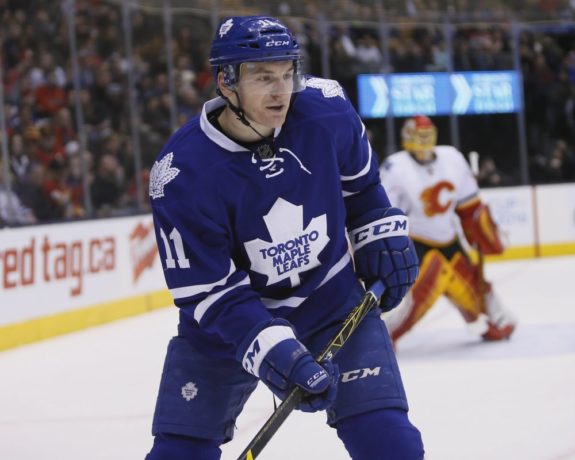 I made a couple more minor moves over the last week, continuing to tweak my roster to my liking. In an attempt to boost my penalty minutes, I claimed Jordin Tootoo from the waiver wire to complement Matt Martin as my bash brothers, while dropping Dallas defenceman Patrik Nemeth to make room for Tootoo. I also had to drop Colton Sissons to activate Ryan Murray from the injured reserve to start this week. Here's hoping Murray can stay healthy this time.
Here's a look at the trades from this league over the last week, starting with one of my own:
INCOMING = Zach Hyman
OUTGOING = Adam Clendening and Jansen Harkins
---
INCOMING = Jonathan Toews, Antti Niemi and Michael Matheson
OUTGOING = Mikko Rantanen, Cam Ward, Darnell Nurse, Colin White and a first-round pick (1-20)
---
INCOMING = Peter Budaj
OUTGOING = Anton Khudobin and Kevin Roy
---
INCOMING = David Backes and Valtteri Filppula
OUTGOING = Jean-Gabriel Pageau, Kasperi Kapanen, Ryan Murphy and a third-round pick (41-60)
---
INCOMING = Johnny Boychuk and Paul Byron
OUTGOING = Andy Greene, Brandon Tanev and Sonny Milano
---
INCOMING = Jannik Hansen
OUTGOING = Brendan Gaunce and Anatoli Golyshev
---
INCOMING = Jakub Voracek and Matt Carle
OUTGOING = Phil Kessel and Roope Hintz
---
INCOMING = Anton Khudobin
OUTGOING = Ben Lovejoy
---
INCOMING = Mike Ribeiro and Francois Beauchemin
OUTGOING = Oscar Lindberg, Calvin de Haan and Nick Paul
---
Keeper Two
Another week, another loss here for my rebuilding team. That will likely be a recurring theme this season, but it should hopefully be short-term pain for long-term gain.
I'm working plenty of youth into my lineup and the early returns have been all positive from Patrik Laine, Jesse Puljujarvi, Artturi Lehkonen, Michael Matheson and Gustav Forsling. Artemi Panarin is considered a veteran by my team's standards and his supporting cast is nothing to write home about with the likes of Sam Gagner, Alexander Burmistrov, Nikita Nesterov and Kevin Connauton, plus Anders Nilsson in goal.
http://gty.im/618918096
My roster remains a work in progress and I just claimed Panthers rookie Denis Malgin off waivers — first-year players not selected in this league's rookie draft can't be claimed until their 10th game — so he could be another piece to the future puzzle. I also added Devils defenceman John Moore, who had recently been dropped, and cut Capitals prospect Aaron Ness to make room.
Here are the trades from last week, again starting with one of my own: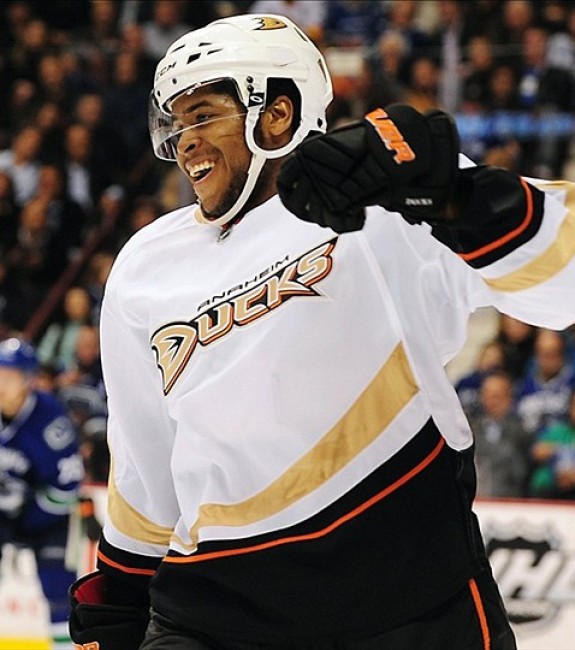 INCOMING = Devante Smith-Pelly
OUTGOING = Patrick Wiercioch
---
INCOMING = Patrick Marleau
OUTGOING = First-round pick (19-28)
---
INCOMING = Jake Muzzin and Carl Soderberg
OUTGOING = Oscar Klefbom, Mikko Koivu and a first-round pick (19-28)
---
INCOMING = Sam Reinhart
OUTGOING = Teemu Pulkkinen, first-round pick (1-8) and a third-round pick (57-64)
---
INCOMING = Brent Seabrook and a third-round pick (75-84)
OUTGOING = Mark Streit, Michal Kempny, Lucas Johansen and Sam Steel
---
INCOMING = Loui Eriksson
OUTGOING = Joonas Donskoi, second-round pick (47-56) and a third-round pick (65-74)
---
INCOMING = Travis Konecny
OUTGOING = Mike Fisher, first-round pick (1-8) and a third-round pick (65-74)
---
Regular Draft
Through Tuesday's games, I'm sitting second-last here with 70 points from 14 players. I'm 10 points clear of last place in this 12-team league but also 25 points back of the early leader.
It's a long season — granted, we redraft at the midway mark in January — and I do like my chances of catching up. Crosby is obviously going to help my climb up the standings, but I'm hoping the likes of Nathan MacKinnon, Tyler Johnson, Loui Eriksson and Sam Reinhart will pick up the pace too.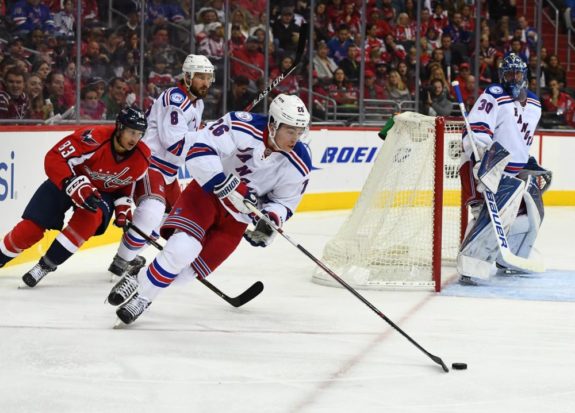 My two rookie picks to end the draft are holding me back as well. I took Pavel Buchnevich just ahead of Jimmy Vesey and that was looking promising to start the season when Buchnevich was on a line with Mika Zibanejad and Chris Kreider, but he lost that spot to back spasms and Vesey has been ripping it up ever since. Buchnevich is back now, on a different line, but he's stuck on two points, while Vesey is already up to nine.
We were only required to take one rookie and I could have held off on Buchnevich until the final round, selecting Kreider instead in that spot. My bigger regret, though, was taking a flyer on a second rookie in Oliver Bjorkstrand to round out the draft. I took Bjorkstrand over the likes of Justin Faulk, Sami Vatanen, Ryan Strome and Mikael Granlund — all of whom went undrafted but are producing points in the NHL. Bjorkstrand was pointless early on and has since been demoted to the AHL where he's not exactly lighting it up either (one goal and two points in six games).
Unfortunately, I can't make any roster changes until the redraft, so I'll just have to hope those rookies get going offensively — and that Bjorkstrand gets another call-up sooner than later.
---
Box Pool
Through Tuesday, I'm tied for 20th out of 31 teams with 138 points from 21 players. I'm 12 points from the bottom but 24 from the top. Again, it's a long season — even longer here, running the course of the regular season — and we're able to swap out two skaters and one goaltender at the All-Star break.
Those moves come at a cost — $10, in addition to the $20 entry fee — but hopefully my team will be competitive enough to make those changes a worthwhile investment when the time comes. Stay tuned!
---
Do you have a question for the Fantasy Hockey Mailbag? You can reach out to me in the comments section below, by email at larry.fisher31@gmail.com, or on Twitter: @LarryFisher_KDC.
Larry Fisher is a senior writer and head scout for The Hockey Writers, having been an at-large contributor for THW since August 2014. Fisher covers both the NHL and the WHL, specializing in prospects and NHL draft content, including his annual mock drafts that date back to 2012. Fisher has also been a beat writer for the WHL's Kelowna Rockets since 2008, formerly working as a sports reporter/editor for The Daily Courier in Kelowna, British Columbia, Canada from 2008-2019. Follow him on Twitter: @LarryFisher_KDC.