The New York Islanders have failed to build upon any momentum they had from last year's postseason. They better be careful before this becomes a lost season.
The NHL schedule makers set it up nicely for the Islanders to get off to a good start, having seven of their first 10 games at the Barclays Center. Unfortunately, New York could not take advantage as they lost three of the seven games. The latest being an embarrassing 6-1 defeat to the Tampa Bay Lightning.
Five of their next seven are in Brooklyn before heading out west to face the three California teams.  All five of the upcoming opponents have more points than the Islanders.
The Isles have also struggled against the Eastern Conference, where they are 1-5.
Ladd Lacking
General manager Garth Snow and head coach Jack Capuano have gotten pretty much nothing from their big free-agent signing. Ladd has gone goalless in the first 10 games and has just one assist, coming on a John Tavares empty-net goal. Snow brought in the former Winnipeg Jets captain to replace Kyle Okposo, who Snow let walk on July 1. To make matters worse, Okposo has gotten off to a hot start. After missing Buffalo's first two games, Okposo has four goals and three assists in the last eight.
Ladd started the season playing alongside Tavares' wing. He has since moved down to the second and even the third line. The last three seasons, Ladd has averaged seven points in his first ten games.
Ladd is not the only newcomer who has yet to score. Jason Chimera, who scored 20 goals for the Washington Capitals last season, has three assists in 10 games. Chimera found himself playing with Tavares and Ladd to start the season. That only lasted a couple of games.
Secondary scoring is key for the team's success. Anders Lee, who scored 25 goals in 2014-15, has just one goal in 10 games. It's a bad sign that third-pairing defenseman, Dennis Seidenberg, is tied for second on the team with three goals.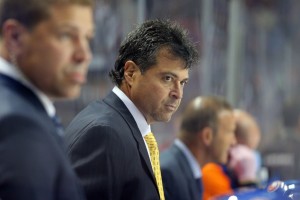 Seat Getting Warmer?
During Tuesday's loss to the Lightning, chants of "fire Cappy" were loudly heard at Barclays Center. While it's always popular to blame the coach when a team gets blown out or struggles for a period of time, players need to step up. However, the old adage is "you can't fire 20 players."
Capuano has defied the odds. According to fivethirtyeight.com, the average tenure of an NHL coach is 2.4 years. Capuano is in his seventh season as Islanders coach. Six seasons, one playoff-series win. Some new blood is needed. New blood does not mean assistant coaches Doug Weight or Greg Cronin. It means outside the organization.
No one is sure if Snow will go that route. No one is sure he has the pulse of the team.
Not So Special
The penalty-kill unit was a big strength of the team last season. They ranked fourth in the league with a 84.5 percent success rate.
This season is a different story. They have allowed six power-play goals in the last four games. Not only have they allowed goals with a man down, they have come at critical times in games. The Islanders have also struggled all season with the man advantage, ranking 27th with a 10.3 success rate. They are still adjusting to losing Okposo and Frans Nielsen. P.A. Parenteau was brought in to bolster the unit but was unexpectedly waived prior to the start of the season. In eight games with the New Jersey Devils, Parenteau has three goals and an assist.
While the season is far from over, Yogi Berra once said "it gets late early out there."