It was no surprise that when the Montreal Canadiens announced their opening day roster that Mikhail Sergachev was included. Throughout the summer and the preseason, he was outstanding both on and off the ice and made it difficult for general manager Marc Bergevin to send him down to the Windsor Spitfires of the Ontario Hockey League.
At the ripe age of 18, Sergachev was the youngest player in the NHL this season. He only played in three games, which means he won't burn a year of his entry-level contract. During those three games, he didn't register a point and ended up with a plus-1 rating. By moving him up and down the defense ranks and putting the young player in different situations, the Habs were able to see their future in action. However, despite all the excitement his presence provided for the organization and fans, ultimately, Canadiens management decided that Sergachev needed more time to develop his game.
Sending him back to Windsor is a positive move. Putting him back where he's comfortable and where he can continue to grow and develop his game is a smart decision that will benefit both Sergachev and the Habs in the long-term.
Analyzing NHL Stint
It's hard to pick apart the youngest player in the NHL after only playing three games, but that's just what Bergevin and his staff had to do. I strongly believe that it was never the intention of the Canadiens to keep their prized rookie up in the National Hockey League this season.
#Habs Bergevin says he saw Sergachev modifying his game to try to stay up in Mtl. Wants him to play his true style, & can do so in Windsor.

— John Lu (@JohnLuTSNMtl) October 31, 2016
Sergachev's NHL stint was to get him accustomed to what it's like playing in the big league. To be able to play with guys like Shea Weber and Andrei Markov and be with others like Carey Price on and off the ice, it gives him a great understanding of what it takes to be a full-time NHL player.
Now as you would expect, it takes time for rookies to adjust to the pace and style of play. As Bergevin noted, Sergachev was trying to play a different style of game than what got him to be a top-10 draft pick. He was trying to do too much and trying too many new things when he needed to keep his play simple.
As a young player, this is all part of the learning experience. While he made his share of turnovers, he also made some excellent plays that showed flashes of his skill level and hockey smarts. Overall, his NHL tryout was about much more than on-ice play, it was about how to be a professional hockey player for the franchise.
The Benefits of Playing in Windsor
There are many good things that can come from this next phase of Sergachev's development. The Spitfires are the host of the 2016-17 Memorial Cup. This means that they automatically have a birth in the tournament. Along with their position in the tournament, they have loaded up their roster with other quality junior players such as Logan Brown, Logan Stanley and Jeremiah Addison, who is also a Canadiens pick, to compete against the CHL's top teams.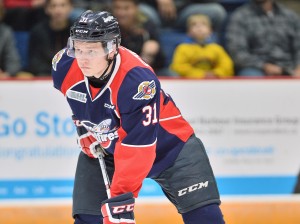 Last season, Sergachev won the OHL's defenseman of the year award and enjoyed enormous amounts of success. During the 2015-16 campaign, he tallied 17 goals and 57 points as a rookie. This season with NHL experience under his belt, it's not crazy to suggest that he could have an even better year.
Some other positives stemming from another junior season are the endless opportunities he will get to play high-level hockey. Other than the Memorial Cup, he'll be able to play 25-30 minutes a game in Windsor, play in the OHL vs. Russia in the Subway Super Series and also be a key member for Russia at the World Juniors.
"I'm going to be playing in the Subway Super Series and the world juniors, and then there's the Memorial Cup," Sergachev told Pat Hickey of the Montreal Gazette after it was announced he was sent down. "People tell me the Memorial Cup is the toughest Cup to win. I expect I'll be playing lots of minutes."
Bergevin has decided that these opportunities out-weigh being in and out of the lineup at 11-13 minutes per game with the Canadiens, along with burning a year of entry-level eligibility.
The Future
As Hab fans will quickly see, Sergachev is the future of the Canadiens' blue line and very much the team in general. Bergevin and company will handle the development process with regards to their young defenseman like no other player in the system.
The decision to send him back was absolutely the right one and I think many fans understand that. Sending an 18-year-old defenseman back to his junior team is never a bad thing, especially when he's guaranteed to play a big role against high-level competition.
The Canadiens think they have one of the best young defenders in hockey and with the team doing so well to start the season, there was no reason to keep him in the press box. In the long run, this developmental move will pay dividends in Sergachev's overall growth and the future success of his future NHL club.