While in the midst of a four-game point drought, many were quick to question if Alex Ovechkin was losing a step. It took just a week for him to prove them wrong.
In his last four games, Ovechkin has five goals and 10 hits. Though one game was a hat trick performance, he has at least one goal in three of his last four games. For those wondering if the Great Eight is still one of the most lethal players in the NHL, the answer is yes.
Capable of More than Just One-Timers
Despite the fact that many of Ovechkin's goals come from one-timers, he is capable of much more than that. He has a lethal shot, and clearly, makes the most of it. Yes, most of his goals come  from the left circle. A heat map of his goals over the years tells that story simply.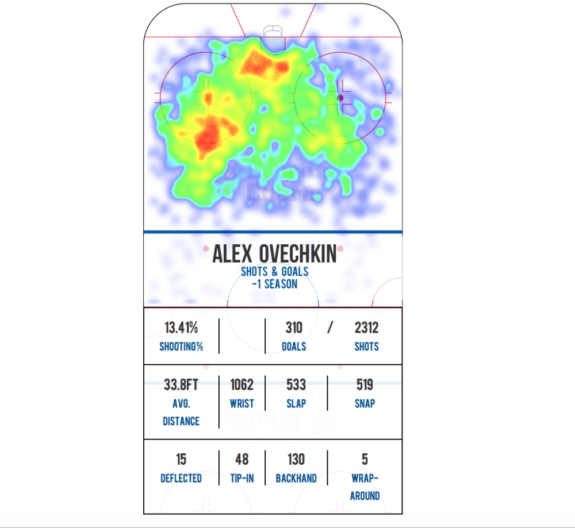 While many of his goals have come on the power-play, only four of his 12 this season have come on the man advantage. This shows that he is finding more creative ways to score, and doesn't need to rely on a heavy one-timer to find the back of the net.
Many of his goals this season are snapshots, but in the end, his quick wristers and one-timers have helped him find twine. Not to mention, he has made his presence in front of the net, resulting in a couple of tip-ins and deflections for Ovechkin.
Against St. Louis, the 31-year-old had two one-timer goals, and on his hat trick tally, showed flashes of his earlier NHL days. With a head full of steam, he sped his way into the offensive zone, and fired a dart past Carter Hutton. It was his 16th career hat trick, which tied him for the lead among active players.
Following his three-goal performance Wednesday, Ovechkin talked about his scoring ability, and how often, it all depends on simply getting shots on net.
"Sometimes you just feel right away when you have an opportunity to shoot the puck and you feel the puck on your stick and you just go out there and just use the momentum and use your chances," Ovechkin told NHL.com following his three-goal performance Wednesday. "My linemates and my partners gave it to me. You can see all three were kind of good setups and I just had to hit the net."
While Ovechkin recognizes a good play when he gets one, and benefits greatly from playing with playmakers like Evgeny Kuznetsov.
Ovechkin's third goal showed that he can still carry the puck and make plays all on his own. He has a deadly shot, and with his shooting ability, Ovechkin's still capable of being among the NHL's top performers and is more than just his one-timers.
Making the Most of Limited Minutes
Since his drought, head coach Barry Trotz has been cutting Ovechkin's ice time, reducing it by as much as five minutes per game. With this, Trotz makes sure that all four lines are fresh, and that Ovechkin isn't overused and overworked.
Right now, Ovechkin averages 18:19 minutes per game, two minutes less than the 20+ minutes of ATOI he's skated for the last four seasons.
"I think that will pay off in the long run," Trotz told NHL.com of Ovechkin's cut in ice time. "We can play with a faster pace and if they can skate like that, they're going to score a lot of goals that group."
In the Capitals' 4-3 win over the Blues Wednesday, Ovechkin did not surpass 16 minutes, yet scored three goals in his time on the ice. He finished with five shots, and proved to make the most of his limited minutes by throwing pucks on net and creating multiple chances in the offensive zone.He was also flying and creating multiple scoring chances.
If Ovechkin continues to make the most of limited ice time, he will get more pucks on net and produce more in the end.
Physical Presence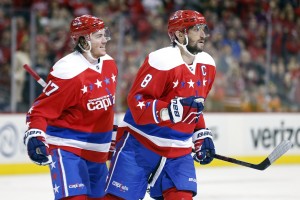 Along with Ovechkin's goal-scoring ability, he has been a force to be reckoned with. With 13 hits in his last five games, the 6-foot-3, 239-pound winger has been adding much-needed physicality to the Capitals' game. He has 50 hits so far, and is on pace to have over 200 hits for the fourth straight season.
Ovechkin's use of his heavy frame, as well as his hitting ability, makes him one of the most dynamic players in the league. He can win battles in the corner and along the boards, and can make other players pay if they take too long with the puck. Not only that, but he has great momentum and speed, and his ability to throw big hits can turn the tide in critical situations.
He is famous for possessing a big frame and delivering bone-crunching hits, but when applied to the game, Ovechkin has a unique way of shutting down the opposition and winning those fights for possession.
In the end, Ovechkin may go through ups and downs, but he's still got his scoring touch. He is capable of much more than one-timers and power-play strikes, and is still as strong as he's ever been, even after a decade in the NHL.