In a wild night of NHL action, Friday offered some memorable moments. Connor McDavid scored what looked like an overtime winner just under the wire (0.00 seconds on the clock), only to be ruled a no-goal and Edmonton eventually lost in a shootout to the Coyotes. Meanwhile, Minnesota routed the Penguins, keeping Crosby completely off the score sheet and rocking Marc-Andre Fleury for six goals. And, Friday saw three of the top five scorers come from the fairly average Nashville Predators. Saturday, there are nine NHL games on the docket. Can they match the excitement of Friday?
Yesterday's Games
Ryan Johansen, Mike Fisher and Colin Wilson led the way for the Predators in a 5-1 win over Winnipeg. Not to be outdone, Frans Nielsen from Detroit and Minnesota's Jonas Brodin had three-point games. They were your five big fantasy earners. Zach Wereski led the way in shots on net with seven for the Columbus Blue Jackets and Jordie Benn out of Dallas had six blocked shots for a handful of fantasy points.
Tonight's Games
Carolina Hurricanes at Ottawa Senators
Columbus Blue Jackets at Florida Panthers
Montreal Canadiens at Detroit Red Wings
New Jersey Devils at Pittsburgh Penguins
Washington Capitals at Toronto Maple Leafs
Minnesota Wild at St. Louis Blues
Vancouver Canucks at Colorado Avalanche
Anaheim Ducks at San Jose Sharks
Chicago Blackhawks at Los Angeles Kings
Centers
Anze Kopitar, LAK ($5,400)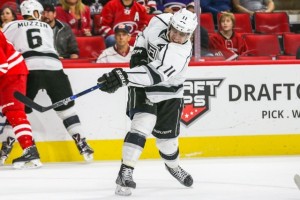 Kopitar returned to the Los Angeles Kings lineup Wednesday against the New York Islanders and had an assist and one shot on goal. Kopitar is available at a discount because he missed five games and the idea here is to take advantage while the opportunity exists. Soon enough he may start working his way back up in terms of costs.
Kopitar has 24 points in 34 career regular-season games against the Chicago Blackhawks, who will be playing the second of a back-to-back set. The Blackhawks could be without Jonathan Toews, who usually matches up against Kopitar and this creates opportunity. Despite Chicago's record of 14-6-2, they are a very average team defensively.
Bo Horvat, VAN ($4,100)
Horvat is a young up-and-coming center who pivots the Canucks' surging second line. He leads the Canucks with 14 points in 21 games and has nine points in his past eight. He's looking to continue his strong play with a favorable matchup against Colorado, but he may be without winger Sven Baertschi, who is day-to-day for the Canucks.  All that said, the Avs are not a good team defensively. Colorado has allowed 26 goals in nine home games this season and are a bottom-ten team for goals allowed and shots allowed per game.
Forwards
Alex Ovechkin – WSH ($8600)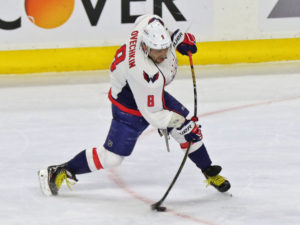 He's expensive, but I don't know how you ignore him as a fantasy selection. He has four goals in his last two games and ten shots on net. He's taking on a Toronto team that has lost three straight and Ovechkin has 57 points in 39 games against the Leafs over his career. With Toronto ranking 27th in the NHL in goals allowed per game and 29th in the NHL for shots against, this just screams the kind of contest Ovechkin could dominate for fantasy owners. This game is one of those games that could put Ovechkin back to a point per game pace for the season.
Charlie Coyle – MIN ($5200)
Coyle now has 14 points in 20 games. He's second on the Wild in shots on net with 48 and he's got three powerplay goals and two game-winning goals on the season. Against the Penguins on Friday, he had two goals on three shots. St. Louis and Minnesota are two very evenly matched teams, but the Wild are coming in with two straight wins and the Blues off a loss.
Defense
Marc-Edouard Vlasic, SJS ($4,300)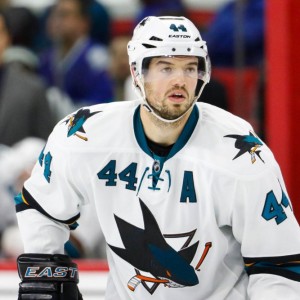 While Vlasic hasn't appeared much on the scoreboard in the last three games, he's still earned steady points for fantasy owners. He has seven blocked shots in his last three contests and 26 blocks in the past seven. He also shoots a fair bit with 13 shots on net in his last three games and offers all of this at an extremely low price-point. San Jose and Anaheim should be a very evenly matched contest, but it's games like these that well-rounded defensemen can do well.
Goaltender
Matt Murray, PIT ($8,300)
Marc-Andre Fleury started on Friday against the Minnesota Wild and got eaten alive for six goals against. Murray is slated to play at home against the New Jersey Devils and should backstop the Penguins to a much better performance. The Devils are again without Taylor Hall, their top offensive player and both teams are coming into this contest having lost their most recent games.
Murray is 6-1-0, has a 1.58 goals against average and a .945 save percentage. He's playing against Devils team who shoots a lot but doesn't necessarily score a lot.