To suggest the opening quarter of the 2016-17 season hasn't gone exactly as Edmonton Oilers winger Jordan Eberle had hoped would be an understatement. After suffering through and injury-filled and inconsistent campaign in 2015-16, the Regina native was hoping for a bounce back performance playing alongside Connor David on a full-time basis. While the first 22 games may have been a struggle, the three-time 25-goal man is surprisingly not far off his career goal scoring average.
Key offensive players off the schneid; RNH 1st goal at ES, Eberle scores twice (2 last 15 games), Lucic 4 points after 3 in previous 12.

— Jack Michaels (@EdmontonJack) November 24, 2016
As unhappy as many have been with the lack of production the Oilers No. 14 has delivered through the first six and a half weeks of the schedule, at his current rate Eberle would finish the season with 26 goals and 63 points. Not quite the numbers most fans were hoping for but by no means are they as dreadful as some are making them out to be. There were exactly 41 players who scored 27 or more goals in the NHL last season and only 28 managed to reach and/or exceed the 30-goal plateau.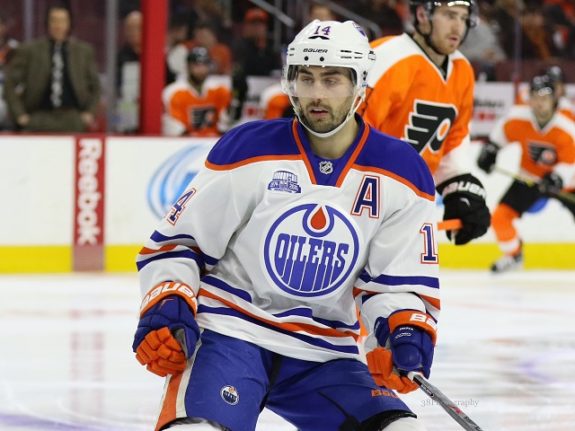 Eberle Near Career Average
Again, it has been far from an ideal start to the year but if you actually look at Eberle's goals per game average, one could argue there is really not much cause for concern.  Through the first 447 games of his career, the 26-year old has scored at a .34 goals per game clip and .35 since McDavid's arrival. Despite his early season missteps, he is at .32 after 22 games…not as much of a decline as one might think. No question his play has been uneven but to suggest he has suddenly turned into a pumpkin overnight is absurd.
#Eberle misses the net, that is shocking … #Oilers #NHL

— Derek Van Diest (@DerekVanDiest) November 26, 2016
So what gives? Well, in all likelihood…it is nothing more than bad luck and a player pressing. Outside of his rookie season, in which he posted a shooting percentage of 11.4, Eberle has never been below 12% and as of this moment, has a career mark of 13.9%. As of this morning, he sits at 10.4% in 2016-17 and while the possibility exists of that number maintaining over the course of an 82-game schedule is real, players do have off-years, the more likely scenario would be for him to revert back to his career norms over the final 60 games of the season.
If we take Eberle's current shot rate of just over three per game and forecast that same total to the end of the year, he will take approximately another 182 shots on goal. Should he raise his shooting percentage to 13.2 on those attempts, a number which is still below his previously mentioned career mark, that would give him another 24 goals and leave him with a shooting percentage of 12.4 with 31 goals on 250 shots. While that would set a new career high in attempts, playing on a line with McDavid would automatically increase that total.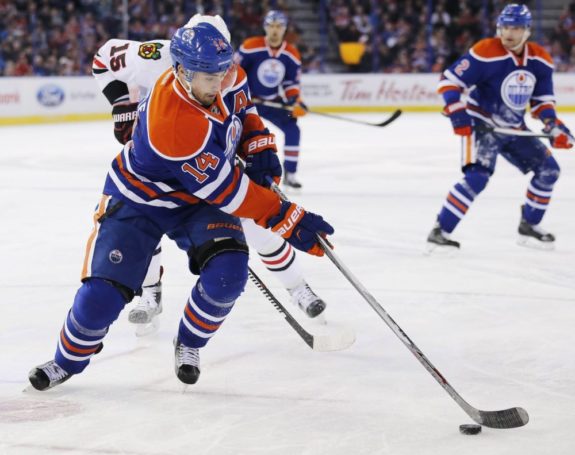 Eberle Is Who He Is
Heck, with a bit of luck, we could still be talking about a 35-goal man and yet so many Oilers fans are worked up with the "lack of" production. Problem is…it's just not true. Believe it or not but most goal scorers go through a number of ups and downs through the course of a season…it's quite normal. Eberle is no different, nor is he an elite finisher. His inability and/or willingness to one-time the puck is obvious and a concern but we are not talking about Winnipeg Jets rookie sniper Patrick Laine here. That is not who this player is and fans need to accept that.
Eberle should see Larsson's shooting coach

— Arch (@Archaeologuy) November 26, 2016
Like it or not, Eberle is a complimentary winger who can score goals and put up points…nothing more and nothing less. Yes, the lack of early success is a tad concerning but the player's track record has earned him more than a bit of rope. Be it playing with McDavid or Ryan Nugent-Hopkins, putting pucks past NHL goaltenders has never been an issue for him, so why would that suddenly change? If he wasn't getting scoring chances there might be cause for concern but that simply hasn't been the case.
Make no mistake, the former first-round pick has his shortcomings as a player. He remains a train wreck of sorts when it comes to defensive zone coverage and his lack of hustle on the backcheck has become legendary in this neck of the woods. With that said, the Edmonton Oilers are paying Jordan Eberle $6 million to score goals…not to be a 200-foot player. At the end of the day, all that matters is the production and while it may not be quite up to snuff at the moment, a lot can change over the course of four months.