On April 5, 1970, the Chicago Blackhawks and Montreal Canadiens engaged in one of the weirdest games ever in NHL history. There has never been another game like it, nor is there likely ever going to be a repeat. It actually forced the NHL to change the rulebook.
It was the last game of the 1969-70 schedule. The New York Rangers had won earlier that afternoon, so the Habs went into the evening game in Chicago tied with the Rangers for the last playoff spot in the East Division with 92 points apiece. The first tiebreaker was number of wins. Both teams were deadlocked at 38. The next tiebreaker was goals for. The Canadiens were forced to either win or tie that night in the windy city, or at least score five goals and their playoff position was clinched.
With the Hawks ahead 3-2 going into the third period, Canadiens coach Claude Ruel committed a fatal error by pulling the goalie and trying desperately to score three more goals to secure that last playoff position. It backfired badly. Led by a hat trick performance by Pit Martin, the Hawks scored five empty net goals and crushed the Canadiens 10-2. It marked the first time in 22 years the Canadiens missed the playoffs. In fact, with the Toronto Maple Leafs finishing dead last and well behind the pack, it marked the first time ever no Canada-based team would see the post season.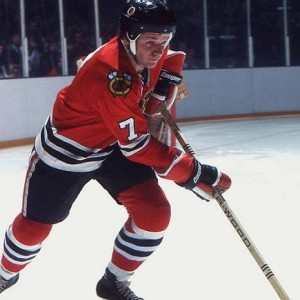 For Pit Martin and the Hawks, the season ending was tremendous and jubilant. After finishing in last place in 1968-69, Martin had stirred up controversy in Chicago by calling out his fellow teammates. His leadership helped the Blackhawks rebound completely to a first place finish with 99 points in 1969-70, a most spectacular one-season turnaround. He would win the prestigious Masterton Memorial Trophy that season for his recognized dedication, perseverance and sportsmanship. The Hawks would eventually fall to the Boston Bruins in the semi-finals. The absence of a Stanley Cup ring over his long and very solid NHL career was probably a deciding factor in keeping Martin just short of Hall-of-Fame consideration. Check out his numbers. His NHL accomplishments were well above average.
Going into the 1970 playoffs, Martin was on top of the world. The following day, April 6, 1970, Martin became a father for the first time when his wife Patricia gave birth to daughter Nicole Josée. He would go on to have three more daughters in the next five years.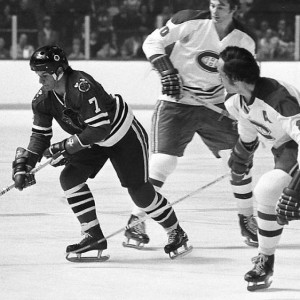 What follows is the rest of this story, just recently written in the words of Nicole Josée Martin, first-born daughter of Hubert "Pit" Martin. The entire story is a 2010, "The Hockey Writers" exclusive. The love of his first-born daughter for her dad shines through so eloquently that these words are a genuine tribute to her father who passed away tragically two years ago this November 30. Take note of what it's like to grow up in Canada as the child of a famous hockey player…
It was a shame many said, that he never had a son.  He had no complaints, none that we ever heard anyway.  Funny, when I think of it now, he never treated us differently just because we were girls. We went with him up north to the family cottage our whole lives and were expected to bait our own hooks, hike the trails and lug the firewood.  In fact, it was never an option to even question what he believed we were supposed to do.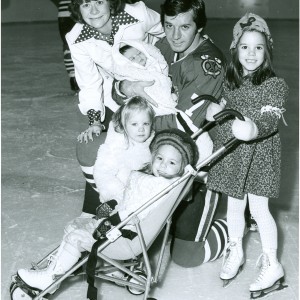 My dad was an overachiever in every way, and expectations on us were high.  In addition to being in the NHL for 16 years, Pit skipped three grades, graduated university at the age of 19, was a competitive swimmer and diver, and piloted his own small airplane for over 20 years — pretty hard to top that, but I sure did try in my early years. Growing up we moved around a lot, but always had Windsor, Ontario as a home base between May and September.  My dad left for training camp just before Labour Day weekend, and my mom packed us up to meet him in October wherever he was playing. Luckily we were in two great cities when I was a child — Chicago and Vancouver.
As a kid, I was quite a rink rat.  My dad would bring us to skate before and after his practices – so I guess I first learned to skate at old Chicago Stadium along with many of the other sons and daughters of the Blackhawks.  While he was on the ice, we had the run of the place – climbing the stairs and seats and fetching pucks that went over the boards. One of the things I liked the most was getting treats from the lovely catering ladies that were always in the kitchens preparing for the evening events.  My first solo hockey game was when I was 8 in Vancouver's Pacific Coliseum; I can still remember feeling so grown up and so comfortable at the same time.
I am part of a unique group of people, children of NHL hockey players.  I am certain it was much different for me back in the 70's, in comparison to the children of the modern day hockey professional.  My father was decently paid, but nothing like the salaries of today's stars, and the media coverage is more intense and intrusive than ever.  The similarity is that thousands of children grow up playing hockey in Canada and watching HNIC on Saturday night, and then, like now, a very large number of them hope to one day have their name on a professional roster and be mentioned by Don Cherry after the first period.  Our fathers were living the dream, and in Canada that puts them in another world, one rarely reached by the kids at the neighborhood rink.
When I was young I knew that things were a bit different for us. Moving around a lot and having your dad on TV was nothing like my friends' families.  Out and about, I just thought that my dad had a lot of friends; a lot of people knew his name and just wanted to say hello. Little did I realize at the time that is was actually a kind of one-way friendship where everyone knew his name and he only knew a small proportion of theirs.  At the same time, it was all I knew and it was fun and exciting.  We always had lots of great people around us and I think there was always an underlying feeling of gratitude in our family – we were very lucky to have the opportunities that we did, and we tried not to take anything for granted.
As a very young girl, I recall mandatory afternoon naps for the whole household, early dinners on game days and then Dennis Hull would come over to pick up my dad to go to the game.  I got the chance to go to a lot of games growing up and expectations were always high when it came to behavior, both during the game and at dinner afterward.  Perfect table manners by age 4 were expected and I learned the art of conversation right around the same time. I must say that these skills have come in very handy throughout life.  It wasn't always easy being the new girl in school and in the early years, it was hard to completely understand why we were so popular everywhere we went.
My parents had a lot of good friends, inside and outside of the hockey world, many who I still consider my honorary aunts and uncles.  These were the people at the games and dinners, the people with which we shared Thanksgiving and Christmas dinners, and the people that visited us in Windsor during the summer.   After being welcomed by so many during our days on the road, we have always carried on the tradition.  Our home after the hockey days was always a place where people with nowhere else to go were embraced and became a critical part of everyday life, especially during the holidays.
As the years passed and my father retired from hockey, daily life became very stable in Windsor, except I think my dad struggled to figure out his next best step in life.  He was still a young man but had never held a 9 to 5 job. Despite being very educated, the job market was not that easy for former NHL'ers.  My parent's marriage did not make it through all of the post hockey life, which I believe is common for many families in our position.  My dad had a few businesses, definitely suffered through a lot of bad luck, and decided to finally retire from public life entirely about 12 years ago.  Away from Windsor, he never needed to put on a special persona each time he was recognized, and he could take those old hockey photos and Sharpie pen out of the glove box. He would truly focus on living life in the north where it was all about him and nature, and enjoying all of the small things in life.
For 10 years my dad lived on a very small island, on a lake where he had spent his childhood, away up in the Quebec wilderness.  His girlfriend joined him on this adventure where the beauty was overwhelming, but the isolation could be uncomfortable for many.  As adult children, we visited when we could, but probably not enough since "life" often got in the way.  My dad rarely came back to Windsor. "Too much traffic," he said, "too much running around and way too much to do around the cottage to break away."  My sisters and I heard it frequently.
To be honest, we were used to him being away.  We were brought up to be very self sufficient, independent people that made the best of things.  The ups and downs of a hockey life were something we were very familiar with and we always tried to put on a bold smile and keep going.
In the end, it was all of these life lessons that helped me get through what was to be the hardest times in life so far – getting the news that my father had been killed in a snowmobiling accident.  It took several days to find his body, and even after being retired for over 25 years there was national media coverage of the tragedy.  The fact that people still remembered somehow brought comfort, and all of those friends over the years embraced us just like they always had back during the glory days of hockey life.  Not many made it to the far north for the funeral, but the flowers, countless phone calls and cards are cherished reminders of the impact my father and my family had on many.
On November 30, it will have been two years since that tragic day, and sometimes it feels like yesterday.  I miss him far more than I could have imagined.  I never got to ask him about his hockey days, and he never really talked about them.  He didn't feel very nostalgic about any of his hockey items and he gave just about all of his memorabilia away, so I have been trying to gather a lot of the images and stories on my own – thank goodness for the internet.
In the end, what I think all hockey kids in my position hope for is the same thing.  That our dads are remembered, and that everyone understands that not only were they hockey players but complex and dedicated people that tried to live a "normal" life amidst some extraordinary circumstances.  As for me, I was a lucky girl who got some unique opportunities to see some amazing things and meet some great people.  For that I will always be grateful, and for the rest of my life I will try and do the same for others.
Nicole, her mother, three sisters, and Pit's four grandchildren all still live in the Windsor area. She is a Vice President at a large international marketing company and currently has season tickets to her current favorite team, the Windsor Spitfires.  She loves the passion of the young players, and is thrilled that the Spits players have their names on the Memorial Cup, the same trophy that her father won back in 1962.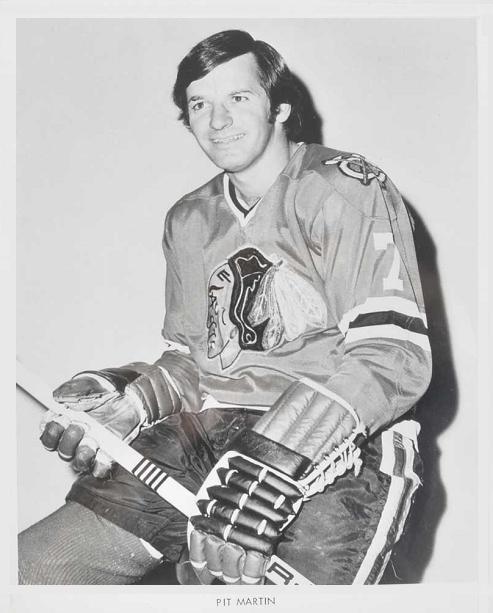 Born and raised in Montreal, Mike has lived in the Greater Toronto Area for the past 24 years. He grew up on skates and has been a close follower of the game of hockey, especially the NHL, all of his life. An extensive library of new and vintage hockey books, magazines and other publications is a testament to Mike's love for hockey history, both the on-ice game and the business.