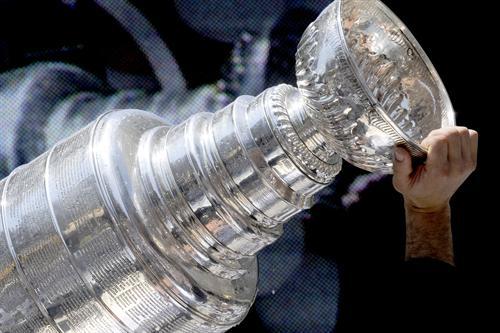 As an Avalanche fan, I rooted against the Vancouver Canucks and Detroit Red Wings on Wednesday night. For various other reasons, I'm rooting against the San Jose Sharks tonight. Generally, I'm pulling for the New York Rangers and the Nashville Predators (coincidentally, my Stanley Cup Final prediction) and I really, really hope that a lot of games go to overtime and that a lot of series go to Game 7.
Because I am team-less in the Stanley Cup Playoffs.
Again, I am an Avalanche fan. For those of you who are new here, the Avalanche were eliminated about a week ago, their dreams of playoff glory shot down by mediocre play and the Columbus Blue Jackets. I don't have a second favorite team, and even if I did, there's a 44.8% (13/29) chance that they were eliminated along with the Avalanche.
But now, I, a hockey fan, am faced with two months of the best postseason tournament in all of sports. From now until mid-June, my TV watching will consist of playoff hockey, Game of Thrones, and more playoff hockey. Yet, here I stand. A wanderer in the desert. A journeyman in the minors.
What is someone in my position to do?
Adopt a (Temporary) Playoff Team 
Listen, I get that it hurts to root for another team. But it's almost impossible to watch a game and not be biased for one team or another. Maybe you want to root for the underdog. Or perhaps you have a soft spot for a certain player. Adopt whichever team is appealing and live or die with their playoff efforts. Read their blogs and get to know their fans. Who knows? Maybe you'll make some friends in the process.
Root Against Your Rivals 
Neither the Red Wings nor the Canucks are allowed to win the Cup. Vancouver came perilously close last season, but alas, Vancouver haters were spared the riot. (Sort of.) But seriously, watching players hoist the Stanley Cup shouldn't cause you to grimace, unless your team literally just lost. Thus, root against (with all your heart) those teams/players that you just can't stand.
Pray for Overtimes and Game 7s
Playoff hockey is already ridiculously exciting. The best way to ratchet it up a notch? Overtime. Heart-stopping, fear-inducing overtime. Even if you have no vested interest in what you're watching, the stakes are too high and the intensity is too great not to be enthralled by a back-and-forth, potentially endless overtime. The same holds true for Game 7. One and done. The atmosphere is enough to give you goosebumps, and careers are defined by Game 7 performances. The end of a long, physical series is never as emotional than in a Game 7.
Warning: Game 7 overtime may cause health issues.
Enter a Playoff Pool 
Show off your knowledge of the rest of the league and give yourself something to do with a playoff pool or bracket challenge. It's not too late to get in on the competition. TSN and NHL are both running ongoing contests.
Troll Twitter 
_ _
Even though your team's season may be over, it doesn't mean yours has to be.
Now go watch Pittsburgh-Philadelphia. Every hockey fan, no matter how depressed, should be able to enjoy that one.
Geoff Rosenthal is a junior at Cornell University majoring in Industrial and Labor Relations. Blogging about the Avalanche since 2007, he has been a fan since the beginning.