Much of the New Jersey Devils early season successes can be linked to the scoring prowess of what has become their top line of Mike Cammalleri, Adam Henrique and Lee Stempniak. At press time both Cammalleri and Stempniak are leading the team with nine assists each and their center Henrique is the team's leading goal scorer with seven. Henrique and Cammalleri were the Devils scoring leaders last year, in what was one of the franchise's worst seasons in over twenty years, and it appears that, barring injury, they should both be near the top the leaderboard again, this time with a more successful team perhaps. Those three, in addition to Travis Zajac and Kyle Palmieri, give the team five players with double-digit point totals over the course of the first fourteen games. That's right. The New Jersey Devils, have five players (one-two-three-four-five) with between 11-to-14 points, in their first fourteen games.
Stempniak was brought in on a tryout on the eve of training camp and inked a one-year deal following New Jersey's final preseason game and has had much more of an impact than anyone could have anticipated — for a player that is playing for his eighth NHL team. "It's been a good fit, we're playing well as a team which is fun. Winning is fun. The guys (here) really respond well to the coaches. We've really improved everyday, I know that's a cliché – to get better everyday – but I feel like with this team, our games have been more complete, we're playing better, we're defending better and, as of late, we are creating more offensive chances," he told The Hockey Writers following an eyebrow raising rout of the Chicago Blackhawks. "Individually it's been a good fit; just coming to training camp and trying to earn the coach's trust, (earn) your teammates' trust…and try to develop a role for yourself. You want to contribute, you want to be a difference maker when you're on the ice; but you also want to win most importantly."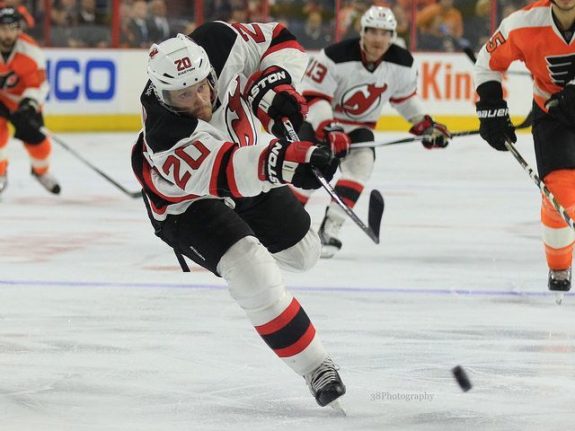 "We're proud of the way we responded, we lose a game and we come back more determined," he explained. "It was a tough game, losing that one late to the Islanders (2-1 on November 3); but I thought we came out and had a great start (vs. Chicago) and a good two days of practice led into that." Practice certainly made perfect for Stempniak who opened the floodgates when he anticipated a particular play from Blackhawks defenseman Niklas Hjalmarsson, intercepted the puck and quickly netted his third goal of the season. "I was looking for that. They're a team that likes to make plays, they don't shoot the puck up the wall very often — they're a puck-possession team — I think it might've been Cammy, someone (it was Henrique) got one of their d-men turned back and I had a lot of speed. I was able to jump down and try to get that pass. He may have just hit the tip of my stick. It was very close to me missing it."
Lee Stempniak steals the puck and opens the scoring in a rout, going five-hole on Corey Crawford:
When you play on eight teams like Stempniak has, you have a lot of former teammates around the league and the connections he had on the Devils certainly had a hand in his choice to accept a tryout in New Jersey over other NHL teams. Ray Shero was the GM who acquired him in Pittsburgh, he was teammates with Jiri Tlusty with Toronto, teammates with David Schlemko in Phoenix and teammates with Cammalleri (as well as a linemate) in Calgary. "My last year there (Calgary) we played together for a stretch, maybe 20-30 games. He talks a lot," Stempniak said of Cammalleri. "He's an interesting guy to talk hockey with; we both care a lot. I like picking his brain on certain things, so it's a lot of hockey talk and that's carried over so far."
Cammalleri echoed his buddy's sentiments when THW asked him why the duo has worked so well with New Jersey. "We both are passionate about the game; it's one of our many talking points," he said with a chuckle, "and I think that helps. I think the more you can communicate with your teammates, specifically your linemates, it allows you to think a little bit quicker; you know each other's tendencies little bit more and understanding one another a little more. We definitely talk a lot for sure. We've been good friends now for a few years since we played together in Calgary, he's a tremendous teammate and a tremendous person — and a heck of a hockey player that a lot of people are seeing now. It's fun to get a chance to play with him (again)."
Lee Stempniak blasts a one-timer past Henrik Lundqvist in overtime for the Devils first win of 2015-16:
It was their line that really kickstarted the Devils after an 0-3-1 start when Stempniak clinched the first victory of the John Hynes era with an overtime winner in Madison Square Garden against the New York Rangers. Since then the trio has had a big hand in the surprising success of a team in transition that has gone 8-2-0 in their last ten games: Stempniak added a shootout winning goal (Oct. 22 at Ottawa), Henrique had a shorthanded GWG (Oct. 24 at Buffalo) and Cammalleri had a shootout winning goal (Oct. 31 vs NY Islanders). Before the Chicago game the trio had struggled a bit to score, but in back-to-back home wins over the Blackhawks and Vancouver Canucks the trio accumulated a total of nine points (4g-5a) — and it was the reunited friends that assisted on Palmieri's power play overtime winner vs. the Canucks.
Cammalleri didn't quite agree that they've been great so far this season, showing he has perspective on how quickly good vibes can disappear. "Not bad," was how he responded when asked about their first 14-games as a trio. "We've had a little lull, but hopefully we are on the upswing again. The key is not having too many bad ones and trying to have more good ones than you have bad ones. Be guys that can be relied every evening." Stempniak had also alluded to the mini-slump they went through — four games, total of one assist between the three — and explained why they just may be on the upswing again.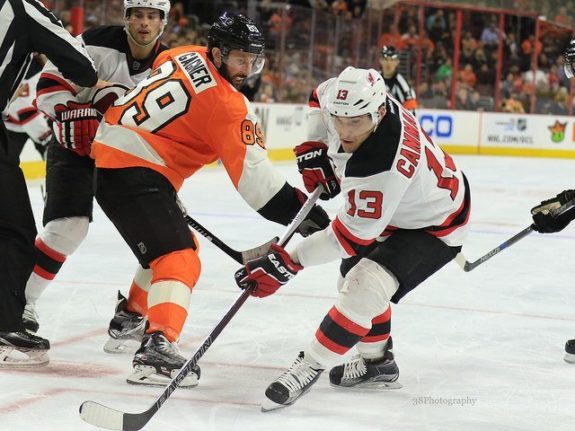 "Yesterday we (the three of us) had a long video meeting with (assistant coach) Geoff Ward, just watching our shifts from last game," Stempniak told THW. "We (also) saw what had worked for us in the past and what we got away from a little bit over the past three or four games. A lot of it came down to skating, making the right reads on the forecheck. I think as a line right from the start of the game (against Chicago) we were able to do that. We were able to get in, create some turnovers, get pucks stopped and then you sort of let your offensive instincts take over from there. Just making reads off of each other at that point."
Cory Schneider had played ten consecutive games before resting against his former team, as backup Keith Kinkaid got the start against the Canucks and he was a big part of the win, as the backbone of a penalty kill unit that killed off all six power plays it faced — including a five-minute major. "We're playing as one and we need everybody in here every single night in order to win. We're playing well," said Henrique after the Vancouver win, "I think even the games where maybe we weren't putting pucks in the net, we were doing things well – playing against the other team's top line and you always take pride in that, trying to shut them down. That's what it takes to win as a team, it's not always going to be like that (us being the top line), the assignments go around and everybody's buying into that and that is a big reason for us having success now."
Dan Rice can be reached via Twitter: @DRdiabloTHW or via Email: drdiablo321@yahoo.com. 
Dan Rice is in his 9th year of reporting for THW & has covered NJ Devils home games for 15+ years at various websites. He began his journey working for legendary broadcaster/writer Stan Fischler from 2002-04 & completed an internship at the ECHL; he also has been writing features for the NWHL (nwhl.zone) website since 2016.