It's still very early in the 2015-16 NHL season, but I believe it is fair to say we can already draw some early conclusions about the Toronto Maple Leafs. Coming into this campaign, fans knew it was going to be a long year filled with highs, lows and more teachable moments than you can count. It is a rebuilding year with a new and demanding head coach trying to steer this team in the right direction.
Eight games into the season and no one is surprised at where the Maple Leafs sit standings wise. They have accumulated a single win and a total of four points. This may sound incredibly negative, but there have actually been a ton of positives about this team in the early going.
Competitive Losses
Fans understood that the team that would be iced this year wouldn't be the most talented the league has ever seen. There are a lot of filler players holding spots for the season as the team's young guns develop in the lower leagues. Despite the lack of talent and scoring, the Leafs have actually been fairly competitive whenever they take to the ice.
Take the two most recent games against Montreal and Arizona as examples. The Leafs were able to pound an astounding 52 shots on the Habs' net. Sure, they ended up losing the game in the end, but they showed some hustle that has been sorely lacking the last few years.
Against Arizona, the Leafs staged a third period comeback which featured chance after chance in the Coyotes zone. Shots, passes and puck movement were superb as the Buds fought tooth and nail for the chance to tie the game. Their effort came up short, but it was entertaining and showed that the Blue and White were at least willing to try instead of rolling over and giving up.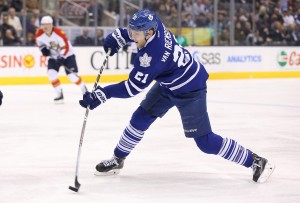 I believe all fans think the same way in regards to these losses. If the Maple Leafs are able to play hard and well and still come up losing, it's acceptable. Fans want to see their best effort night in and night out. If they lose after giving their all, it leaves a much less sour taste.
Mike Babcock has a lot to do with that. The former Red Wings coach is trying his best to implement a new system that will hopefully see the Leafs give their all every night. It starts with the coach, but ends with the players. Babcock's philosophy is that if you aren't giving your best effort, you will be sat in favour of someone who will. Byron Froese, who was recently called up from the Marlies, is a perfect example of this philosophy. He worked hard and earned a spot with the big club. In his current stint, he has been praised by Babcock and hasn't looked out of place.
This is all the fans really want to see–players trying and leaving everything they have out on the ice. That is the mentality that Babcock is trying to implement. It may take time, but the early signs already point to progress being made.
Morgan Rielly is the Best Maple Leaf
What can I say about Reilly that hasn't already been said? The former fifth overall pick in the 2012 NHL Entry Draft has easily been the Leafs best player to begin the season. Fans have been spoiled watching Rielly the last few years and this season appears to be no different.
His skating, which is his biggest strength, has been as dynamic and fluid as ever. Every time he jumps into or starts the rush, he looks very confident and sure of himself. In recent games, he has taken the Leafs offence into his own hands and has tried to spark them with spectacular chances. He already has two goals and a couple assists and should produce many more if he continues to play this way.
Morgan Rielly: "The game's always 60 minutes. We know we have to start better. We came out flat … we can't do that to ourselves."

— Mark Masters (@markhmasters) October 27, 2015
He's a young leader on a team full of NHL veterans. The former Moose Jaw Warrior understands the intricacies of the game and also knows that his team needs to be playing better. This quote from TSN's Mark Masters proves it. The Maple Leafs may be tough to cheer for this year, but watching the young and talented Rielly play live, is certainly worth the cost of admission.