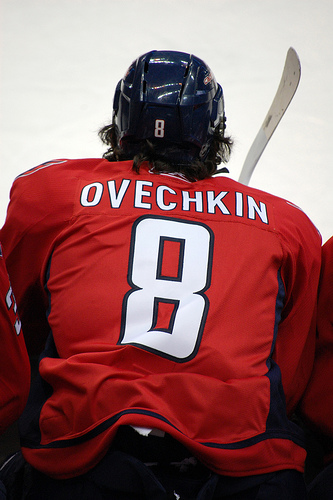 Before this season's debacle, in which Alex Ovechkin was simultaneously the league's best goal scorer, worst defensive forward, and above-average detractor of his own teammates; before Dale Hunter regularly benched Ovechkin in favor of more defensively responsible players; before Ovechkin's two-year swoon following the Vancouver Olympics; and before high-expectations and spectacular playoff failure became the norm in Washington, the Capitals made Alex Ovechkin their captain.
It was midway through the 2009-10 season. The Caps were en route to the first Presidents' Trophy in franchise history, and Ovechkin was in the midst of what was arguably the best season of his career. A Stanley Cup seemed inevitable that Spring, and Ovechkin was only just entering his prime.
But even then, when the both the Caps and Ovechkin were peaking, the decision to name him captain didn't seem quite right.
Ovechkin is not, nor has he ever been the emotional leader of this team. Most important player? Definitely. Face of the franchise? Without question. But has he ever been the one with his finger on the pulse of his team? Has he ever had the credibility to challenge a lazy, or struggling teammate? Has he ever demonstrated the level of emotional maturity and fortitude necessary to be a leader amongst men?
No, no and no. And now that he and his team have reached the nadir of their time together, his impotence as captain has never been so apparent.
"I think everybody quit on the play…"
When called out by his coach for giving up on a play that led to a backbreaking goal against in a crucial, must-win, late-season game, Ovechkin retorted, "Everybody quit on the play". It wasn't just him, you see, there were some others that were being lazy too!
This, we can hopefully all agree, is not how a captain should respond to criticism. Frankly, this is not how an adult should respond to criticism. Whether or not Ovechkin was correct in his assessment (and, to be fair, he was correct) is irrelevant. The point is that Ovechkin has two very important duties as captain: 1) He needs to stand up for, and protect his teammates, not throw them under the bus, and 2) He needs to not quit on plays at critical moments in crucial games.
But all of that aside, even if we were to assume, for the sake of argument, that Ovechkin wasn't captain, would it be appropriate for him, or for anyone, to justify lazy play because he saw others doing it too? Is he a toddler? A lemming? Is he the kind of person that seems fit to lead by example, with the unassailable reputation and work ethic to call out his fellow teammates? Once again: No, no and no.
The above is a common refrain, both for Ovechkin, as well as Ovechkin apologists. Frequently, it's used as a justification for Ovechkin's ineptitude in the defensive end. But this notion that Ovechkin's obligation to the team is so one-dimensional is, of course, ludicrous, and for several reasons.
Primarily, it's indicative of an alarmingly low hockey IQ. Specifically, for Ovechkin, it is indicative of his belief—and he truly does believe this—that it is impossible to do multiple things well at the same time. That is, he can't score goals and be expected to play defense. After all, what was his response when asked about his dip in offensive production under Dale Hunter?
"My job to block shots." The other end of the spectrum.
Here's the problem with that philosophy: There are literally hundreds of examples of forwards throughout hockey history that have managed to play great defense without sacrificing offensive production.
For modern examples, just look at Ryan Getzlaf, who somehow managed to score 87 points this season (8 more than Ovechkin), while simultaneously ranking 2nd amongst all forwards in blocked shots. Or what about Pavel Datsyuk, who, in consecutive seasons from 2007-2009, won the Selke Trophy, and ranked in the top-5 in scoring.
If you had a choice between a 100-point scorer with a -35, and a 97-point scorer that was also the best defensive forward in the league, which would you choose? This isn't to say that Ovechkin needs to win Selke Trophies, but it doesn't take an expert to tell that there is a lot of room for improvement. And remember, this all kind of a moot point, because Ovechkin hasn't scored 100 points in 5 years.
Ovechkin is not paid to score goals, he's paid to be one of the best players in the world; and now that he's captain, he's paid to be the team's leader as well. Until Ovechkin realizes/understands/accepts that there is far more to being a great player than just scoring, he has absolutely no business being captain.
That, or he needs to reimburse the Caps for the 38 games this season when he didn't do his job.
"Ovie is taking care of the ice. That's what Ovie is going to do."
When the Capitals traded Chris Clark to Columbus in December of 2009, it left the Capitals in need of a captain for the first time since Ovechkin's rookie season. Clark was a well-liked, and highly respected veteran leader. When asked to describe Chris Clark's leadership, Bruce Boudreau said that, "Clark was an organizer. His wife took care of the [players'] wives. If there was a problem, Clark took care of the room, of everything else."
When asked about Ovechkin: "Ovie is taking care of the ice. That's what Ovie is going to do."
The subtext: 'Ovechkin is a phenomenal hockey player, and no one else is as vital to our team's success; but he does not necessarily possess the unquantifiable communication, and interpersonal skills that are required to be an effective captain.' In retrospect, this should have set off alarms within the organization.
"We have to have an identity."
Throughout this season, the absence of strong leadership has been glaring. It shouldn't be a surprise that the Caps gave up 12 two-goal leads this season; or that they frequently gave up a goal promptly after scoring one; or that, with three weeks left in the season, and the playoffs well within the reach, they went on a 5-game skid to effectively seal their own fate.
Furthermore, it shouldn't be a surprise that after a disappointing season, many players are speaking to the total lack of an identity. From Troy Brower, to Brooks Laich, to Karl Alzner, to even Ovechkin himself, nobody knows what kind of team this is.
Say what you will about the lack of talent, but these are issues of leadership. And when there are issues of leadership, the first place to look is directly at the team leader.
After all, behind every fragile, unmotivated and directionless hockey team, there's a fragile, unmotivated and clueless team captain.