When the Carolina Hurricanes signed Alex Semin as a free agent in the offseason of 2012, they were in a tough situation. Former general manager Jim Rutherford had all but promised a star winger for franchise center Eric Staal that offseason. They had made a serious push at Zach Parise earlier that summer, only to be one of the first options eliminated. They were talks about trading for Rick Nash, but when Skinner became the price, the talks ended quickly. That left Semin as the only real option remaining, and it was one that came with significant red flags.
Everyone had heard the story by that point. Semin was called out by some former Washington teammates about the questionable effort he put forth during some games. He was coming off his second consecutive one-year deal with Washington. There was a lot to be wary about, which might explain why the former 40-goal scorer allegedly received very few offers, and none longer than two years. Rutherford and his management staff assessed the risk and decided that reward outweighed it, signing the winger to a one-year, $7 million dollar deal.
When Semin's past was brought up, Rutherford made it clear that he would get a fresh start in Carolina.
"Any time a player comes here, he comes with a clean slate. It doesn't matter what has happened or what the player has done," Rutherford told the team's website. "When signing him, the expectations were to give Eric a real strong winger and for him to come in and put points on the board.
A Great Start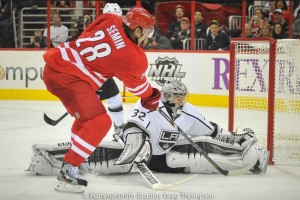 At first, the signing seemed like a stroke of genius from a general manager that has had very little luck in free agency. Semin found almost instant chemistry with Staal and winger Jiri Tlusty. It was largely their play that had the Hurricanes boasting a 15-9-1 record over halfway through the lockout-shortened season. Both Staal and Semin were over a point-per-game at that point, with Tlusty and his 13 goals not too far behind. Such stellar play from the top line prompted Rutherford to forgo his typical avoidance of contract negotiations mid-season and sign Semin to a five-year, $35 million deal just 30 games into his time with the team.
It was an understandable move at the time. The way Semin was playing at that point, the deal was more than fair. It also allowed the organization to focus on something positive in the midst of a five-game losing streak that put the team's great start to the season in jeopardy. The Hurricanes did eventually miss the playoffs that year, earning only four wins for the rest of the year, falling to a 19-25-4 record in the process, but that had more to do with the injury to Cam Ward and less about Semin and the top line's production.
A Stark Change
Unfortunately for Semin and the Hurricanes, that shortened season was the last time Semin was a truly effective player for the team. A concussion and a wrist injury derailed Semin's start early in the following season, and though he showed flashes of the offensive talent that earned him the long-term deal, it was never consistent enough to overlook how timid and out-of-place he looked on most nights. He finished the 2013-2014 season with 42 points in 65 games, a respectable production for an injury-plagued year, but not $7 million good.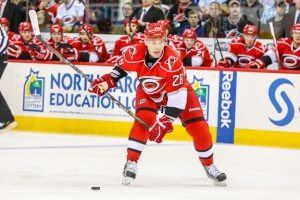 This year, it's been different. Semin, by all accounts, has been healthy, or as healthy as a hockey player can expect to be. With both Eric and Jordan Staal missing the first month of the season, Semin was looked upon to step up and become a leader. It did not work out that way. Semin earned only two assists in the month of October, and had only four shots on goal in eight games. The enigmatic winger fell under heavy scrutiny at this time, especially in the midst of the team's 0-6-2 start.
Head coach Bill Peters preached accountability from the very moment he was hired, and Semin fell square in the sights due to his October play. It was announced that he would be a healthy scratch in the first game of November against the Phoenix Coyotes. At the time, Peters said he would have scratched Semin earlier in the season, but the team simply wasn't healthy enough to do so. "We've got two guys back from injury and now we have the ability to take some guys out," Peters told the News and Observer. "We want him to play the game hard and play the game properly and play the game with pace and live up to his ability and his potential. In order to do that, you've got to put the work in and you've got to be mentally and physically engaged in what you're doing."
Semin was scratched against the Coyotes, and in the following game against the Los Angeles Kings. Both games ended in victory for Carolina, earning their first two wins of the season. The winning streak continued in early November, and Semin began to show signs of improvement. His contributions were minimal, and he still appeared hesitant to shoot the puck, but he was in the lineup, helping the team win. That changed in Tuesday's 6-4 victory over the Dallas Stars. A defensive gaffe late in the game brought the score to 5-4, and earned Semin the ire of Peters once again. He was benched for the remainder of that game, and found himself a healthy scratch once again in Thursday's match up against the Los Angeles Kings.
A Tough Situation
At this point, there seems little that can be done to rectify this Semin situation. Hurricanes beat writer Chip Alexander summed it up after the announcement of Semin's latest healthy scratch.
A part of a coach's job is to find ways to motivate his players and get the best out of them. Peters grappling with Semin situation,

— Chip Alexander (@ice_chip) November 20, 2014
Not pointing a finger at Peters. He's doing what he feels he needs to do by scratching Semin. But Canes running out of answers.

— Chip Alexander (@ice_chip) November 20, 2014
The Hurricanes would much rather have Semin on the ice, being a productive part of the team. They certainly don't want to pay him $7 million a year to sit in the press box. But at the same time, the indication from Peters is that he's pushing the players to play a certain way, and Semin, for whatever reason, has failed to do so. A coach cannot simply ignore a player doing his own thing or make an exception for one player due to his price tag.
Peters has every right to scratch Semin if he feels the winger's play isn't up to par, but he must face the consequences of his actions as well. Thursday's loss against the Los Angeles Kings is a prime example of those consequences. The Hurricanes played well. Not great, but good enough to remain within one goal of the team with the best home ice record in the league. However, with two minutes remaining, and Cam Ward pulled for the extra attacker, Jay McClement came on the ice as the extra attacker. McClement, who hasn't had more than 20 points a season in five years, was decided as the offensive push needed to tie the game.
Would having Semin instead of McClement as the extra attacker have allowed Carolina to tie the game? In all likelihood, no. Jonathan Quick absolutely robbed Elias Lindholm in the dying seconds of the game, making it clear that he was going to earn that win in regulation, no matter what. Would the Canes have had a better chance of tying the game with Semin instead of McClement? It's hard to argue otherwise, given that one is a former 40-goal scorer and the other a defensive-minded grinder.
No matter what the Hurricanes future plans are for Semin, whether they choose to keep him or trade him, they need him on the ice. Making him a healthy scratch does nothing except lower his confidence and hurt his trade value. He's already almost unmovable due to a combination of his contract, his production and his reputation. There's something to be said about accountability, but for the sake of Semin and the Hurricanes, they need him to return to the lineup and start putting up points again.
Jonathan Gardner currently lives in Raleigh, NC and covers the Carolina Hurricanes.