In his early 40s, Daniel Alfredsson was one of the only constants on a Detroit Red Wings team that was decimated by injuries last year.
The Swede suited up for 68 games and was tied for the team lead in points with 49 (18 goals, 31 assists).
Alfredsson said he wanted to come back to play his 19th season and Detroit was his only desired destination. But after missing training camp and the first 19 games of the regular season, it was looking bleak for a comeback.
Now, it looks like the 41-year-old's career may be finally coming to an end.
On Friday, TSN's Darren Dreger reported Alfredsson will not return to the Red Wings this season due to a lingering disc issue in his back that caused him to miss training camp and the start of the 2014-15 season.
At the beginning of October, the Red Wings were hoping to get anywhere from 60-65 games out of Alfredsson had he felt comfortable enough to play without pain. However, it appears the pain would be too much for Alfredsson to handle over the course of a grueling hockey season.
How Effective Would He Be?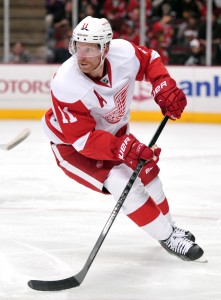 As much as it is sad to see Alfredsson most likely retiring, it begs the question of how effective would he have been had he decided to make a comeback?
Let's pretend he is pain free right now. How long does that last? Can the Red Wings even count on him for 60-65 games? How many more flare ups would he have during the course of the season?
There's a lot of question marks when it comes to Alfredsson's reliability. From a player standpoint, he has shown he can still produce offensively and would be a key addition for a team that has struggled to score so far this season.
However, it's not worth it for Alfredsson or the team to attempt to insert him into the lineup when he could hurt his back to the point where it affects not only his career, but his daily life.
Roster Issues
Again, having Alfredsson on the Red Wings improves them right away. But who do the Red Wings lose in order to make a roster spot for Alfredsson?
The easy answer is Tomas Jurco, since he is the only player who is waiver exempt. He can go back to Grand Rapids and continue to improve his game, as he has struggled out of the gate this season with just five points in 16 games.
However, when the Red Wings bring Alfredsson back, that makes it that much harder for guys like Mitch Callahan, Teemu Pulkkinen, Landon Ferraro and Anthony Mantha to make the jump to the next level. Jurco would most likely be the first call up in case of injury, which means the other forwards on the Griffins would get knocked down a peg.
If Alfredsson was 35 years old, staying healthy and producing at a consistent rate, then I don't mind the prospects staying in Grand Rapids. But Alfredsson is not that young anymore and bringing him back would mean stunting the growth of the prospects.
Daniel Cleary's re-signing makes it hard enough for the forwards in Grand Rapids. They don't need another forward taking the roster spot.
Announcement Coming Soon?
The Red Wings host the Ottawa Senators on Monday, and TSN radio host Ian Mendes thinks it would be the perfect time for Alfredsson to announce his retirement.
LRT: Sens play at Detroit on Monday. Seems like a natural date for Alfredsson to make official announcement.

— Ian Mendes (@ian_mendes) November 21, 2014
Alfredsson spent 17 seasons in Ottawa, 13 of which were spent as captain of the Senators. The contract negotiations went a bit south during the summer of 2013 and the two sides didn't have the cleanest of breakups, but there is no doubt the Senators and the city of Ottawa means a lot to Alfredsson.
It only makes sense for Alfredsson to announce his retirement with the two teams he played for the in the same building. It will be an emotional night for both sides.
Even though the Red Wings and the fans would welcome Alfredsson back for one more season, his likely retirement is best for both sides.
Subscribe to our Red Wings stories to get email updates every time a new story is published.
Tom Mitsos is a Detroit Red Wings and Grand Rapids Griffins staff writer for The Hockey Writers. You can follow him on Twitter @tom_mitsos.
Tom Mitsos is a writer from Michigan who covers the Red Wings and the Red Wings' AHL affiliate, the Grand Rapids Griffins, for The Hockey Writers.