He is arguably one of the most consistent players on the Toronto Maple Leafs' roster this season – playing to his strengths and keeping opposing players relatively quiet. Even with the team struggling over the past week, Leo Komarov has managed to play his role – a role that seemingly agitates his opponents.
While many people believed the Leafs signed Komarov to a much bigger deal than he deserved – coming off two seasons with the KHL's Dynamo Moscow – the 27-year-old has proven otherwise. He's played a significant part in pulling the Leafs' penalty kill out of the basement and is arguably the team's best offseason acquisition.
On top of all that, Komarov could be the best argument against fighting for the NHL's governing body.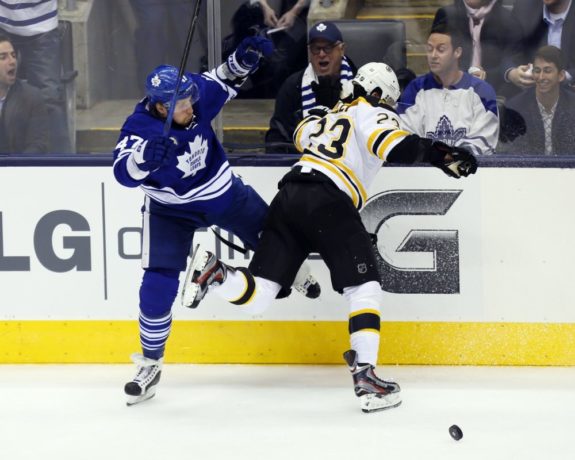 Komarov: Silently Playing a Loud Role
In his first season with the Maple Leafs in 2012-13, Komarov dominated the league in hits (176) – finishing fifth behind only Matt Martin, Chris Neil, Steve Ott and Luke Schenn. This year he's played a similar role, adding some extra offensive output.
But what's really surprising about Komarov's game is his ability to get under the skin of his opponents. Sure, he hits hard and with authority, but he finds a way to play a clean game keeping his gloves on in the process. But his unwillingness to fight is one of the main reasons he's able to get opponents off of their game.
As of November 20, Komarov was tied for the NHL lead in the hits department with Matt Martin of the New York Islanders. The difference? Martin has 19 penalty minutes in 18 games played, while Komarov has only sat for two minutes.
But what also makes Komarov's hits so devastating is that they aren't always head on. He has a knack for pinching players off along the boards when they try to make plays. Not only does he disrupt the play by doing this, he forces players into awkward position before simply rejoining the play – something that doesn't sit well with opposing players as Damian Cox points out.
Eric Nystrom trying to explain to Leo Komarov that there is no body checking allowed in the NHL. Well, not unless you're willing to fight.

— Damien Cox (@DamoSpin) November 19, 2014
In fact, over his professional career, Komarov has only engaged in three total fights – only one of which came in the NHL when he took on the Bruins' Chris Kelly in the postseason. But since returning from Russia, Komarov's managed to develop his game in a way that he can provide some offensive spark as well.
With Confidence Comes Opportunity
In 2012-13, his only other season in the NHL, Komarov recorded 9 points (4g-5a) in 42 games with the Maple Leafs. It was clear that – at the time – he was going to be utilized as a physical fourth liner.
But in his return to the Leafs this season, he's played with a lot more confidence. Whether it was the players he played with in Russia or his Olympic opportunity, there's no questioning the focus that Komarov steps onto the ice with.
In doing that, he's earned the respect of his coaches and his teammates. He's been given greater responsibility on a team that has searched for on-ice leadership – killing penalties and playing defensive hockey with the game on the line. Along with that, he's been able to set a new career mark offensively with 12 points (1g-11a) already in just 19 games.
In fact, Komarov is tied with Phil Kessel for the most assists on the team and fifth on the Leafs in points. He's averaging almost 16 minutes of ice time per game and is tied with Peter Holland for the most shorthanded points this season.
But it's his confidence level that's led to the greater opportunities for the second-year forward. In fact, his determination and focus on the ice has been noticed and appreciated by his teammates.
Gardiner on Komarov: "He's got a lot more confidence now. He always says he was a scorer in the KHL. He knows he can bring that here."

— Mark Masters (@markhmasters) November 9, 2014
What's gone right for Holland lately? Peter: "Leo Komarov & Mike Santorelli"

— Mark Masters (@markhmasters) November 13, 2014
And his play and prowess on the ice has led to him becoming a fan favourite in Toronto.
Noticed some Leafs fans on Reddit were saying they want Leo Komarov to be captain. That's how popular he is right now.

— James Mirtle (@mirtle) November 14, 2014
Komarov just crushed Marchand into boards. Coincidentally, all Komarov jerseys are sold out at Real Sports Apparel.

— Michael Traikos (@Michael_Traikos) November 13, 2014
So while he may not be a sniper like Phil Kessel, Leo Komarov has added a greater dimension to the Leafs lineup – one that was lacking with Colton Orr and Frazer McLaren. But what's more is that Komarov, or Komrade as his teammates have called him, enforces the league's discussion on fighting.
Leo Komarov: The Silent Assassin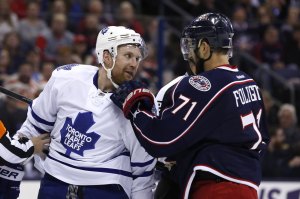 Like his ability to catch opposing players off guard, Komarov has found a way to fly under the radar when it comes to the discussion on fighting. In reality, those opposed to the on-ice extra curricular activities should be using the physical forward as an advocate for their argument.
He's the prime example against those who argue that taking fighting out of the game will reduce the physicality of hockey. When in fact, Komarov has an insatiable ability to do just the opposite – lead the league in hits while managing to stay out of the box and on the ice.
While a physical game might not be considered one played by a 'silent assassin,' the reference comes into place with Komarov's undeniably attractiveness when it comes to his physical presence on the ice. He's not a name that is discussed amongst the NHL's Department of Player Safety and, in fact, is the perfect example when discussing respect within the game. He plays a hard-nosed game, but remains clear-headed in pursing that physical presence.
Like fighting, Komarov's hits bring crowds to their feet. Places erupt when he's running around trying to squeeze the puck free, but he does that in a way that doesn't demand a five-minute fighting major.
Not only has he added confidence and some offensive skill to his game in returning to the Leafs lineup, but he's added that presence forcing his opposition to skate with their heads up. So maybe Komarov isn't the most dominant player in the game, but there's no denying that he's been a top acquisition to an otherwise inconsistent Leafs lineup. In fact, it can be argued that Leo Komarov is the most effective physical player in the league – a silent assassin of sorts.
For more, follow Andrew on Twitter at @AndrewGForbes or his THW column at @Tape2TapeTHW.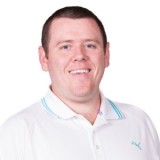 Andrew is in his 8th year reporting for The Hockey Writers covering the Toronto Maple Leafs. He began his broadcasting with CBC's Hockey Night in Canada team as well as being part of their coverage of the 2014 Winter Olympic Games in Sochi. He's the former play-by-play voice of the London Jr. Knights for Rogers TV and currently hosts the Sticks in the 6ix podcast. You can follow him on Twitter at @AndrewGForbes.