Marleau Is Still the Man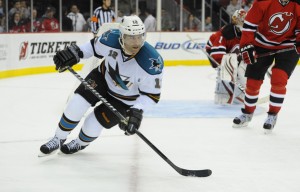 While it would be naïve to think any NHL team completely ignores analytics and sample size limitations, sometimes it seems like many in the business aren't yet believers. As Pro Hockey Talk's Jason Brough notes in a recent piece, Sharks head coach Todd McLellan basically pointed his finger at Patrick Marleau's lack of even strength production through 21 games.
Yeah coach, call out your perennial 30 goal scorer for not scoring enough during the first 21 games, 16 of which were on the road for the worst road heavy schedule in league history. Certainly Marleau is the primary reason the club is struggling and not the combined minus-27 from all defensemen not named Marc-Edouard Vlasic and Justin Braun.
While yours truly has been a big critic of Marleau in the past, his overall play the past two seasons has been phenomenal. Seventeen goals during the lockout shortened season, and eight points in 11 playoff games that year, followed up by 33 goals last season and seven points in seven playoff games a year ago. Marleau is now 35-years-old and despite coming up dry on even strength during the insane road start to the season, still managed 16 points in the first 21 games.
Patrick Marleau is what Patrick Marleau is, a terrific goal scorer with blistering speed who doesn't play as tenacious or physical as some of us would prefer. You know exactly what you are going to get with No. 12 every season. We can spend time breaking down some of his big moment defensive gaffs over his career, but what is the point? A prolific goal scorer like that cannot be replaced, the positives far outweigh any negatives in Marleau's game and he is clearly a part of the solution. He certainly hasn't put up the goals at even strength so far this season, but it is far more likely that he will score 5 even strength tallies over the next 16 games than it is for him to put up another goose egg in 16. Goal scorers have peaks and valleys. With all the home games coming up, Marleau is bound to get back on track just like he always does.
Nifty Neets
Not only has Marleau shouldered too much blame thus far, so has sophomore winger Matt Nieto. The 22-year-old scored 24 points last year in 66 games a rookie. Thus far in 21 games, Nieto is slumping on the stat sheet with just one goal and six points. That pace would equal his rookie total of 24 points but while having played 80-81 games. There is no doubt Nieto needs to start finding the back of the twine more often. However, his expectations were probably put too high on by the media (myself included).
Before the season Nieto was a popular choice for a breakout year. After finishing last season on a roll on a second line with Marleau and Logan Couture, it is understandable for us media types to get a bit carried away. If I remember correctly, at one point before the season I was expecting/hoping for a 50 point year from Nieto. Realistically speaking though a good sophomore season points wise for Nieto would be anything over 40. His rookie pace over 82 games is 30 points. He would ideally improve upon that pace in year two but even 35 points is still an improvement, albeit a small one. Currently Nieto is on pace for a disappointing 23-24 point season. However, there is plenty of reason to believe he can turn the production up a notch or two as the season goes along.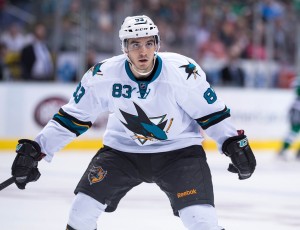 First and foremost, on all advanced analytics websites, you will notice Nieto LEADS ALL Sharks in terms of possession statistics. According to behindthenet.ca, Nieto leads all Sharks in even strength corsi, and according to waronice.com, Nieto leads all Sharks in corsi for percentage at 58.7%. This only confirms the eye ball test that Nieto has been using his speed on the forecheck to help create offensive zone time for whichever line he finds himself on. Thus far this season he has jumped around the top three lines. He may not be picking up the points, but he has helped create time and space for slower forwards in Thornton and Joe Pavelski, and complimented the speed of Marleau and Couture. Dominating possession at his current rate, the lack of points is without question bad luck for Nieto. His 97.5 PDO mark is only above Scott Hannan, Adam Burish, Barclay Goodrow, Andrew Desjardins and Matt Irwin when it comes to Sharks teammates with 50 or more even strength minutes. PDO, for those who don't know is the combined save percentage and shooting percentage while a player is on the ice. In Nieto's case, Sharks goaltenders' save percentage is just .908 when he is on the ice. Conversely, Scott Hannan, who has been part of a struggling Sharks' third pair, has had goaltenders somehow post a .930 save percentage when he is on the ice. Nieto, despite dominating puck possession, has the 17th worst on-ice save percentage out of 21 players. That certainly helps explain his minus-2 rating.
Based off these advanced numbers indicating puck possession and unlucky bad goaltending, the forecast projections would suggest a turn around is right around the corner for Nieto. Based off my eye ball test and the advanced numbers, 29-34 points over the final 60 games remaining on the schedule is highly probable for Nieto. And while a 35-40 point season in year two wouldn't be the breakout year some were predicting, it will still be an improvement on his rookie season, certainly not the proverbial sophomore slump.
Andrew has been credentialed to cover the Sharks since 2010 and the 49ers since 2012. He graduated with his BA in Broadcast Electronic Communication Arts in 2013 from San Francisco State University.