To Rebuild Or Not To Rebuild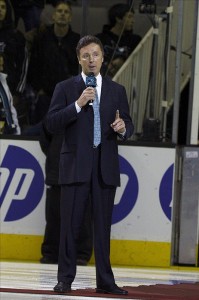 "The rebuild is committed to." "We're a tomorrow team." "One step back to go two steps forward." "Status quo is not an option." These are just a handful of comments made by San Jose Sharks General Manager Doug Wilson this past offseason.
This is the same GM who previously had always steered clear of using the term rebuild. So, are the Sharks actually "rebuilding" this season? Thus far, it hardly seems to be the case. While San Jose has gotten younger in some respects, they remain largely the same team. Not to mention they have gone for older veterans like John Scott and Mike Brown at the forward position instead of giving more opportunity to AHL players like Eriah Hayes and Freddie Hamilton. Therefore the question remains, does management think they are good enough to make a run at the Stanley Cup?
"I don't think we're close enough with where the other teams are at" commented Wilson during the offseason. This statement in and of itself left many folks confused seeing as the Sharks have been a top team year in and year out and were third in the NHL in possession last season. Does Wilson really feel this way or was he just posturing?
Contrary to popular belief, the Sharks aren't particularly old. Outside of Joe Thornton and Patrick Marleau, no other single key player is over 30-years-old. Plus most of their younger players have already established themselves as quality NHL players in Tomas Hertl, Matt Nieto, and Tommy Wingels. Age wise, the Sharks boast an ideal mix of players, and talent wise, they have as good a core group of top players as any team in the league. It is difficult to believe, a man as hockey savvy as Doug Wilson, has completely lost faith in a team that has taken the defending Stanley Cup Champions to seven games the last two seasons. Not clear what is gained from it, but saying his club isn't close enough when they nearly beat the Stanley Cup champions, reeks of posturing.
Just Have Faith
Despite an uneven start to the season at 10-9-2, there is still plenty of reason to believe things will get turned around. While yours truly has suggested a coaching change could be the needed spark, the Sharks have faced an historically brutal schedule thus far. No team in history had ever played 15 of their first 20 on the road, yet the Sharks just finished up playing 16 of their first 21 away from home. A ridiculously heavy travel schedule is normal for a Western Conference club, but to be the only team ever is insane. Road trips for the Sharks are much more gruesome than for teams in the east. It is absolutely horrendous that the Sharks had to become the first team to go through that lopsided of an early schedule.
There is no doubt that the Sharks should have picked up a couple more points in the first 21 games. Losing to Buffalo twice, Columbus twice, and Florida are all head scratching losses. Given the advantage of winning the division and not having to play Anaheim or Los Angeles in the first round, one could look back at these lost points as something that made the playoff road much more daunting.
There are legitimate concerns with the way this team has been playing thus far but the fact of the matter is they still have too much talent for the amount of debbie downer comments from the hard core fans. Even without Brent Burns creating space on their top line, Joe Thornton and Joe Pavelski are still outplaying their high quality opponents, Patrick Marleau and Logan Couture are still putting up the points, and Marc-Edouard Vlasic is as dominant as ever. The Sharks have scored nearly 70% of the goals when Vlasic is on the ice at even strength this season.
Furthermore, role playing forwards like Matt Nieto, James Sheppard, Tyler Kennedy, and Tommy Wingels have all made solid contributions thus far. With Raffi Torres injured and talented forward prospects like Chris Tierney and Nikolay Goldobin not playing in the NHL, the Sharks have the necessary depth at forward if they choose to use it. Playing players like Scott, Brown, and Adam Burish instead is puzzling to say the least, but the point remains they have the necessary forwards within the organization to get the job done come the postseason.
Defense, Defense, Defense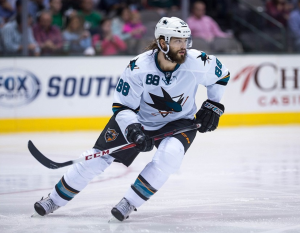 What they do not have, is the necessary blue-liners to get the job done. Thus far this season, Vlasic and Justin Braun have a combined plus-20 rating. The rest of the Sharks defenders combine for a minus-27 rating. Brent Burns moving back to defense has been a clear mistake, especially pairing him with a 19-year-old rookie, and the third pair grouping of Scott Hannan, Jason Demers, and Matt Irwin has been awful as well. And unlike the forward position, there isn't much in the pipeline in terms of defense prospects.
Regardless of whether or not the Sharks do the wise thing and move Burns back to forward, this team will get bounced out of the first round in five games or less if they don't acquire an established, defensive minded, top-4 defenseman. That would be the minimum need come the deadline. Trading for a second veteran defenseman to improve the third pair might also be necessary.
This season's trade deadline is March 2nd. San Jose has plenty of cap room to utilize and what they do prior to the deadline will tell us how Wilson really feels. My gut tells me the offseason comments were some sort of posturing. We'll find out if I'm right about that in early March. My firm belief is that the Sharks do end up acquiring a top-4 defenseman. Wilson won't make the same mistake as last season by not having a competent contingency plan for a Vlasic injury. Now for reasons primarily concerning their bizarre forward usage, I don't see the Sharks getting deep into the playoffs regardless of what they do come the trade deadline. However, if they bolster their blue-line, they will have all the necessary pieces to make that Stanley Cup push.