If you look at the standard scoring statistics, defenseman Brent Burns is tied for the Sharks team lead with seven points. If you watch the games, you'll also notice Burns is far from being a smart player in his own zone. Even with Burns' intimidatingly large figure, it's hard to argue former teammate Dan Boyle wasn't a better defensive zone defenseman. Burns' back skating has been suspect, multiple turnovers have led directly to goals against, and he has looked silly at times defending skilled forwards.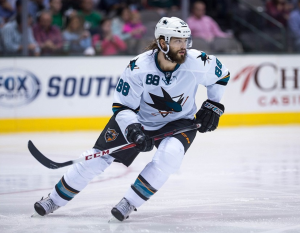 Not Doughty, Not Subban
All this is typical of what Burns the defenseman has been throughout his career. Yet for some reason, Sharks GM Doug Wilson compared him to Drew Doughty and P.K. Subban, as if he could play defense at their level. The fact of the matter is, he can't.
In fact, it is really quite surprising that both Wilson and head coach Todd McLellan are convinced Burns can be that type of defenseman. Nobody else seems to be convinced of that. During training camp, Patrick Marleau made it sound as if he prefers Burns at forward, and sources of mine that worked the Sharks' annual Lake Tahoe golf tournament tell me some higher ups in the organization agree with Marleau.
Patrick Marleau seems to think there's a chance Brent Burns ends up as a forward again at some point #SJSharks

— Kevin Kurz (@KKurzNHL) September 19, 2014
As pointed out both here at The Hockey Writers, and by Sharks blog Fear The Fin over the offseason, Burns brings more to this team up front. A much better comparison for Burns is former Sharks captain Owen Nolan. Burns is a dynamite power-forward, arguably the best in the game. At defense, he is just another puck moving defenseman. A good puck moving defenseman, a top-4 puck mover, but he doesn't make the same impact as he does up front. As a forward, the 6'5" Burns and 6'4" Joe Thornton combined to make the biggest top line forward duo in the league. It was nearly impossible to get the puck away from these two giants down low in the offensive zone. Burns is often described as a "Wild Stallion", he is a dominant force out there but he can also make coaches shake their heads at times. That type of player is best suited on offense where the mistakes made can be saved by life long defensemen and not end up in the back of the net like in Sunday's shutout loss to the New York Rangers.
As Fear the Fin's article points out, Burns' five aside scoring rates at forward compare to the best goal scorers in the game like Corey Perry and Steven Stamkos. Yes, the Sharks need more depth on their blue-line but creating one hole up front to fill another on defense doesn't make a whole lot of sense. While the Sharks have seen an influx of young forward talent since Burns made the switch to forward in 2013, that doesn't mean he can be replaced up front. Even with Matt Nieto and Tomas Hertl establishing themselves, Burns at forward is still necessary not only to improve the fore-check, but to allow Joe Pavelski to center the third line. Rookie center Chris Tierney appears to have a bright future ahead of him, but he seems a bit over-matched for full time third line center duties just yet.
Despite their seemingly annual playoff struggles, the Sharks playoff record is 15-11 overall, and 3-1 in playoff series since 2011 when Thornton, Pavelski, and Logan Couture all center their own lines. When Pavelski is in the top six, they are 5-10 overall and 0-3 in series. Clearly, scoring depth is a problem when Pavelski isn't centering the third line. Burns at forward would make it much easier to bump Pavelski down.
Simply stated, Burns could be a 30 goal scorer next to Joe Thornton, he is one of the best power-forwards in the game. Considering the rarity of power-forwards left in the NHL, that type of player is much harder to find than a solid first or second pair puck mover. There are a number of defensemen out there that San Jose could acquire to help the problem of the defense depth with Burns back to forward. However, there is not a single forward available that can bring what Burns does to the forward position.