Hard to believe that in the long and sordid history of San Jose Sharks playoff failures that the two-months following their most recent episode of futility have been the most difficult on this franchise, but here we are. Antti Niemi's job is in peril, Doug Wilson and Todd Mclellan were in a similar situation and reports are surfacing almost daily, linking one of either Joe Thornton and Patrick Marleau to a variety of teams not named the San Jose Sharks. And lost somewhere in the middle of all this was the Sharks decision to switch Brent Burns back to defense, from forward, where he had been playing since last March.
This news was the most shocking to come out of Wilson's ten-plus days of meeting with ownership. The justifications for this move are many, and include the fact that the team has decided to part ways with Dan Boyle and trade his rights to the New York Islanders as well as the fact that the Sharks defense-corps last season was remarkably top-heavy. The roster vacancy and already glaring positional need make the switch of Burns from forward to defense a little more sensible.
But you know what's even more sensible? Keeping Burns at forward.
If It Ain't Broke, Don't Fix It
This decision would be maybe slightly more appealing if not for the fact that Burns has slowly developed into one of the game's best forwards in just over a year of playing the position in the NHL. Playing primarily alongside Joe Thornton helps, but the fact that Burns was also a forward for much of his junior career doesn't hurt either.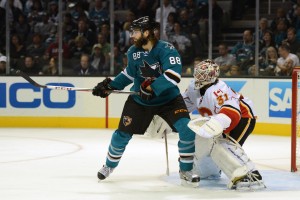 While some would be quick to look at Burns' impressive, if not awe-inspiring, counting stats and question his status as an upper-echelon winger, it requires a bit of digging to better gauge his value to this club's offense. Luckily for me, and you the reader, The Neutral of Fear The Fin did some of this digging almost immediately after the news broke of Burns' positional switch.
Burns was fairly useless on the power play (where, ironically, he lined up as a defenseman) and didn't receive primo 5-on-5 minutes; the best way to judge his production up front (or any forward's, really) is by adjusting it for ice time. In his 1245:24 of 5-on-5 ice time as a forward over the past two seasons, Burns averaged 1.20 goals and 2.41 points per 60 5-on-5 minutes. 
If those numbers don't seem overly impressive, for whatever reason, consider that they would put Burns in the top ten for 5-on-5 production for forwards, since 2013. That, to me at least, seems like a worthwhile contribution.
Burns' offensive contributions aside, he has also proven to be quite reliable with regards to keeping the puck out of his own net. With Burns on the ice, the Sharks are controlling over 56% of all shots and nearly 64% of all goals. It doesn't satisfy the arcane belief that defense is only played by positioning without the puck, but it certainly satisfies those smart enough to acknowledge the best defense one can play is by keeping the puck off the opponents stick.
And while the limited amount of data provided by the With Or Without You statistics would suggest that Burns is a passenger alongside Joe Thornton, watching that line play on a regular basis paints a completely different picture. Burns isn't a particularly adept neutral zone player, with somewhere in the neighbourhood of 53% of his offensive zone entries coming with control of the puck (limited amount of data, complied by the mid-way mark of the San Jose Sharks season, by Shutdown Center writer, Corey Sznajder), but he can be counted on quite reliably to aid in his teammate's entries.
The recording of zone-entry and exit data is still in it's infantile stages and is almost entirely tracked by hand, and it was just this season that certain bloggers began to fool around with the idea of recording retrieved dump-ins. So, that said, I haven't the available data to quantify Burns' ability retrieving dump-ins, but believe me, it's certainly there.
What makes Burns so especially good at retrieving dumped-in pucks for his linemates is his lumbering size, combined with elite speed, to overwhelm opposing defensemen. His long and bulky frame all but make it impossible for the opposition to chip the puck past him on the boards, and assuming they keep it, they are sure to get walloped in the process. It's hardly even fair. But for the Sharks, it makes them uniquely difficult to read and defend against as they carry through the neutral zone; prepare for the dump-in and watch Thornton enter with control, or challenge at the blueline and watch Burns retrieve the dump-in before even turning around.
 Trickle Down Economics
What's most odd about this decision is how counter intuitive it is from the offensive perspective. Not purely from a production standpoint, but also from that of a depth standpoint. Moving Burns back to the point will mean that the Sharks enter next season with just Adam Burish and Mike Brown as natural right-wingers on San Jose's roster (this figure includes the eventual Martin Havlat buyout and assume the Sharks don't replace Burns).
This move will likely mean that Joe Pavelski will replace Burns as Thornton's right-winger. There's nothing wrong with that move unto-itself, as I'm sure the two will make sweet offensive love unto scoresheets abroad. What this means though is that the Sharks will go back to having a nasty bottom-six forwards group, which won't bode well in the ultra-competitive and increasingly deep Western Conference. The only thing better than having Mike Richards on your fourth line is Pavelski on your third, and that's a luxury the Sharks might not be afforded next season.
Even more frighteningly, this could mean increased ice-time for the likes of Burish and Brown, which should scare the living daylights out of any Sharks fan. They don't hockey very well.
More perplexing though, is what this does to the Sharks defensive depth chart. What Marc-Edouard needs is a top-pairing defensive partner, which Burns most certainly could be – problem being that Burns and Vlasic play the same side.
I can't pretend that this move is unjustifiable and entirely lacking in it's merits. Burns has played defense for most of his professional career and the Sharks need to become less top-heavy on defense. I can't pretend to agree with this move either, which will make the Sharks much less dangerous offensively and only moderately better defensively.