Or Many Options Elsewhere…
In a lot of ways, the San Jose Sharks first round series in this year's playoffs was a lot like the Vancouver Canucks' in 2011. Both teams jumped out to 3-0 leads over their respective opponents, before squandering the next two games in ugly fashion – both teams were shut out in game five.
As the embattled coaches struggled to find ways to motivate their clubs into regaining control of their respective series, each made a goalie switch in game six; Alain Vigneault turned to Cory Schneider and Todd McLellan to Alex Stalock. The move panned out for neither coach, as both would lose that game.
In keeping with the theme of similarity, each team gave up four goals in those game sixes.
Then, predictably so, both coaches went back to the incumbent starters for game seven. The Canucks would win theirs and get to within one win of the Stanley Cup in those same playoffs. The Sharks lost game seven in embarrassing fashion, and let the Los Angeles Kings complete the historic 3-0 series comeback.
One was able to keep both their goaltenders – temporarily, at least – , the other (San Jose) is now looking at the prospect of losing both. Alex Stalock is headed to unrestricted free agency and there are rumblings that Antti Niemi could be on the way out via trade.
Finding Nemo
The interesting thing with Antti Niemi, and the level of discontent with his play from media and fans alike, is how incredibly undeserved it is. Pardon the fish pun, but talk about having the memory of a goldfish.
Just one season ago, Niemi put together his best campaign as a member of the Sharks, en route to a Vezina nomination. That could have been in large part due to the mirages provided by the small sample size one draws on from the lockout shortened season. So, to avoid making rash conclusions on the level of goaltending provided by Niemi based on one 48-game season, I checked out his save percentage of the entirety of his career with the San Jose Sharks.
To do so, I compared the 5V5 save percentages of every goalie that's played over 6,000 minutes since the 2010 season, Niemi's first as a Shark. Unsurprisingly, Niemi was planted firmly in the top-ten, with the ninth highest even strength save percentage, at 92.72. That's higher than any of the available free agents not named Tim Thomas.
And What of His Playoffs?
Where Niemi is rightly criticized is in his play in the post-season. I try my best to not get wrapped in the banalities of hockey commentary and avoid drawing conclusions from small sample sizes, but in only one post-season has Niemi posted a save percentage above replacement level goaltending. These numbers were accrued in last season's playoffs, which also came to an early end at the hands of the Los Angeles Kings.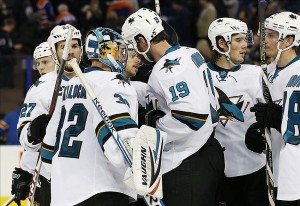 Keeping in line with his regular season, Niemi struggled mightily in this year's playoffs. The more Alex Stalock impeded on his starting role, the more Nemo struggled. In his six starts against the Kings in their first round matchup, Niemi provided the Sharks with only one quality start. Opposite Nemo, Quick provided the Kings with three. Not hard to decipher who won that goaltending duo.
Over Niemi's playoff career, he has just a .907 save percentage. That leaves a lot to be desired. If Niemi hopes to silence his critics and keep the crease in San Jose, a length post-season with a few quality starts under his belt would go a long way in aiding his cause.
Niemi Alternatives
If I haven't convinced you already that the Sharks need Antti Niemi, this has to be the section to do it. As I've already mentioned, none of the available free agent goaltenders have a higher save percentage over the last four years than Niemi; save for a certain White House dodging octogenarian. Statistics aside, I can't even imagine any of the free agent goaltenders that have established themselves in this league even come with less baggage than Niemi.
Household names like Ryan Miller and Jonas Hiller have just been eschewed out of town after losing their jobs to greener goaltenders, like Jake Allen and Brian Gibson. Both were tire-fires in the post-season. Both are going to still going to cash in an absurdly high amount of cash. Such is the open market.
Early returns on the goalie trade market don't look all that much better either. Cam Ward's name has been brandied about in rumour mills, but to say he's been a shell of himself since his Stanley Cup victory would be an understatement. And, again, Ward has just lost his job to a relatively green goaltender in Anton Khudobin. Martin Jones would seem like a goalie worth betting on, if not for the fact that the Kings would never trade him to Sharks. Ever.
A Plea for Sanity
I've never heard Doug Wilson sound so noticeably agitated as he has this off-season. Can't really blame him. If anything was going to wipe away that seasoned life-long veneer of calmness and charisma, call these playoffs the straw that broke the camels back.
Nothing he could do at any point in this off-season would surprise me.
This includes trading his starting goaltender of the last four years. It's not the right move, but it could just as well happen. The thing for Wilson to keep in mind is that, even including this last season, Niemi is outperforming the vast majority of his peers. Not only that, but Niemi is destroying nearly everyone who accompanies him in terms of salary. With one year left, at a cap hit of just $3.8 million, Nemo is one of the best bargains one could ever hope to have patrolling their crease.
Just think, for an extra $100,000 the Sharks could be so lucky as to have Ondrej Pavelec…