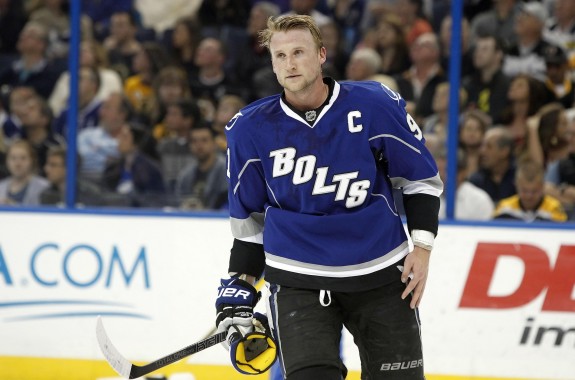 Hi everyone! Welcome to the third installment of our interview series as we headed to Washington, then Florida, and now Tampa Bay.
Here are the previous interviews.
Florida Panthers: Turn The Paige
So take a step back and enjoy the warm Florida breezes once more as we interview social media and digital marketing manager of the Tampa Bay Lightning, Caity Kauffman. Here we go.
==================================
Tampa Bay Time With Caity Kauffman
1. For those that may not know, Twitter has been very good for you. What are some of the jobs it has helped you gain?
I love Twitter and I can undeniably say my career would be moving much slower without it.
I've gained plenty of freelance work using Twitter, including a summer social media position with an MiLB scouting company.
I was hired by Sirius/XM's Hockey Unfiltered when the executive producer saw my resume on a retweet – he called me out of the blue. I helped build the show from the beginning and was on board for two seasons as a producer where I oversaw guest booking, social media /PR, live show planning and execution at drafts, All-Star and Stanley Cup games. I learned an incredible amount from that job because so much of it I had to teach myself on the fly – I also got the chance to make great connections with league staff and media. Invaluable experience.
In another interesting twist of fate when I was just out of college, I was looking for a position in PR/social media and saw a listing on Twitter for O'Connell & Goldberg Public Relations in the Miami area – turns out I had met their social media director, Toby Srebnik, three years earlier at an NHL tweet up and he remembered me! I was hired within a week. That experience really prepped me for my current position.
My boss here at the Lightning and I formed a Twitter connection long before I was offered a position, making my name all that more familiar when my resume crossed his desk. When I was NHL job hunting, I followed every director of digital I could find. It took a couple of years – but it certainly paid off!
2. Sometimes people misunderstand what a social media person does and a digital media manager for that matter. What are your responsibilities to both jobs as far as the Tampa Bay Lightning?
Actually being on social media is a smaller portion of my job than most people may think.
For example, right now, I'm spending a lot of time with our sponsorship sales and activation team looking for ways we can incorporate our team's sponsors into social and find ways to "activate" (basically a fancy marketing word for promotions) our partners – ranging from beer brands to local hospitals. I work with every department in the building – sales, sponsorship, events, hockey ops, retail, ticketing, you name it. It's one of the best aspects of my job. I get to see every cog of the organization in motion and I'm learning a ton about the business of running a team.
There's a good chunk of my week spent doing social media ad buying for all three brands under Tampa Bay Sports and Entertainment, so there's some budget management and advertising strategy involved. I love the art of social media but there's plenty of science behind it, too.
3. What is the funniest thing you have ever had to do for the Tampa Bay Lightning?
We laugh A LOT around here. But there was one game in particular earlier in the season where we were up a few goals late in the game and fans started to get really silly on Twitter. A fan asked the Lightning Twitter account if we could guess their favorite player. A couple pokes around in their profile and its usually easy to figure out, so I played along. Eventually fans started catching on to this game and I had dozens of fans tweeting in asking us to guess their favorite player. It probably went on for 45 minutes! I gotta say, my guessing record was pretty impressive. It was one of my most fun times behind the keyboard.
4. I have to ask. Who is the tallest hockey player you have a picture with and is there a story behind the picture?
I don't really have too many photos with players – but we did take our all-staff front office photo recently and I happened to be standing next to Ben Bishop – who sitting down (and slouching) is almost as tall as me standing up! For those who don't know, he's the tallest goaltender to ever play in the NHL – standing at 6'7″. I'm 5'0″.
5. Let's get somewhat serious. Tampa Bay had a nice bounce back season despite key injuries and the trade of Martin St. Louis. What impressed you the most?
Head coach Jon Cooper, hands down. He gracefully dealt with an inexperienced roster, losing star center Steven Stamkos to significant injury, the roster shakeup at the trade deadline, and at the very end, Ben Bishop's playoff-ending injury. When he spoke about the team's adversity (which, towards the end he said they dropped "adversity" from their vocabulary and just said, "Welcome to 
Tuesday
") he did so with the perfect mix of honesty, belief in his team and a sense of humor. Doesn't matter the sport, Cooper could coach any team to a championship. His Jack Adams nomination is well deserved. Plus he's just a great human being.
His quotes also generate a ton of retweets. I like me some retweets.
6. Are you making the trip up to Philadelphia for the draft this year? If so, what do you look most forward to?
Absolutely! I love making it to league events and seeing colleagues and media that I talk to over social media or email but don't get to see face-to-face. It'll be a different experience for me being on the team side of things instead of the media side. I'm stoked to see who Mr. Yzerman drafts.
7.  What were some of the biggest learning experiences going into the new job that you didn't expect?
Working in hockey is EXHAUSTING. I mean, it's next-level stuff. I've always had an insatiable work ethic and I'd rather be at the rink than anywhere else, but we had some home stands that were no joke. Top that with our arena football season that started up shortly after Olympic break ended and I was a machine. I really learned a lot about what I can physically handle and how many hours I can put in before I become useless. Also: naps. I now have a new appreciation for a nap.
8.  Okay what did you think of the "Seen Stamkos" campaign? Good idea or bad idea?
I love it. And we dug it back up when Stammer made his return from injury in March. Tampa is no stranger to using interesting marketing tactics to stir up buzz in a non-traditional hockey market. When the team first started in the early 90s and Tampa Bay didn't have a notable star in the lineup, it marketed other teams' stars when they were the road team – including now-GM Steve Yzerman.
9. What does a social media manager do in the offseason?
Planning, planning, planning and meetings, meetings, meetings. When the season starts up, you're in execution mode for 82 straight games. This is the time to formulate your plan for October – (hopefully) June. I started here a week before training camp, so it was baptism by fire to say the least. I'm enjoying offseason so I can jump into season with my own ideas.
10. Lastly, the 2015 NHL Draft comes pretty close to familiar territory for you next year? What kind of tips do you have for those making the trip?
I've spent a ton of time in Sunrise. The BB&T has a ton of parking options, which is nice. Downtown Fort Lauderdale has a bunch of great bars. South Florida is a hub for tons of awesome craft breweries, for those beer-drinking hockey fans. Find me and say hi!
=====================================
A