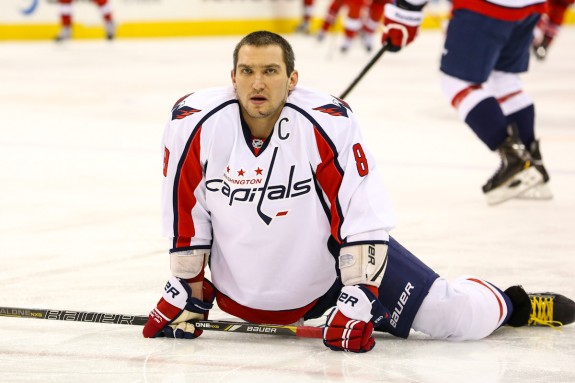 Apparently, the offseason started early for this New Jersey Devils fan at heart. Therefore, it was time to go on a quest. Granted, this may expand a bit more but for now a writer or beat writer per team will do.
30 Teams 30 Writers — Caps Interview with Ed Frankovic
In a way, it seemed perfect to start with the Washington Capitals because they were a team close to the playoffs and yet so far in a way. When we considered writers to go to, Ed Frankovic was a perfect choice. Ed had been with the Capitals organization and then moved on to the Caps beat. His work at WNST is exemplary and impeccable so we went with a full on no holds barred "Q&A" for our series.
Here is our first installment and it is now "Caps Interview" time.
===============================================
1. What went wrong with the Washington Capitals this year?
That's a loaded question. In short, just about everything went wrong from the roster composition, to the coaching, to the lack of team cohesion. They were set up for failure with a poor defense and the problems grew from there when the coaching staff couldn't adjust to an unbalanced roster. Even with a roster that was not a Stanley Cup contender, they still should have made the playoffs, so the head coach deserves blame there for not adjusting his scheme to optimize the talent.
2. What do you think Washington is looking for as far as a new coach?I would think the new coach of the Capitals has to have the following two attributes:
Is able to get the players to act and play as a team
Is able to adjust his style to whatever roster the new GM provides. In the NHL, a coach must be able to adapt
In addition, depending on who they hire for the new GM, they may want an experienced coach. But to me, if they get experience at the GM level and find the right talent, then picking a coach is the easier part.
3. Do you believe it is necessary to have a new GM in place before the 2014 NHL Draft? Why or why not?
Yes, I think this team needs to make some aggressive moves via trades to balance the roster. The best place to do that is at the draft.
4. Having a little statistical background, what do you make of Alexander Ovechkin's season? Is this a blip on the radar or a sign of things to come?
If they fix the blue line, it's a blip on the radar when looking at the Gr8's plus/minus. Plus/minus is a team stat and frankly, the 2013-14 Caps team was mediocore, at best. The problems start on the back end and if Washington doesn't fix that, then the forwards will waste more time trying to get out of their own zone than trying to score. Puck possession starts on the blue line and the Capitals defense has steadily declined over the last few seasons. Now will Ovi score 51 goals again? That's tough to replicate, especially with scoring in the league going down again. The coaches are so smart in this league that they are constantly adjusting making even getting 40 goals in a season a huge feat.
5. Washington has the 13th overall pick. Who may they wind up taking or is there a specific position they have in mind?
They need to just take the best player available since they have holes throughout the organization. I'd prefer they select a defensemen, but if a talented forward is there, you take him.
6. What ultimately doomed George McPhee more? Was it the draft picks or the roster decisions ?
The roster decisions are what did it for me. McPhee did several good things in his 17 years in Washington but he was never able to put a Stanley Cup contending blue line together. Amassing quality defensemen was his Achilles heel. The best defense he had in his tenure was the 1998 crew he inherited from David Poile.
7. How much better off will Braden Holtby be after last year's trying season?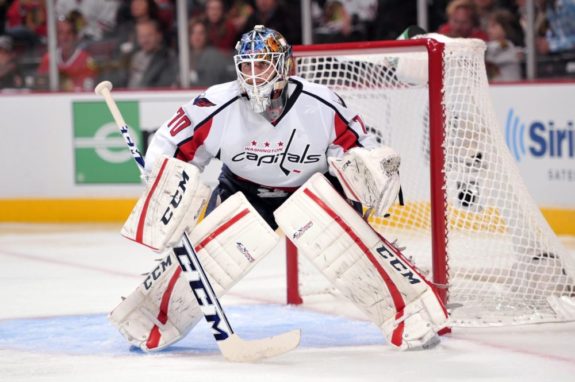 Braden played well at the end of 2013-14 because Olie Kolzig and Holtby finally got Adam Oates off of his idea to make #70 play deeper in his net. That attempt to change the way he played was a colossal mistake. The shooters in the NHL are so good that very few can pull off the style that Henrik Lundqvist plays. Even he is being exposed by the Penguins in round two. Can you imagine if Darryl Sutter tried to make Jonathan Quick be less aggressive? Oates' ideas on goaltending, to include the lack of a proper rotation, had to play a major role in his dismissal.Having said that, the key for Holtby having a big 2014-15 season is going to be a revamped blue line. Washington's defense is sub par and for a goalie to be successful he needs to know where the shots are coming from. So if the new GM upgrades the blue line talent and the new coach plays a solid system, then Holtby could be dominant. I'd also like to see the new coach use his puck handling ability more as a weapon. Oates really dropped the ball there, too.
8. Is there anything in the prospects pipeline that Capitals fans should keep an eye on for next season?
The organization is very high on Andre Burakovsky, who had 87 points in 57 regular season games for Erie in the OHL. He also had 10 goals in 14 OHL playoffs games. Outstanding stuff. He had a monster year in a very good junior league, which is impressive because the scouts I talked to after the draft last June were not as high on him as the Caps were, they had him going in later rounds. So he is the guy to watch, in my opinion.
9. What would you do with Mike Green if you were GM of the Capitals?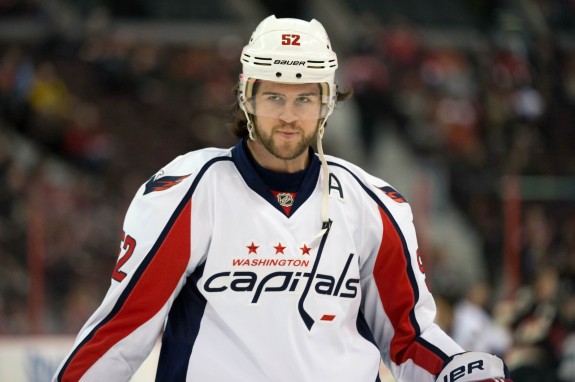 I like Mike Green, but he was passed as the #1 D by John Carlson last season. Carlson's stock continues to rise and I think he could easily be a top 10 NHL D, if he isn't already. If John keeps working hard and being in top shape, then the sky is the limit for #74. So Green becomes a 2nd pair D and he's making just over $6M next season, the last year he is under contract with the Caps. If used properly, he is great in terms of driving puck possession. Oates misused him last season with his "move the puck within the first 5 feet" general philosophy. Green is a guy who has to have the puck to be successful. Can you imagine if Darryl Sutter told Drew Doughty to stop rushing the puck? That would be disaster. You have to let Mike Green play the way that fits him if you are going to keep him. So the critical thing, for me, is to pair him with a solid defensive defenseman, but the Caps don't have many of those now. So the new GM needs to bring one in to help Green be most effective. If the Caps don't think they can sign him long term at a lower rate than $6M a season, then they should probably move him because he does have trade value. But trading him just weakens an already thin blue line, so the preference should be to keep him and get the right partner and system for #52.
10. What might be out there in free agency to fix some of the team's holes as quickly as possible?
The team's biggest need is on defense and there isn't much out there in free agency. So the new GM will need to make trades to upgrade the blue line. The best FA target, in my opinion, would be Paul Stastny of Colorado, but he might be tough to get. Having a 1-2 punch up the middle of Backstrom and Stastny would be huge for Washington and finally fix their hole at second line center.
11. Who is one of the better Washington writers that we may not know about? What sets them apart?
Wow, tough question because there are so many talented writers in the Caps blogosphere from the gang JP has at Japers Rink to the super crew at Russian Machine Never Breaks with Peter Hassett, Chris Gordon, Fedor Fedin, and Ian Oland. Neil Greenberg, who is now big time with The Washington Post, came via Russian Machine and is doing great with his hockey analytics look at the game. Adam Vingan is doing super work with NBC Washington after starting out doing the Kings of Leonsis blog with Jack Anderson. Bottom line is there are so many good writers covering the Caps that I couldn't possibly name them all. They are all passionate about the game and that is what you need. But if I had to pick 1 guy who I think could go big time, if given the chance, then that would be Brian McNally, who works for The Washington Times. He knows the game and is an excellent writer.
12. Who would you like to see Ted Leonsis hire as the new coach and general manager next season?
To me, the GM is the most important hire, and I'll call it the most critical decision in franchise history. I think they need an experienced GM, someone who has been in that role before. Going with the "hot assistant" is too risky, in my book. Given that criteria and the need to have someone who has worked with talented players under extreme pressure, like Alex Ovechkin and Nick Backstrom are facing, plus the dire need to fix a bad blue line, I think the logical choice is Craig Button. Button helped build that 1999 Dallas Stars Stanley Cup winning team and he assembled much of the blue line that Calgary had when it went to the 2004 Stanley Cup Finals. As for the coach, I think that is where you might be able to find a new face, but I don't think you'd go wrong with an experienced guy either, like a Barry Trotz. Going the John Tortorella route would be a big mistake. Torts' can be a good coach again, but he needs to take some time away and rethink his philosophy. The game has changed and puck possession is the way to win. It is no surprise that the Blackhawks, Kings, and Bruins all dominate in that area and own the last three Stanley Cups (and that could be 4 in a month or so).
13. Lastly, to lighten things up……what song do you find the most annoying at a hockey game.
Ha! It used to be "Cotton Eye Joe" but so many knew I couldn't stand the song that it became a running joke back in the old Capital Centre press box that I eventually enjoyed when they played it because a bunch of guys would just start pointing and howling at me. I am not a huge fan of the current mainstream music being made, I'm an old AC/DC, Poison, Guns 'N Roses, Motley Crue, etc. type of guy when it comes to tunes. So I think more of that stuff should be played for hockey along with the classics like the "Good Ole Hockey Game" and "I Wanna Drive the Zamboni Song." So basically you can take that Fallout Boy "Light 'Em Up" song and throw it in the trash.
===========================================
Our next installment will take us to Florida where we take on a beat writer from the Florida Panthers. You never know what may be next. Stay tuned.