Strong Start
It is a terribly small sample size, but through three games Sharks rookie center Chris Tierney has shown himself to be as advertised. Tierney, who was named the smartest player in the OHL's Western Conference last season, leads the Sharks with a plus-4 rating. Now, for those of you who despise plus/minus, it can be a useful statistic if used properly. Given team success and sample size, it would be asinine to compare Tierney's current plus/minus with say a rookie on the Carolina Hurricanes. However, it is noteworthy that Tierney owns sole possession of the top rating for the Sharks.
The Sharks have outscored their opponents 12-5 through three games, and the scoring hasn't been dominated by Joe Thornton, Joe Pavelski and Patrick Marleau. While the latter has four points through three games, Tierney's linemate Tommy Wingels leads the team in goals with three.The scoring has been spread out, which has always been a big problem for the Sharks. They have lacked adequate secondary scoring for years now. Wingels, however, has also generated nine shots on net from the third line, just one fewer than Marleau who leads the team. The 26-year-old winger can credit a lot of his offensive opportunities to Tierney, who has assisted on two of his three goals. On Tuesday night in Washington, Tierney made a brilliant backhand saucer pass that floated in perfectly to the streaking Wingels. It was a very nifty play as the Sharks forwards had to be perfect in order to avoid going offside. Tierney spun around at the blueline and spotted his linemate with the perfect centering dish.
Secondary Scoring
Listed at 6'0", 195 pounds, the 20-year-old Tierney at least stylistically reminds me of former Shark and Canadien center Vincent Damphousse. When Damphousse was a Shark at the end of his career, it was his vision and hockey sense that kept him as a top contributor until the very end of his playing days. Tierney looks to have that type of potential in terms of reading the game and knowing where to be in different situations. He's no burner like Marleau or Matt Nieto, but he has good speed, similar to the likes of Logan Couture, Tomas Hertl, and Wingels.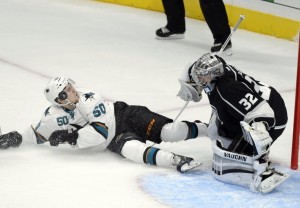 While with the OHL London Knights for four years, Tierney made a big jump from 2012-13 (18 goals, 57 points) to last season where he finished with 40 goals and 89 points. Taken by the Sharks in the second round in 2012, Tierney had been overshadowed by Hertl, who was taken in the first round that year. However, the young centerman impressed in camp and is making a name for himself early on. Again, it is just three games, but the Ontario native looks like a seasoned veteran out on the ice. You wouldn't know he was a rookie by just watching him play. He's also been adequate in the face-off circle thus far, winning 12 of his 23 draws. Obviously it is way too early to figure out where Tierney will fit in over the long haul, but the early signs are all positive.
As discussed here recently, the Sharks main problem over the years has been secondary scoring. They seem to prefer Pavelski at top-six right wing even when they have no serviceable third line center behind Thornton and Couture. Perhaps with Tierney they finally have that serviceable center to provide secondary scoring.