There is a problem that has been slowly attended to year by year in Colorado. However it needs to be attended to this year rather than next. The Avalanche have a bit of a issue on defense. Therefore, the Colorado Avalanche must make a trade, and with haste. The fact is that the Avs have eight defenseman, all on one-way contracts, which isn't an ideal situation. Joe Sakic needs to think fast and find a way to improve the back end.
Acquiring a top pairing defenseman would shore up the Avalanche defense while helping in many other departments such as their transition game and power play. I say power play because Colorado desperately needs someone who is a constant threat from the point. That gives them the double threat of their potent offense up front plus a threat from the back end.
Don't get me wrong, Tyson Barrie is on his way to becoming a great offensive defender and powerplay quarterback, with tremendous upside overall. However the Avs can't just rely on Barrie and EJ to provide the forwards with the support they need. Here is the Avalanche's depth chart on defense as of now.
More Quality Needed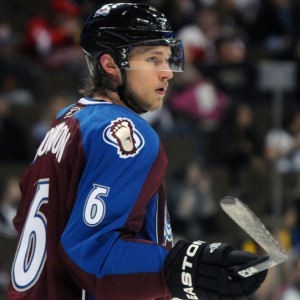 Erik Johnson
Tyson Barrie
Brad Stuart
Nick Holden
Jan Hejda
Ryan Wilson
Nate Guenin
Zach Redmond
There are a number of factors/problems that need sorting out. The biggest issue is that Ryan Wilson started the year playing extremely well, reminding us of the old Wilson. Now Wilson is injured with another concussion, which he has a history of. Now Nate Guenin is being favored over Zach Redmond in Ryan Wilson's absence as the 6th defender. Zach Redmond did good things in camp and pre-season, seems to have good skating ability and a solid shot from the point. Nate Guenin however, makes you nervous every time he's out there as his skating just can't keep up with faster/shiftier forwards in the league.
Guenin, 31, a career AHL defenseman, played his way onto the Avalanche roster last year, playing in 68 games scoring one goal with eight assists but creating that feel good story. Before last season, Guenin's career high of games played was only 15 games for Anaheim back in the 2011 season. Nate Guenin would be a serviceable 8th defender, but to have him playing some big time minutes every game is a problem for a team who wants to compete in the playoffs. Bottom line is that this defense, though better with the addition of Brad Stuart, is not up to par with the true cup contenders. This leaves Semyon Varlamov seemingly all by himself on some shifts.
What to Do, What to Do?
Most Stanley Cup champions all have what you would call "a number one defender". Las Angeles Kings have Drew Doughty, Chicago Blackhawks have Duncan Keith, Boston Bruins have Zdeno Chara etc. Colorado Avalanche had Adam Foote, Rob Blake and Ray Bourque to name a few big names when they won their Stanley Cups. Erik Johnson, while getting better each year, needs a partner on the top pairing. No offense to Brad Stuart or Nick Holden, but adding a top pairing defender to play with EJ would work wonders for both him and this Avs team.
Maybe Wilson gets healthy and continues to play great, and the Avalanche defense fixes itself and does just fine. After all they did better with worse last season. Though if that does not happen, the Colorado Avalanche must make a trade. Finding that trade is also a problem though, as teams aren't very willing to let go of one of their top defenders and understandably so. Unless of course the return is enticing enough and it makes sense for both parties involved.
This brings up yet another issue. Who holds enough trade value on the Avalanche roster in order to make such a trade without breaking up the core? The first name that comes to mind to land a big time defender is Ryan O'Reilly. I am on the fence about trading him, I'd like to see if relations between him and the team have improved as well as if he is willing to commit to the team.
Going the trade route might be just taking one step backwards and another forward, leaving the Avalanche with a hole on offense if someone were to be traded for defensive help. Thus, Colorado should be shopping some high draft picks along with a prospect to acquire said defenseman. Colorado would have done very well for themselves to bring back Johnny Boychuk, who was traded to the Islanders for a couple draft picks. Bringing Boychuk back would have made all the sense in the world as he is able to partner EJ, and would provide that threat of a booming slapshot from the point. I'd like to think that the Avalanche at least went after him with an offer to the Bruins.
A trade like that is exactly what the Colorado Avalanche need right now. Surely Joe Sakic, Patrick Roy and company see this need in the team. Time will only tell what will happen, but for right now Avalanche management need to start assessing the situation on defense.