Just when it seemed like Rene Bourque was stuck in AHL purgatory after going unclaimed on waivers, Bergevin managed to pull another trade out of his sleeve by dealing Bourque to the Anaheim Ducks in exchange for defenceman Bryan Allen.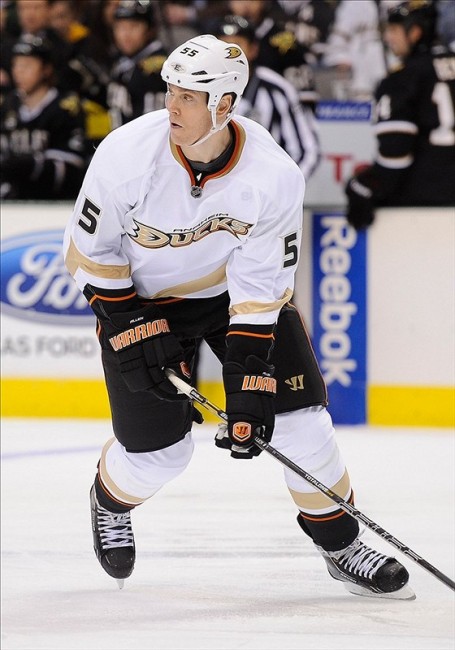 No such thing as too many defencemen
Bergevin has said repeatedly you can never have too many defencemen. But with the trade for Sergei Gonchar last week, what exactly is the point acquiring Allen especially with seven NHL-calibre defencemen already on the roster? Allen has size at 6′ 5″ and 223 LBS (according to NHL.com) but he doesn't bring anything special to the table. The most positive thing about this move is Allen's contract expires at the end of the season in comparison to Bourque's one year left.
Development in flux
To be honest, I'm not a huge fan of Nathan Beaulieu being pushed aside but if Michel Therrien and Bergevin both feel he hasn't been good enough, then so be it. Defencemen have the second longest development curve after goaltenders and it isn't unusual for them to take a little longer. Both Beaulieu and Jarred Tinordi, who was sent down to the AHL earlier this season, have progressed but other than flashes, they haven't wowed. Both players have potential to play big roles with Montreal down the road but with the team looking towards a Stanley Cup run rather than just a playoff push, development for the youngsters at the NHL level doesn't have the same priority.
Bridge contracts
Dumping salary for next year is important with Alex Galchenyuk and Brendan Gallagher both in need for extensions. The bigger question is what kind of contracts they will receive. Bridge contracts are popular with management in Montreal with Carey Price, PK Subban and Max Pacioretty all receiving one before cashing in on a big deal and I can't imagine it would be any different for Galchenyuk and Gallagher. As of right now, it's hard to gauge what their value would be on a new contract but it wouldn't be a surprise if for their upcoming deals they received identical ones. However, I can see that number changing down the road especially if Galchenyuk morphs into the star player people are expecting him to be.
It's this kind of skill that will make Galchenyuk a very rich man one day.
Ready to contend
As for right now, it appears Bergevin is loading up for a big playoff run. However, in loading up on defencemen perhaps there is a team desperate enough come trade deadline who would be willing to part with a decent pick and/or prospect to have some depth insurance. But make no mistake, Bergevin will only make the moves if it benefits the Habs. The Eastern Conference is wide open and with Montreal currently leading the NHL in overall points, it invokes the saying "Why not us?". The Habs have as good as chance as anyone to win the East and they showed they can beat really good teams such as St. Louis and Boston. It's a long season and nothing is guaranteed in this league but Bergevin and the Habs are serious about contending, giving the fans the best chance to believe since 1993.
I have a Bachelor's Degree in Journalism from Ryerson University. I am a freelance journalist and a Montreal Canadiens writer for The Hockey Writers. I previously wrote for Simcoe.com and Last Word on Sports as well as interned at TSN.