The Arizona Coyotes are nearing the end of the first quarter of their 2014-15 season. With an 8-10-2 record going into a pair of games this weekend in California, the Coyotes will try to bounce back from a pair of tough losses. What has been working well for Arizona so far this season and what needs to improve in order to get them where they need to be? This review will take a look at the different aspects of the Coyotes, similar to what I did in my two-part season preview at the start of the season. (Here is where you can find Part I and Part II of that preview)
Offense
One of the big highlights of the offense this season has been Mikkel Boedker. Boedker set career highs last year with 19 goals and 51 points, and he is already on the way to breaking both of those marks this season. The Danish forward leads Arizona with seven goals and his 12 points are tied for third on the team. However, the offense as a whole has struggled to produce as the Coyotes rank 25th in the league with 2.4 goals per game. In addition, Arizona has put up three goals or fewer in nine of their 11 contests this month. The Coyotes will need to do a better job of scoring goals to give their defense and goaltending the support they need.
Defense
Speaking of defense, Arizona's has been a bit shaky through the first few weeks. The Coyotes rank 23rd in goals allowed per game and 24th in 5-on-5 goals for/against. There are only two members of the Coyotes, Tobias Rieder and Rob Klinkhammer, who currently have a positive plus-minus rating. The defense has shown signs of improvement this month, holding opponents to two goals or fewer in six of their last nine games. This is a vast different from October, where Arizona had three games where their opponent scored at least six goals. While there are still some parts of the defense that need fine tuning, at least they have been moving in the right direction.
Goaltending
There was hope coming into this season that Mike Smith would be able to return to the high level of goaltending that has been a vital role in Arizona's past success. Unfortunately for the Coyotes, the early results from Smith have not looked good. Thursday's loss to Dallas dropped Smith's record to 4-10-1 with a 3.30 GAA and a dreadful .890 save percentage. Smith has surrendered 49 goals in 15 games played, although a number of those can also be attributed to the lack of support from the defense.
However, backup goalie Devan Dubnyk has been a bright spot for Arizona in the first few weeks. After defeating his former team, the Edmonton Oilers, on Sunday, Dubnyk sports a 4-0-1 record with a 2.25 GAA and a .925 save percentage. Dubnyk also recorded the first shutout for the Coyotes this season when he made 35 saves against the Vancouver Canucks in a 5-0 win on November 14. It will be interesting to see if Dubnyk gets a few more starts with Arizona if the team's play continues to slump with Smith between the pipes.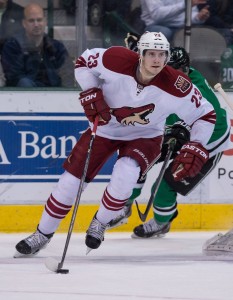 Special Teams
After enjoying some early success on the power play, the Coyotes have seen that aspect of their game cool down. Arizona saw their man advantage go on a 0-for-20 slump earlier this month, but they have since scored a power-play goal in four of their last five games. As was the case last year, Keith Yandle leads the team in power play points this season with 10. Defensive partner Oliver Ekman-Larsson is tied for second with six, including a pair of game-winning, power-play goals in overtime. On the other side, the penalty kill has performed well over the last seven games, successfully killing 20 of 22 shorthanded situations. Just like the even-strength defense, the penalty kill has been making strides to improve this month and it has been working out for the Coyotes.
Charles Woodall-Pike is a journalist who writes about the Arizona Coyotes for The Hockey Writers.