The Arizona Coyotes are underway with their preseason schedule as they prepare for the 2014-15 season. With opening night fast approaching on October 9 against the Winnipeg Jets at Gila River Arena, it is time to continue Arizona's two-part season preview. In part one, I looked at where the Coyotes needed to succeed on offense and defense. This part will focus on their goaltending and special teams.
Goaltending: Revenge of the Smith
In addition to their strong defense, stellar goaltending has been key to Arizona's winning ways under head coach Dave Tippett. When Ilya Bryzgalov left after the 2010-11 season, the Coyotes picked up Mike Smith, who had turned into a backup for the Tampa Bay Lightning as a 41-year-old Dwayne Roloson backstopped the Bolts to the Eastern Conference Finals. Smith made good on his opportunity to be a starting goalie as he powered Arizona to their most successful season in franchise history in 2011-12. After winning the Pacific Division and getting to the Western Conference Finals, the Coyotes have not been back to the playoffs and Smith has seen his numbers decline. If Arizona wants to end that drought, they will need Smith to find that form he had two seasons ago.
While Smith will likely see most of the playing time in goal, the Coyotes will also have the services of Devan Dubnyk this season. Acquired in the offseason to replace backup goaltender Thomas Greiss, Dubnyk brings more starting experience to the backup role than his predecessor did. Greiss had a decent season last year for Arizona, but he was unable to keep the Coyotes in the playoff picture down the stretch after Smith was injured on March 24 in New York.
Special Teams: Improved Penalty Kill
One of the pleasant surprises from last season was Arizona's efficiency on the power play. The Coyotes finished fourth in the league with a 19.9% conversion rate on the man advantage, which was their best mark since the 2007-08 campaign (18.6%). While it is nice to have a good power play to make opponents pay for their mistakes, it is vital to Arizona's success that they keep the puck out of their own net. The latter is especially true for when the Coyotes have to kill off a penalty in a critical game situation.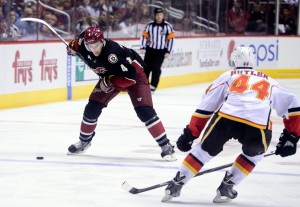 Arizona finished last year with the fifth-worst penalty kill in the league at a dismal 79%. That is a far cry from the 85.5% kill rate that the Coyotes posted in 2011-12. Injuries played a role in the penalty kill struggling, with key players like Lauri Korpikoski and Zbynek Michalek missing considerable time last year. If Arizona can avoid that fate this year with their penalty killers, that will hopefully lead to a PK percentage that resembles that 2011-12 figure.
In order for the Coyotes to truly succeed at all aspects this season, they will need to keep their key players healthy. Team captain Shane Doan falling ill for a month from Rocky Mountain spotted fever and Smith's late-season injury were big reasons why the Coyotes finished two points out of the wild card in 2013-14. A healthy roster and better execution on the ice could be enough to push Arizona back into the playoffs, but that will ultimately be determined by what happens in the next six months.
Charles Woodall-Pike is a journalist who writes about the Arizona Coyotes for The Hockey Writers.