Very few predicted the Montreal Canadiens would reach the Eastern Conference Final last season. In fact, anyone who did would probably have been laughed at initially… then burned at the stake for being a witch when it came to fruition.
What other possible explanation is there, after all? You know, aside from Carey Price proving his critics wrong all season long, P.K. Subban actually earning his eight-year, $72-million deal signed this past summer, and Max Pacioretty coming within one goal of 40 for the first time in his career?
It all kind of makes of wonder what the Habs have in store for this coming 2014-15 season. Here are five bold predictions that may or may not come true:
5. Montreal Canadiens Will Finish with Top 5 Power Play
While finishing with a top power-play unit isn't exactly the sexiest prediction one can think up, it may very well be one of the boldest (fifth-boldest, if we're getting specific).
After all, the Habs finished with the 19th-best power-play unit (17.2 percent), which was about as consistent as six-month-old milk (and at times about as stinky).
As a result, this prediction is largely dependent on the Habs making the wise decision to keep puck-moving defenseman Nathan Beaulieu up with the big club this season, not because he alone is the key to success with the man advantage, but because it would give Montreal much more flexibility and options on the back end.
They already went out and signed Tom Gilbert, a bona-fide second pairing defenseman, who is coming off an impressive 28-point season with the Florida Panthers (who seemingly scored just slightly more than 28 goals overall).
Beaulieu, as a left-handed shot, would complement him nicely on the second unit (Gilbert is a righty), while P.K. Subban and Andrei Markov could continue to man the first. Or head coach Michel Therrien could mix it up however he pleases… as long as Francis Bouillon isn't in said mix after he just finished with the third-highest average of power-play ice time among defensemen (notching just one assist).
4. Tomas Plekanec Will Get Traded by Mid-Season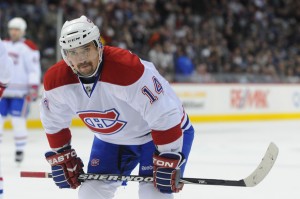 This prediction, again, depends on Therrien to a certain degree needing to be saved from himself.
As a center, Tomas Plekanec is a reliable second-line player, one who has scored 20 goals six times in his career and just finished seventh in voting for the Selke Trophy, awarded to the best defensive forward in the game.
Not too shabby. In fact, it's all very impressive and makes Plekanec one of the most marketable Canadiens from a trade perspective heading into this season.
Why would Montreal want to trade him though? For starters, he's going to be 32 (which admittedly isn't old, but is one step closer to it), makes the most of Montreal's other three centers ($5 million per season, which, admittedly again, is a relative bargain), and Alex Galchenyuk (and Brendan Gallagher) will be restricted free agents next summer, meaning someone will likely have to be dealt eventually.
Between Gallagher and Galchenyuk, the latter is the more relevant player here for the simple reason that he was drafted as a center, but has been played at left wing for most of his two seasons as a Hab. In the lead-up to Thursday's 3-2 overtime victory, which Galchenyuk won in overtime playing as a center, Therrien even hinted at keeping him there for the third-straight season.
He said, via Hockey Inside/Out, "… I'm happy with David Desharnais at centre. I'm happy with Tomas Plekanec at centre. I'm happy with Lars Eller at centre and I'm happy with Manny Malhotra at centre."
Whether or not that mindset has changed following Galchenyuk's game-winning goal is anyone's guess. It is just one game after all, but if this is the start of a trend, i.e., Galchenyuk playing at a high level, trading Plekanec will be the only way to go.
3. P.K. Subban Will Lead the Team in Scoring
This admittedly isn't that bold of a prediction seeing as P.K. Subban is one of the most dynamically offensive defensemen in the game and he finished within a point of the team lead of 39 points (Max Pacioretty) in 2013. He also led the team in scoring these past playoffs. Really, all things being equal, this isn't that outlandish of a concept at all.
However, all things are not equal, not by a long shot, not after he just signed his $72-million deal. The status quo has changed drastically and, whereas lesser players might crumble under the pressure of a new, huge contract or take the pedal off the gas slightly, Subban is a good bet to go against the grain.
That's what he's spent most of his career doing up to now, anyway.
2. Carey Price Will Get Nominated for Vezina Trophy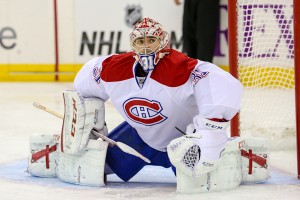 Last season, Carey Price finished fourth in voting for the Vezina Memorial Trophy, making a nomination this coming season a pretty reasonable expectation for the talented netminder. One has to believe it's at least a goal of his, if winning it outright isn't.
However, whereas getting nominated for the award at this point in a goalie's career might just be the next natural step, it isn't in Price's case. His career has actually followed a pretty unique trajectory from a stats perspective.
In his rookie season in 2007-08, he went 24-12-3 with a .920 save percentage (2.56 goals-against average). The following season, he went 23-16-10 with just a .905 save percentage (2.83 GAA). The year after that, he went just 13-20-5 with a .912 save percentage (2.77 GAA).
In 2010-11, he went an impressive 38-28-6 with a .923 save percentage (2.35 GAA). The following season, he went just 26-28-11 with a .916 save percentage (2.43 GAA). The year after that, he went 21-13-5 with just a .905 save percentage (2.59 GAA).
That led into last season, when he went 34-20-5 with an incredible .927 save percentage (2.32 GAA).
Really, Price has followed a set pattern up to now, consisting of one great (or, in the cases of 2010-11 & 2013-14, amazing) season followed by two mediocre ones. Because last season was for all intents and purposes his best, though, and he was consistently dominant playing behind a team that allowed 31 shots per game, it looks like he might be ready to break the cycle… finally.
1. Montreal Will Win Atlantic Division
Montreal winning the Atlantic Division this coming season might come across as crazy, but it isn't, really. It's actually only a bold prediction based on overall sentiment from around the league. Based on the cold, hard facts, though, Montreal has a very good shot at a division championship.
After all, this is was the last team from the division that was left standing last postseason. The year before that, the Habs won the Northeast Division, ahead of the currently favored Boston Bruins.
While, one can argue that success from one past season doesn't necessarily translate to the next, the same can be said of the Bruins, who might have run away with the Atlantic last season, but have failed to improve at all this summer (and may have actually regressed).
They haven't inked one unrestricted free agent, including their own 30-goal-scoring Jarome Iginla, who moved on to the Colorado Avalanche instead. And, due to a lack of cap space, restricted-free-agent standouts Torey Krug and Reilly Smith remain unsigned.
In fact, even though the Tampa Bay Lightning, a team the Habs swept in the first round this past spring, undeniably improved a great deal this summer (and are also contenders), Montreal did as well and as a result should be considered Atlantic Division favorites.
A lot can happen over the course of a season, making its outcome almost unpredictable. However, as things stand now, Montreal is definitely in good shape.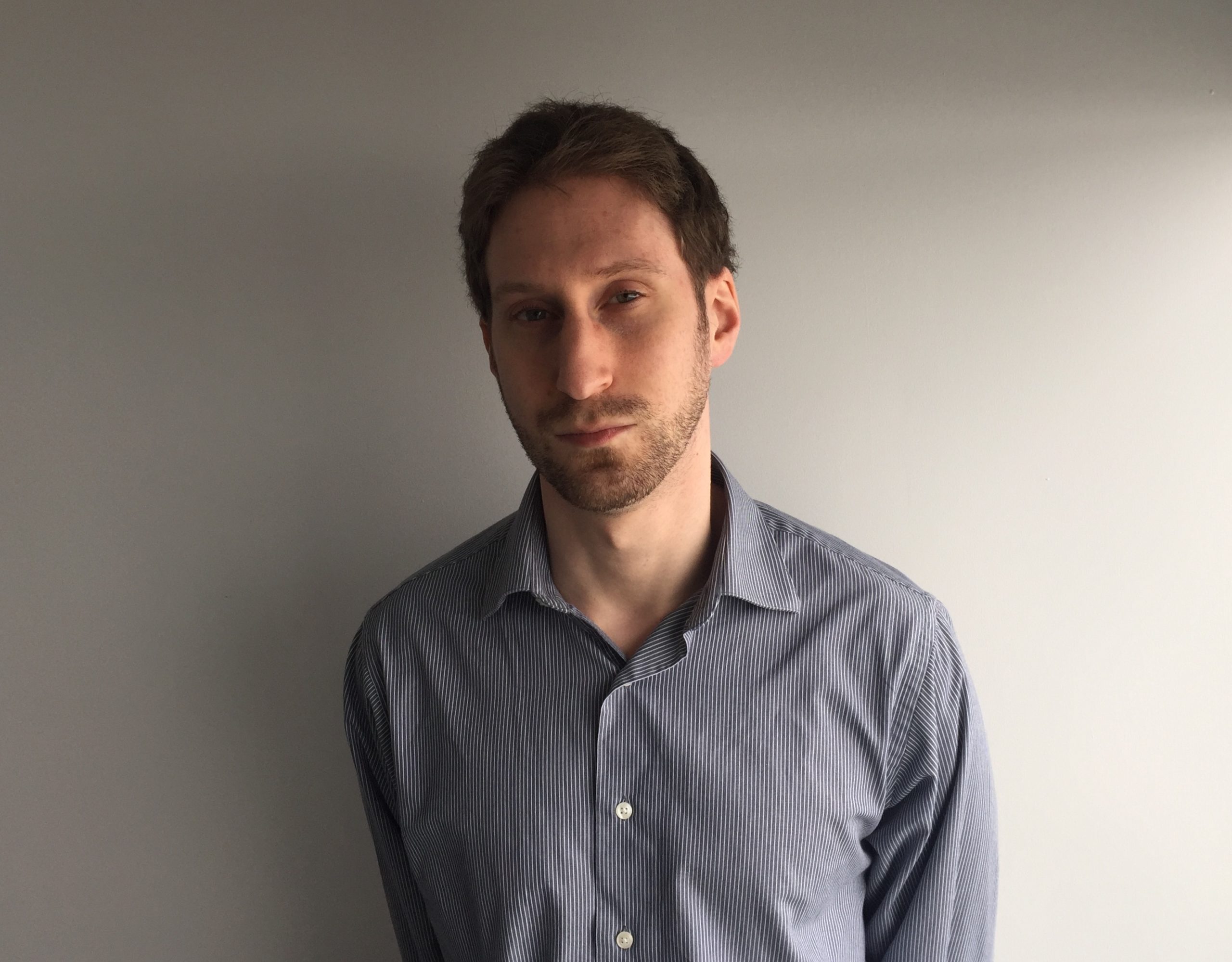 After 10 years of writing hockey, Ryan decided it was as good a time as any to actually join The Hockey Writers for the 2014-15 season. Having appeared as a guest on such programs as CBC Radio One's Daybreak, Ryan has also written for the Montreal Gazette and Bleacher Report and worked for the NHL itself and his hometown Montreal Canadiens. He currently writes about all things Habs for THW, with it being a career highlight for him to have covered the 2021 Stanley Cup Final as a credentialed member of the press.