Montreal Canadiens forward Tomas Plekanec may be a front-runner to become captain this coming 2014-15 season, but one need only look at the recent past to realize such an honor wouldn't exactly prevent him from being traded. If anything, it might make him more vulnerable, if history is indeed any indication.
A Trip Down Memory Lane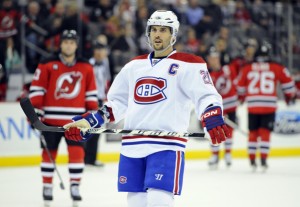 Bob Gainey was the last Canadiens captain to retire with the team 'C' still on his chest. The following six were traded away. And, worse, they were traded away oftentimes for 50 cents on the dollar with exception to Kirk Muller, who earned the Habs Pierre Turgeon. But, don't worry. Montreal more than made up for that, essentially trading him (and Craig Conroy) away soon thereafter for Shayne Corson.
Meanwhile the two others that followed that trading streak of futility, Saku Koivu and Brian Gionta, might as well have been dealt, having been deemed expendable enough by management to be allowed to pursue free agency (coincidentally by Gainey specifically in regard to the former).
In any case, this is all pure speculation, seeing as Plekanec has yet to be named captain and he's been traded away more often in the forums over the past few years than anyone or, really, Nokia in the stock market (41 million shares a day, as reported in 2012). And, yet, he still remains a Montreal Canadien.
At the very least, he's much more resilient than Nokia stock. That's something, right?
High Value on the Open Market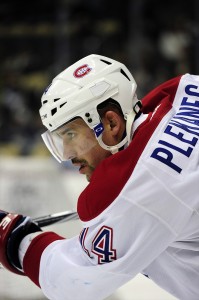 One thing is definitely for sure in regard to Plekanec relative to Nokia shares. He's much more valuable. Even disregarding his much-higher $5 million price tag (which is actually pretty cheap and should be attractive to other teams in this day and age), he can do pretty much everything on the ice.
This past season, he finished seventh in voting for the Frank J. Selke Trophy, which is of course awarded to the league's best defensive forward. Not only that, but he recorded his sixth career 20-goal season… seventh if you count his 14 goals during the 2013 lockout-shortened one (24 over 82 games).
While he can stand to be more consistent from an offensive standpoint (he's proven himself capable of scoring anywhere between 39 and 70 points), the fact of the matter is Plekanec can realistically be considered an elite third-line center on a legitimate cup contender.
Why Plekanec?
Generally speaking, pending unrestricted free agents are the most likely to be dealt on any given team. However, the Habs only have three currently on the roster that fall into that category in Manny Malhotra, Mike Weaver, and Peter Budaj.
Budaj is admittedly expendable after Dustin Tokarski's emergence against the New York Rangers this past spring. However, the fact that Tokarski leapfrogged over Budaj on the depth chart to get the opportunity is almost an indictment of head coach Michel Therrien's confidence in the latter. Budaj is a failed starter in this league whose value as a goalie, even a back-up, is now close to nil.
In regard to Malhotra, this will be the third consecutive season he will be a pending UFA. To this day, the only time he's been traded in his NHL career (despite having suited up for six different teams) is as a 21-year-old from the New York Rangers to the Dallas Stars.
Call it ignorance (in regard to his consistently high success rate at taking faceoffs) or justified hesitation on other general managers' parts, but he's become that much less likely to be traded since sustaining an eye injury back in 2011.
Despite having played for six different teams himself, Weaver has similarly only been traded once, last year to the Habs from the Florida Panthers.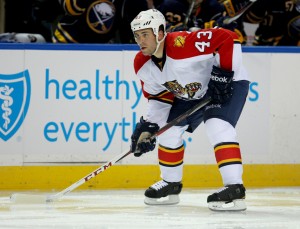 Like Malhotra, it's very much possible he gets dealt. But probable? On a Michel Therrien-coached team that just traded away Josh Gorges and relies on blocked shots as much as goaltender Carey Price (in other words, a lot)? When Weaver led the team with 50 this past postseason? When he's making just $1.75 million?
He's more likely to be re-signed summer after summer to one-year deals until the end of his career by general manager Marc Bergevin. Hell, he's technically more likely to be re-signed to a five-year, $20 million deal. It won't happen, but still… much more likely.
Plekanec may not be a pending UFA, but he will next season and one year closer to exiting his prime at 33. Right now, he's arguably still in it and his value is perhaps at its highest. And his hold on the second-line-center spot is slipping to the point that the team's projected third line looks like it will end up being more dangerous offensively than Plekanec's. And it's flanked by Rene Bourque on the left side. Rene "16 points in 63 regular-season games" Friggin' Bourque!
A Bright Future Certainly… But One Without Plekanec?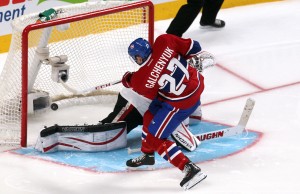 With Alex Galchenyuk one year older and one year closer to becoming the team's top-line center and Lars Eller having just been re-signed to a four-year, $14-million deal, the writing regarding Plekanec's eventual departure may very well be on the wall.
While his $5 million salary is again quite cost-effective in this day and age, the Habs also have cheaper third-line centers in the making like Michael Bournival and Jacob de la Rose in the organization to make room for eventually.
It may not be this year, but it should be sooner rather than later. The Habs are just deep down the middle organizationally speaking and a guy like Plekanec can fetch an upgrade on the wing where the Habs aren't so much.
Of course, it should be pointed out that this is just an argument that Plekanec is the likeliest Hab to be traded this coming 2014-15 season. That doesn't mean he will be or even should be. After the Habs made it to the third round last season, there may not be a reason to trade a roster player next season if the Habs live up to their potential.
No, Plekanec may not end the season as Montreal's second-line center. But, as alluded to earlier, he may very well as its third-line one. And, dare I say, an elite one at that? Who knows what the future holds, really?