The Montreal Canadiens currently have the maximum 23 players under contract and just $2.6 million left in cap space, meaning the only thing really left to do is decide who goes where in the line-up. Granted, that's simplifying things just a tad, as whoever is on the big-league roster right now is not necessarily guaranteed a spot once the season starts.
For the most part though, with defenseman P.K. Subban finally signed, the opening night roster is set and general manager Marc Bergevin's job is seemingly complete until training camp.
Now the onus is on head coach Michel Therrien to make the most of a largely unchanged group of players that made it to the third round of the playoffs. It's not as easy as it sounds.
Here's just one realistic projection of the team's line-up come opening night October 8 against the Toronto Maple Leafs.
In Net: Carey Price – Peter Budaj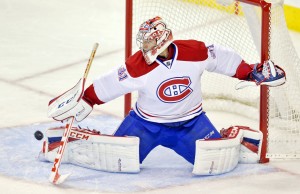 With Carey Price enjoying a Vezina Trophy-caliber season last year, the only real potential surprise here is who will be backing him up.
Dustin Tokarski had a very good third-round playoff series against the New York Rangers (.916 save percentage), but Peter Budaj is still under contract. Barring a trade to give the former a shot in another organization, that could mean a one-way ticket to Hamilton for one more season.
Top Line: Max Pacioretty – David Desharnais – Pierre-Alexandre Parenteau
Should newly acquired Pierre-Alexandre Parenteau start slumping, Brendan Gallagher is the ace up Therrien's sleeve to replace him on the right wing on the first line with Max Pacioretty and David Desharnais.
While Parenteau will likely go through his share of ups and downs like Briere did last year (which ultimately landed him on the fourth line), it seems unlikely that Therrien will start Parenteau anywhere but in the top six to get things started.
As a pure offensive talent, Parenteau just seems like more of a good fit with the team's top forward, Pacioretty, than anywhere else.
Meanwhile, look for Gallagher to start the season further down the line-up.
Second Line: Alex Galchenyuk – Tomas Pekanec – Jiri Sekac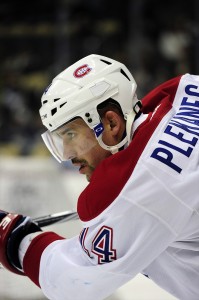 This might very well be the year that Tomas Plekanec officially becomes Montreal's third-line center, but, at least to start, the Habs can do much worse than a six-time 20-goal scorer still in his prime on the second line.
Admittedly, the third line is probably where Plekanec belongs, especially with Lars Eller re-signed to a four-year deal and Alex Galchenyuk perhaps ready to take a swing at becoming a regular center on this team. However, until each displays more consistency, Plekanec's spot is safe.
While he has a lot to prove and is far from guaranteed a top-six spot (or even one on the roster), fellow Czech Republic-native Jiri Sekac can realistically earn a shot on that second line to start the season.
Third Line: Rene Bourque – Lars Eller – Brendan Gallagher
The theory here is Therrien will not want to mess with a good thing, with Eller leading all forward with 13 points during the playoffs playing alongside Rene Bourque, who was no slouch either. Bourque's performance was at times dominant and he was rewarded with a team-high eight goals.
It remains to be seen if Bourque can keep it up, although it should be noted eight goals in 17 games translates to almost 40 over an 82-game stretch. Seeing as he's never scored 30 and is going to be 33, the chances of that happening are not very good.
Still, Bourque and Eller have worked well in the past and Therrien will likely want to see if the chemistry is still there. Add in Gallagher, who played with Eller (and Galchenyuk) to start last season, to the mix and you have the makings of an interesting science experiment that could potentially surpass the Plekanec line in terms of offensive output.
Fourth Line: Brandon Prust – Manny Malhotra – Dale Weise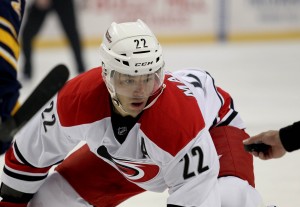 Manny Malhotra is a shoo-in to start the season as the team's fourth-line center. He may not last the entire campaign in that spot, but his success rate in the face-off circle last season (59.4 percent, ahead of Boston Bruin Patrice Bergeron's 58.6 percent) should be enough for him to get an extended chance to prove himself there.
Similarly, Dale Weise is a good bet to find himself out of the lineup at times during the season, but his strong playoff performance (seven points) will likely be rewarded. His speed and size (6'2", 210 lbs) are also assets that could serve him and the team well.
In sharp contrast, Brandon Prust did not have that great of a postseason (or regular season in all honesty), but he has one thing Malhotra and Weise do not: a $2.5-million salary. Look for Prust to get every opportunity to earn his inflated pay this coming season, starting on opening night.
The team's two remaining forwards, Michael Bournival and Travis Moen should draw into the lineup should Therrien be looking for excess speed or toughness (in that order) on a given night.
Top Defensive Pairing: Andrei Markov – P.K. Subban
No, 35-year-old Andrei Markov will likely not last an entire 82-game season on the team's top pairing with P.K. Subban, but he could realistically start out there.
Ideally, the Habs would instead have a left-handed defenseman in that spot, one who's mobile enough to cover for Subban whenever he pinches, but enough of a threat offensively himself that opponents can't double-team the former. Two out of three isn't bad. I mean, it's not great, but it's what the Habs had with Josh Gorges whenever he drew in as Subban's partner.
Second Defensive Pairing: Alexei Emelin – Tom Gilbert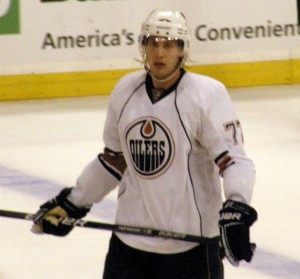 While in past years, shutdown defenseman Alexei Emelin served as Markov's defensive partner, both can now play on the left side—their natural position—with the acquisition of the right-handed Tom Gilbert.
Gilbert is a legitimate second-pairing defenseman who can help out on the power play. Regularly pairing him with Emelin is the most logical move here. Ideally, sure, Gilbert would be able to speak Russian. Seeing as on the ice, the only language Emelin seems to speak is "hitting," it shouldn't make much of a difference, though.
Third Defensive Pairing: Nathan Beaulieu – Mike Weaver
While he had to wait until July 1 to get re-signed by the Habs, there was little doubt Mike Weaver would be back. His cost-effective contract and performance during the playoffs (50 blocked shots to lead Montreal) essentially made the more expensive Gorges expendable due to the need to re-sign Subban.
While Weaver will likely never get first-pairing minutes, he will see his fair share of ice time on the penalty kill. In many ways, Nathan Beaulieu is his polar opposite, a smooth-skating 21-year-old who could realistically see time on the second power-play unit.
Dismissing a nonsensical RDS report that Francis Bouillon and the Habs are in "intense" negotiations to bring the defenseman back for another year, either Beaulieu or Jarred Tinordi, if not both, should make this team out of training camp.
Signing Bouillon would only serve to block the progression of the team's two top defensive prospects (and give Therrien an excuse to continue giving a defenseman who has a single power-play assist over the last three seasons significant ice time with the man advantage). In the hopes that Bergevin is really done this summer, look for Beaulieu to get the nod out of training camp.