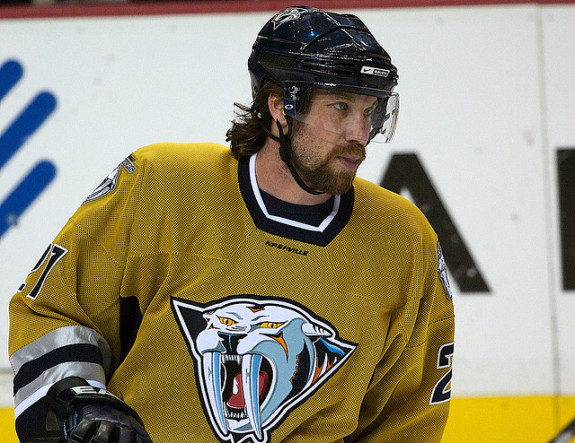 Peter Forsberg is among the four former NHL-ers to be inducted into the Hockey Hall of Fame on November 17. Forsberg, also known as "Foppa", has notably played for the Quebec Nordiques, Colorado Avalanche and Philadelphia Flyers. But many forget his short stint with the Nashville Predators. Although Foppa only played in 17 games with the Predators, he will be the franchise's first former player to be in the Hall of Fame.
On February 15, 2007, Nashville decided to go all in for a Stanley Cup run. To solidify their scoring up front, GM David Poile made the biggest trade in franchise history acquiring the 33-year-old from Philadelphia for Scottie Upshall, Ryan Parent, and first and third round picks in 2007.
"This is a huge deal for our franchise," Poile said. "Arguably, has there ever been a better player traded at the trade deadline than Peter Forsberg? My answer to that is probably not, and the price we paid was very high. We did it because we believed it was a necessary ingredient to give us that much better a chance to compete for the Stanley Cup, and we were comfortable with doing that."
Forsberg would join just one other Cup champion on the roster Jason Arnott. Despite lack of experience, the skill was there in Nashville's roster. Up front, Paul Kariya led in scoring with J.P. Dumont, David Legwand, Steve Sullivan, Martin Erat, Scott Hartnell and rookie Alexander Radulov aiding in the scoring department. Meanwhile, Kimmo Timonen, Shea Weber, Ryan Suter and Marek Zidlicky held down the fort defensively.
Nashville had a complete team with Forsberg entering the fold.
It took 4 games for the veteran center to score, but it was an important tally. The overtime game-winner against the Detroit Red Wings allowed the Predators to jump their opponent that night atop the Central Division.
Forsberg accounted for 2 goals, 13 assists during the regular season and helped set a franchise record of 110-points and 51 wins in a single season.
Entering the playoffs as the 4th seed in the Western Conference, the Predators would have to face the San Jose Sharks in the first round once more. In 2006, San Jose eliminated Nashville in just 5 games.
Despite Forsberg's 2 goals, 2 assists, Nashville would face a similar fate losing in 5 games.
Forsberg's 2-year, $11.5 million contract signed in Philadelphia expired after the season and his time in Nashville would come to an end.
Unsurprisingly, the fragile Forsberg underwent surgery on his foot during the off-season that kept him out for most of the 2007-8 NHL season as a free agent. Colorado eventually signed Forsberg on February 25 after recovering from the injury. Just 4 games into the season, he suffered a groin injury and would play only 9 games.
Forsberg played for Modo in the Swedish Elite League for the following two season, until deciding to make a return to the NHL in 2011. 2 games into the season with Colorado, he retired due to a lingering foot injury and not being able to defend himself.
With injuries galore and uncertainty about commitment, Nashville was fortunate to see the best of Peter Forsberg before his elite days came to an unfortunate end.