Put simply, the Montreal Canadiens—the last remaining team in the Atlantic Division last season—got better this summer.
Obviously it's all a tad more complicated than that. Defenseman P.K. Subban and forward Lars Eller still need to be signed. And a lot can happen over the course of an entire regular season, for example injuries or trades made by other teams to get better.
However, that is in part the point. Other teams need to get better or the Habs need to get worse in order for Montreal not to have a very realistic chance at winning the division this coming 2014-15 season.
As things stand now though, on paper the Habs are the best team in the Atlantic, especially taking into account how each rival's offseason has gone.
Here's a team-by-team breakdown of the Atlantic's top projected contenders (excluding the rebuilding Florida Panthers and Buffalo Sabres) in order of how each has fared so far this offseason:
6. The Boston Bruins
Cash-strapped, as far as the salary cap is concerned, the Bruins have failed to sign any unrestricted free agents this offseason, with the most notable being one of their own in Jarome Iginla.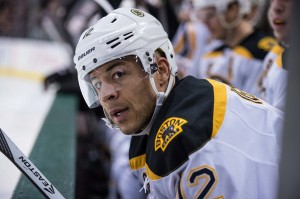 The Bruins are now faced with the unenviable task of replacing a top-line 30-goal scorer from within. While that is indeed possible for a team that boasts the likes of Loui Eriksson and revelation Reilly Smith, Boston's depth nevertheless took a serious hit this summer.
Bottom line: If they didn't sign any one to improve their chances at winning, they only improved their chances at losing, even if only slightly. After all, these are the reigning Presidents' Trophy winners we're talking about. It's not like they became bad overnight. So the question becomes did the Bruins get as bad as the Canadiens improved?
It's a fair question. However, since they were 3-1 against Boston last season (7-4 with the playoffs), even as dependent on goalie Carey Price as they may have been, the Habs were arguably already better. A goalie is still a part of the team.
Boston is probably still most everyone's pick to repeat as division champions, but it wasn't too long ago, just two seasons in fact, that Montreal finished atop the old Northeast, ahead of the Bruins. It can happen again.
5. Detroit Red Wings
The Wings have had a slightly better offseason than the Bruins, if you can call re-signing three non-key players—including depth defenseman Kyle Quincey for over $4 million per year—better. Quincey's barely good.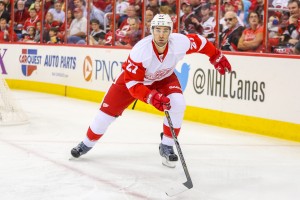 Joining Quincey are goalie Jonas Gustavsson and left-winger Dan Cleary, both of whom would be lucky to see the ice consistently and positively affect Detroit's chances next season. That's because Gustavsson is a mere back-up and Cleary, in just 52 games "last year, he didn't bring anything," according to head coach Mike Baccock, via NBC Sports writer Mike Halford.
Still, despite the team's less-than-stellar performance last season (eliminated in five games in the first round) and this summer, there is realistic hope the Wings can bounce back.
Stars Henrik Zetterberg and Pavel Datsyuk aren't getting any younger—in fact they're getting very much older at 34 and 36 years of age respectively. But they are also in the midst of passing the torch to the team's impressive group of youngsters from last year: Riley Sheahan, Tomas Jurco, Gustav Nyquist, and Tomas Tatar.
If each of those key players can continue their development, the Wings will be a force with which to be reckoned. If none of them do, Detroit's front office will likely become ground zero for the reckoning after a presumably horrible season.
Chances are good neither scenario will unfold. It will be somewhere in the middle and the Wings' season will likely play out much like the previous one did, with slight disappointment, promise for the future, and, yes, yet another playoff appearance.
4. Ottawa Senators
The Senators didn't fare as badly in the Jason Spezza trade as many might believe. For a player they likely would have lost anyway at the end of this coming season (and Ludwig Karlsson), Ottawa got a potential top-liner in the making in Alex Chiasson and three futures. However, the key word there is "futures."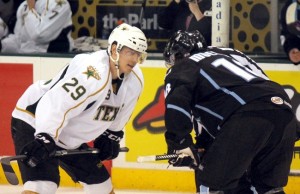 That "in the making" part likely means a few years at least and in the here and now Kyle Turris is now the team's de facto number-one center, because free-agent pick-up David Legwand certainly isn't one, and Mika Zibanejad isn't ready yet. It still remains to be seen if Turris is himself, in all honesty.
Add in the loss of Ales Hemsky to the Dallas Stars, and you can expect the team's relatively potent offense from last season (2.79 goals per game) to take a hit. The Senators' hopes now lie in the team's goaltending (which allowed 3.15 goals per game) and its defense (which allowed 34.7 shots per game).
Considering the previous season, the Sens allowed just 2.08 goals and 31.3 shots per game with much the same personnel—minus Norris Memorial Trophy winner Erik Karlsson due to injury—it's very much possible Ottawa rebounds nicely. Unlikely, but possible.
3. Toronto Maple Leafs
Summing up the Toronto Maple Leafs offseason: Their top free-agent pick-up has a broken leg, while their second-best had been allowed to leave for the Kontinental Hockey League because he was so gosh darn valuable the first time around.
http://www.youtube.com/watch?v=nQ-G6gMRJjs
That may not be fair to either Stephane Robidas, who's actually pretty decent possession-wise according to Extra Skater, or Leo Komarov, an admittedly effective bottom-six forward. But the fact remains neither Robidas, who's 37, nor Komarov, who's just 5'10" and 187 pounds, are in the best position to spark far-reaching systemic change on a team that allowed 35.9 shots per game last year.
No, that would be head coach Randy Carlyle, who is back despite a disastrous end to the season—and who helped to implement that very same system in the first place.
Toronto had a decent offseason in all honesty, due in large part to the non-signing of Dave Bolland, who ended up with the Florida Panthers for $5.5 million per year for five seasons. A contract like that can cripple a cap team like Toronto, and they should know having signed David Clarkson just last summer.
However, the Leafs were nonetheless prepared to give Bolland "a five-year deal deal in the neighborhood of $5 million per year," before Florida swooped in and saved the day according to TSN's Bob McKenzie on Team 1040 (via The Score).
The Leafs only lucking out as a result of Bolland's history with Panthers general manager Dale Tallon (and Florida's huge amount of cap space) points to a need for a serious intervention. The first step for the Leafs is admitting they have a problem. Until they come to that realization, they are likely to keep on missing the playoffs.
2. Tampa Bay Lightning
After the Habs exposed Tampa's defensive-zone coverage time and again during their first-round sweep of the Lightning this spring, general manager Steve Yzerman addressed the problem by acquiring underrated blue-liner Anton Stralman.
http://www.youtube.com/watch?v=XrqYk32yCe0
While he should no doubt help, one has to wonder just how effective a single top-four defenseman will be in curbing what had become a very serious concern the last quarter of the season: goals against.
The simple truth of the matter is Anders Lindback, while mediocre against Montreal during the playoffs, was not the whole problem—certainly not a problem replacing him with 39-year-old Evgeni Nabokov will fix. Even Vezina Trophy nominee Ben Bishop had started to come down to Earth after defying gravity most of the season.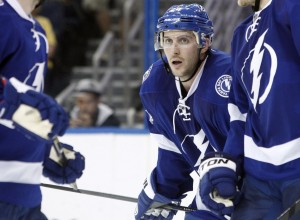 Prior to going down due to injury in early April in a game against the Maple Leafs, Bishop had played 18 games since the Olympic break. On 526 shots against, he had allowed 51 goals (.903 save percentage). Seeing as he finished with a .924 percentage, it's clear how well he had been playing beforehand and perhaps indicative of how lucky Tampa was to get as far as the first round.
In any case, Yzerman nonetheless improved his lineup in other ways, adding depth forwards Brenden Morrow and Brian Boyle on the cheap, while re-signing glorified depth forward Ryan Callahan for not so much ($34.8 million over six years).
All in all, it was a decent, but curious offseason, especially in regard to the acquisition and then trading of Sam Gagner for lack of cap space. The Lightning, according to capgeek.com, are now $1.88 million over the ceiling. One can't help but wonder if hanging onto the younger, more dynamic offensively, and cheaper Gagner instead would have been a better way to go. Fans will soon see.
1. Montreal's Offseason so Far
Without a doubt, Montreal's biggest departure from last season is Thomas Vanek, but it almost constitutes addition by subtraction.
While Vanek is a top-line player who's more than capable of putting the puck in the net, he became a fourth-liner making $6.4 million by the end of his tenure here, making Habs fans in turn nostalgic of Alex Kovalev's final season as a Hab when he was making just $4.5 million.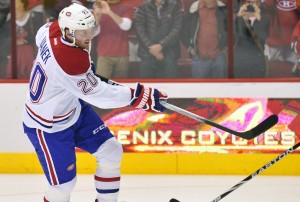 With the money that would have potentially gone towards re-signing Vanek, the Habs instead turned their attention to signing the underrated Tom Gilbert to shore up the team's defense and potentially improve its power play.
They also signed depth forward Manny Malhotra to center the team's fourth line and jettisoned previous fourth-line center Daniel Briere, getting a top-six forward, P.A. Parenteau, in return (and a draft pick!).
Montreal did admittedly lose both Brian Gionta and Josh Gorges, two heart-and-soul players. However, that is often just a nice way of saying they lack talent.
Gionta is an aging winger who no longer has his scoring touch, netting just one goal in 17 playoff games. He was no longer worth his previous $5 million salary.
Gorges meanwhile never had scoring touch to begin with, and, while he was an undeniably valuable player, he will be turning 30 next month. Considering his self-sacrificial style of play, the Habs probably made the right move, pre-emptively trading him before the wear-and-tear really started showing in his game.
Losing Gorges also opens up a slot on the left-side for either Nathan Beaulieu or the towering Jarred Tinordi. Gilbert, the re-signed Mike Weaver, and the soon-to-be-re-signed Subban also even things out by finally giving the Habs three right-handed shots on defense.
The Habs essentially cost-effectively addressed all their needs entering this offseason, perhaps losing leadership in the process, but gaining youth instead, and with it increased mobility and size.
That should be a scary thought for opponents of a team that reached the Eastern Conference Final and arguably improved to a much greater degree than their competition in that series, the New York Rangers. But that perhaps leads into a story idea for another day.