Elias Lindholm had enough upside and talent to make the Carolina Hurricanes opening day roster in 2013.  He was the fifth overall pick in the draft that year and scored a goal four games into his career. Besides that his rookie season was a slow, and sometimes frustrating process. That process culminated with a strong finish to his first NHL season. With a new coach, and a new team philosophy, the growth of Lindholm should help make the Hurricanes a playoff contender.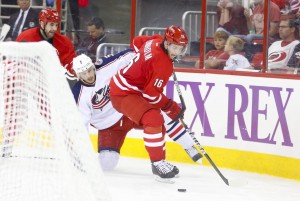 Strong Finish to the Season
Lindholm got that first goal early in the season, but after that he went dry.  After Injuries and uninspiring play, Lindholm was sent down to the AHL in early November of 2013. His offense found itself in Charlotte and he was brought back to the NHL in late November.  Throughout the rest of the season Linholm showed signs of his offensive brilliance. He had four games where he scored multiple points. The season was slow for Lindholm, but for a rookie he played noticeably more inspired hockey and his demeanor and maturity started to emerge in his game.
With that out of the way
With his rookie season in the books, it is time for Lindholm to step up and start making consistence plays for the Hurricanes offense. If he plays like the top six forward he was drafted to be, he can really help push the team past their playoff drought. The year before he was drafted he scored 30 points in 48 games for his professional team in the Swedish Hockey League. That season showed what he is capable of, this season if time for him to bring that offensive game to the NHL. He is a smart two-way player, and if he builds on last season he will be able to add more points to his career statistics.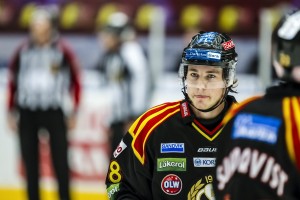 Steady Line
Throughout first full season in the NHL, Lindholm didn't have a steady line. His line-mates were moved around with him playing 17.81% of his ice time with Riley Nash, and Jeff Skinner.  He also found himself on another two lines playing 12.66% of the time with Skinner and Eric Staal, and then 12.61% with Skinner and Jordan Staal. Spending time on a steady line this year will help him develop faster and will really make a difference for the team. No matter what line he is on, I think he should stay with Jeff Skinner as the two can build a strong scoring chemistry.