The Pittsburgh Penguins held their annual prospects development camp this past week, having begun on Tuesday.
Saturday afternoon, they concluded with a scrimmage. I was able to attend the game, and here are my thoughts on the Pens' system from what I saw on the ice at Consol Energy Center:
Kasperi Kapanen Looked Like a Man Among Boys
The Penguins 17-year old, 2014 first-round draft pick from Finland did not disappoint the some 6,500 fans in attendance at the free game.
While he didn't score during 5-on-5 play, he showed why the Pittsburgh brass is so high on him.
On more than one occasion, with the puck on his stick, Kapanen dangled, spun, deked, and toe-dragged many a defender out or off of his skates. To put it bluntly, he looked like a man among boys out there.
At the very least, he showed that he deserves to be at the adult table when training camp rolls around this September.
Bear in mind he will be only 18 (as of July 23rd) when training camp opens. Seeing him play this way has to be taken with a small grain of salt, as most of the players on the ice yesterday either are now, or will be career AHL-ers.
I am however, more than excited to see him in action with the NHL regulars.
Tristan Jarry Still Needs Work
The Penguins top goalie prospect played in the second of two 30-minute halves on Saturday. He was less than stellar.
While the organization is quite high on the Memorial Cup-winning goalie of the Edmonton Oil Kings (WHL), the flaws in the young net minder's game were glaring.
He gave up three goals, none of which came from a particularly challenging shot. Two of the three goals actually trickled in behind him after he thought he had stopped it.
Jarry is young yet, and has a ways to go before he'll be ready for the NHL. Most likely he'll spend 2014-15 back in Edmonton with the Oil Kings defending their CHL Championship. Tack on at least another year of grooming in the AHL before he'll get a legit look at the NHL level, and the Penguins have a ways to go bridging the gap between Fleury and the next man up.
Brian Dumoulin Looked a Tad Slow
This wasn't a good game for the Pens' top defensive prospect.
He was burned by Matia Marcantuoni down the right wing, which set up a goal for Adam Payerl. In other instances he just appeared either slow to the puck, or at times indecisive in his own end on what to do. There were more than one puck battle that he lost in the defensive zone as well.
His saving grace could potentially be the installment of a new system by a new coaching staff (more on this in a minute). A positive for Dumoulin is when he was able to possess the puck with time and in space, he looked confident in moving it up the ice. He had a look of leadership about him.
There is also something to be said for the speed of the Pens' forward prospects. For the most part, this is a really fast group of guys. Dumoulin is a big man at 6'4″ 220 lbs, so he can take solace in that.
Remember the Name Troy Josephs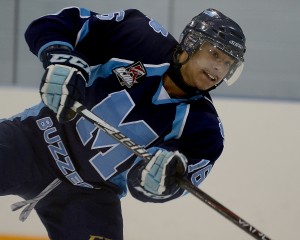 This kid was dynamite for most the afternoon.
When he was on the ice, he was creating opportunities by wreaking havoc in the offensive zone. Especially in the second half of the game in front of Tristan Jarry.
He scored twice in the game, and both were the so-called "dirty" goals that the Penguins have been lacking the past few seasons.
He comes off as a gritty player who isn't afraid to get his hands dirty, or run over the occasional goalie from time to time (he ran over Jarry at one point).
Scott Harrington Could be a Younger, Bigger, Better Rob Scuderi
This is easy: As a defensive defenseman, not getting your name mentioned is exactly what you want.
I said this about Scuderi back in '09 when the Penguins made their run to the Stanley Cup. Scott Harrington quietly put on the same performance yesterday afternoon.
Mike Johnston's System Calls for More Puck Support
The prospects in attendance at this week's camp were the first to bear witness to new head coach Mike Johnston's systems. In watching clean breakouts and transitions through the neutral zone, the puck carrier will have options at his disposal should he run out of room with the mail.
Under Dan Bylsma, the puck carrier was left on an island almost. Constantly having to look 75 feet up ice to find an outlet if he were in trouble in his own end. Not to mention those mind-numbing stretch passes so often employed under Bylsma's watch.
The players skated out of the defensive zone as a unit, presenting the puck carrier with as many as four different options for a quick pass to avoid danger.
It is certainly not without flaws, as is no system. Probably the biggest obstacle that I saw with this style of play is that it tended to clog up the ice in the neutral zone extended. As many as eight men could be skating in between the blue lines, or just inside them. It will put a very high priority on precise, accurate passes. That's not a bad thing.
Its always fun to watch these games and get a look at who is in the system, and speculate a bit on who might make the team for the upcoming season. As I stated earlier though, all of this needs to be taken with a grain of salt. These guys are collegiate players, junior players in Canada, or professionals (AHL-caliber) in other countries. The true test will come in two months, when training camp opens and they step on the ice against the likes of Sidney Crosby and Evgeni Malkin.
A final thought: Kapanen has a real shot to make this team out of training camp. More because of how thin the Pens are with their top-6 forwards, and the fact that he would have to go back to Finland if he doesn't stick. He's too young to play in the AHL (20 is the minimum), and he is not property of any Canadian junior team. My guess, the Penguins treat him the way they treated Olli Maatta last season. He'll stick with the team out of camp for the first nine games, at which point GM Jim Rutherford will have to make a decision on keeping him or sending back to Finland. My gut says they keep him.
78 Days Left Until Hockey is Back.