It's never easy to replace a legend for any pro athlete — the legend is almost always a fan favorite — and the fans will always compare player 2 to player 1 until player 2 wins their trust or equals the effort/consistency/success that player 1 achieved. Whether it's Cory Schneider taking over for Martin Brodeur in the New Jersey Devils crease, Tino Martinez taking over for Don Mattingly as the New York Yankees first baseman, or Aaron Rodgers taking over for Brett Favre as the quarterback of the Green Bay Packers. For Schneider though, unlike the other two athletes mentioned, he got to play alongside Brodeur a season — and in a way was eased into the role: with the knowledge that he was the Devils present and future netminder.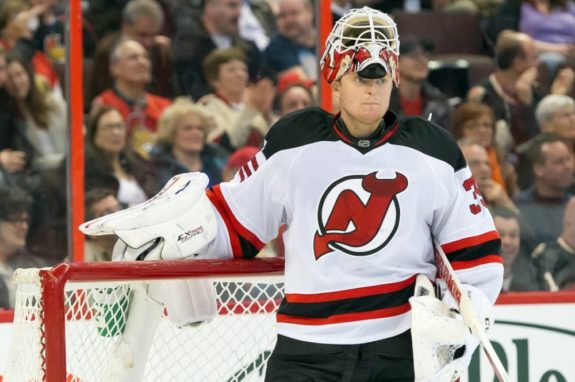 As the dawn of the 2014-15 NHL season is upon us Brodeur is no longer in New Jersey, and Schneider (armed with a new seven-year, $42 million dollar contract) is the main man in the Devils' net; The first time he will be the undoubted no. 1 goalie of an NHL team in his career. The Hockey Writers caught up with the 28-year-old former Boston College goalie/Massachusetts native after practice during the first week of training camp in New Jersey to ask about some of the new faces on the team and some of the ones no longer there.
Cory Schneider (Red Sox fan) talks about Derek Jeter right before talking to THW:
The Hockey Writers: You're now in year two in New Jersey, is there more comfort here for you now? Are you comfortable in your surroundings, with the players, front office, guys opening doors for you in the Prudential Center?
Cory Schneider: (laughs) Sure, absolutely. It was a bit of the unknown last year, maybe a little bit of that pressure — being the new guy, a big trade, all that stuff. I think maybe just coming in and trying to do too much or just over thinking things. But this year I feel really good about where I'm at, where the team's at and even just getting used to the style of play (here); knowing that I might not see 40 shots a night, maybe (only) 15-20 shots (certain nights). That kind of mentality, I wasn't really sure how to handle it last year and it's more familiar this year.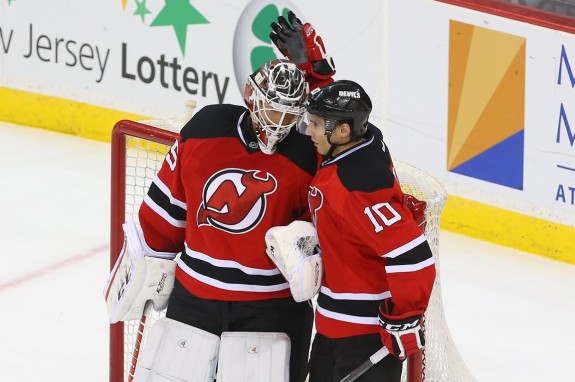 THW: There are some new players on the team this year, some guys left. What's your impression so far even though it's only a week into camp?
CS: I think it's been great competition, we could probably ice three teams this preseason; that's pretty competitive. Guys know that nobody is happy with how it ended last year and, in theory, really no job is safe. Guys may be for sure on the team, but where you are going to play, how much ice-time are you going to get. I think that is still up in the air for some people. I think we're all realizing that we need to be better than we were last year and you can sense that urgency in camp already.
THW: You had some really good numbers last year (1.97 GAA, .921 save %), but only had 16 wins in 45 games (16-15-12). Are wins the only stat that should really matter to a goaltender?
CS: Sure, it's always about the wins. I mean, if we get a few more wins last year I bet we are in the playoffs. General thought of process is the fewer goals you give up, the more wins you get — but sometimes that's not always the case. If it means that I give up three goals a game but we win more games — that's fine with me as long as we come up with the wins. Ultimately as a goalie you are trying to prevent goals as well, so I think (laughs) hopefully they go hand-in-hand this year.
A look back at the first year in New Jersey for Cory Schneider:
THW: When you heard the names that were being brought in on PTOs (professional tryouts): Scott Gomez, Tomas Kaberle, Jordin Tootoo, Mike Komisarek, Ruslan Fedotenko; what was your general reaction?
CS: It's just amazing how the game moves on, the game of hockey seems like it's getting younger and younger every year where guys are able to play right away; or more affordable with the salary cap situation. You see these great players who've had really good careers without jobs right now. They can all still play obviously, and it's just a matter of finding the right fit, at the right price for some of these guys. But I think for us it's great, it's fun to have some experience, some veteran guys in the room and guys we've played against. Again, creates competition, creates for some guys competition for spots they maybe thought they had locked up and now they have to think a little bit more about it. I think it's a good thing to have in here.
THW: Speaking of guys without contracts, Martin Brodeur is not here, doesn't have a deal with a team as of now. Have you talked to him over the summer or since camp started?
CS: No, we haven't really spoken much over the summer. He had/has his situation to think about and I've had mine. A player like that, you don't see those (types of) players very often, we're all hoping that he can sign on somewhere and get another year in because he's a fun player to watch and he loves the game; he generally enjoys being at the rink and playing hockey for a living. I think we'd all love to see him catch on somewhere and at least play another year. We all wish him the best.
Dan Rice can be reached via Twitter: @DRdiabloTHW or via Email: drdiablo321@yahoo.com